iGaming regulations in Africa

From sports betting to classic casino games, Africa has seen a significant surge in the number of online players - when contrast to two years ago, the popularity of sports betting in particular, has truly soared throughout the continent.
Many variables have led to the explosive expansion of online gambling and betting; one of the most notable is the COVID pandemic, which has compelled players to shift away from land-based casinos due to restrictions and constraints on movement. Another factor driving this growth is the presence of emerging technology.
The South African government reports that 72% of adult populations betted at least once. In terms of popularity, sports betting dominates all other forms of gambling in Africa. Many African players playing for Top European teams have inspired the youth to bet on European football. While rugby, cricket, and horse racing are still popular due to the country's cultural and sporting heritage.
Don't Miss: Africa's Online Betting Challenges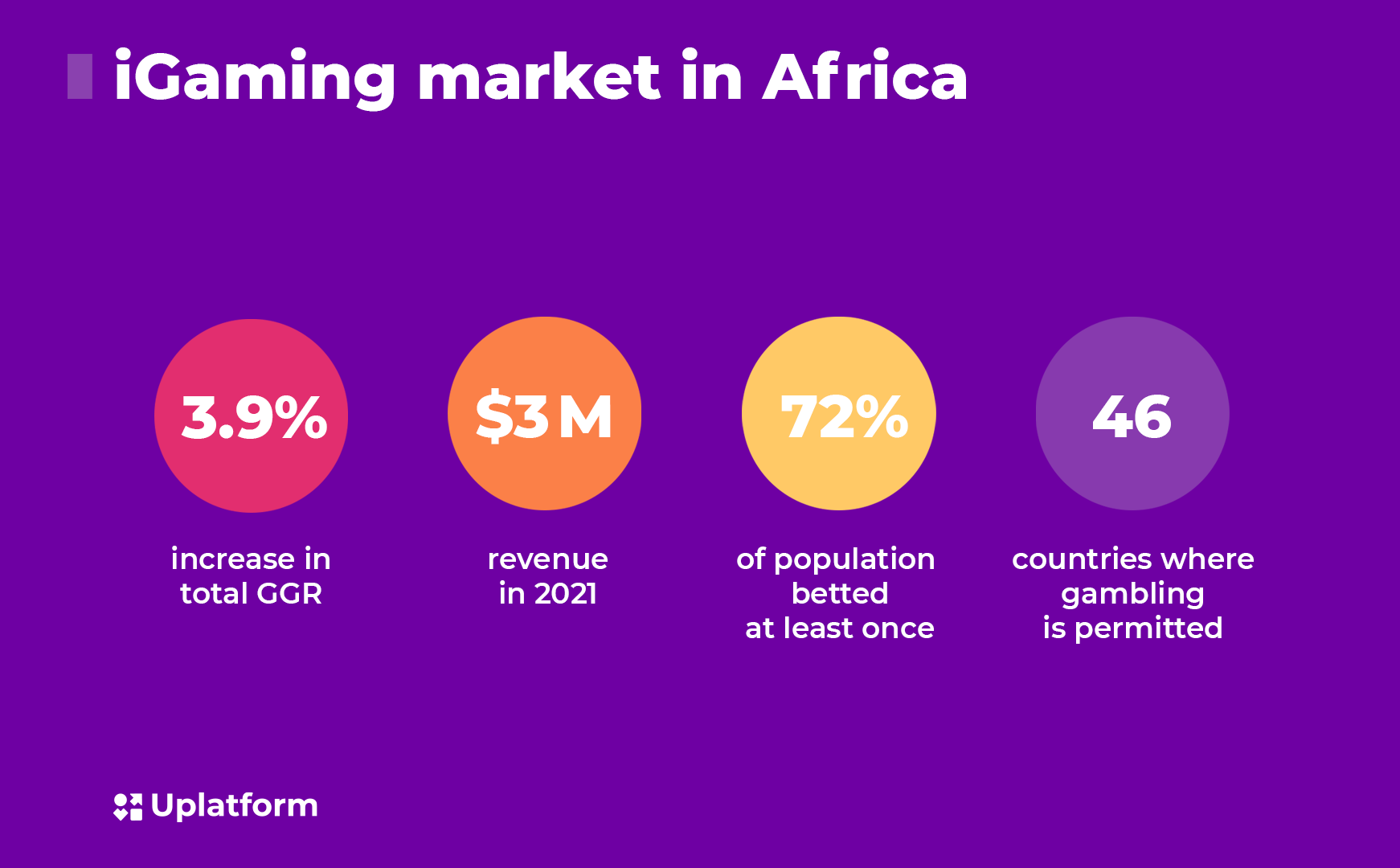 iGaming Legislation
The legislative environment on the continent is currently rather myriad. For example, Tanzania is among the few African nations that have taken the lead in implementing iGaming regulations, while others languish with no significant progress.
When it comes to online gambling and betting, there is relatively little regulation. As a result, global iGaming businesses are free to operate throughout the continent. However, in countries where regional authorities seek to impose and enforce laws that are not recognized at the federal level, such as Nigeria, this has created ambiguity.
With an eye on the bigger picture regarding the scale of iGaming and legislation, only a few African countries forbid gambling and betting on cultural or religious grounds. These countries are quite limited in number; if more countries follow in the footsteps of countries like Tanzania, this might eventually lead to complete legalization and industry regulation right across the continent.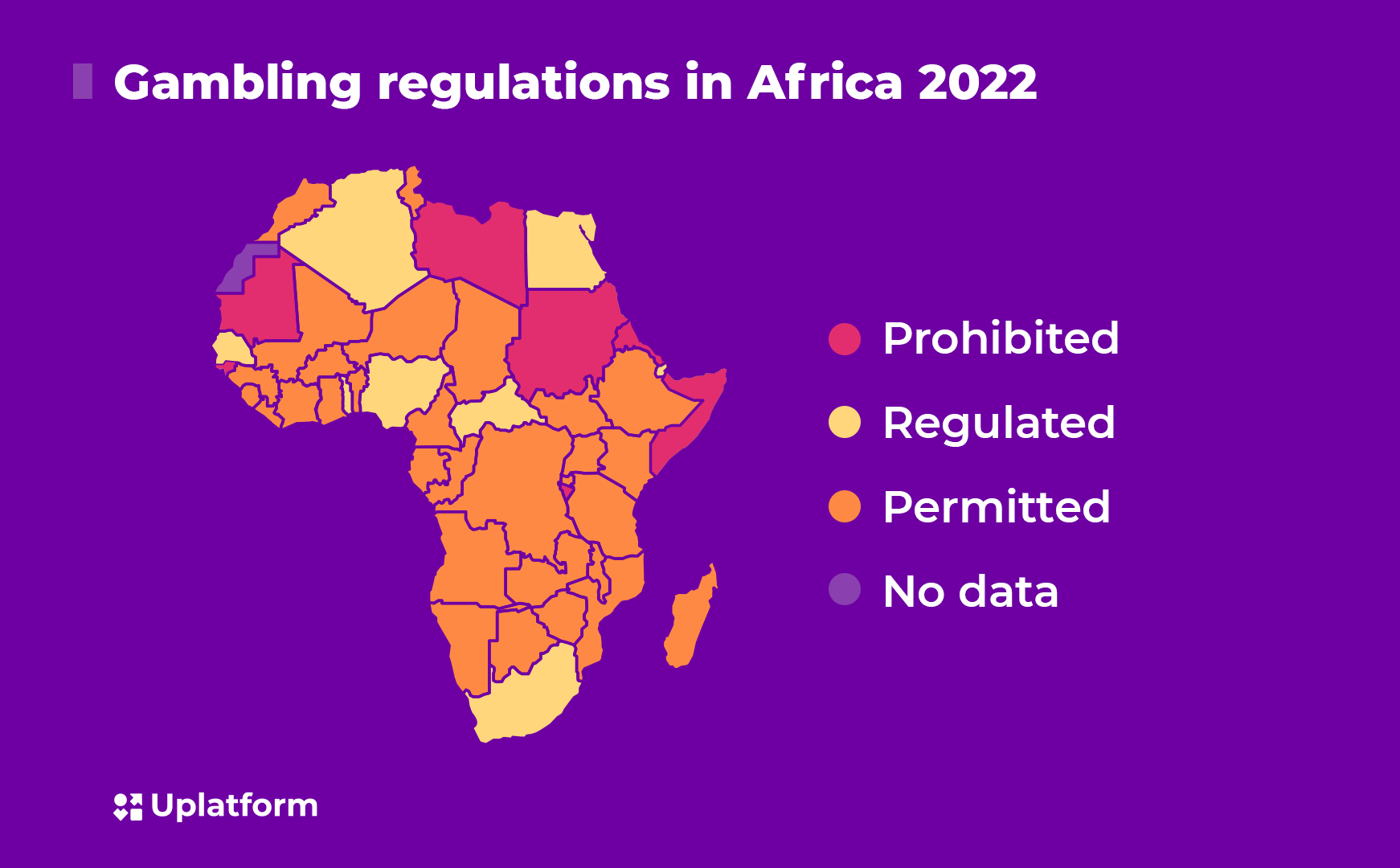 Regulation and enforcement around iGaming in Africa are likely to follow the lead of regulators in Europe, the US and Asia. The international community also urges the online gambling and betting industry to join the battle against global financial crime. This worldwide push against corruption will not exclude Africa as more government agencies seek more security. Tanzania, Kenya, and Uganda are leading the way to pass specific iGaming regulations. In addition, such cooperative initiatives shown by countries involved in conferences such as The Gaming Regulators Africa Forum will significantly boost legislative regulation in Africa.
Let's take a look at four African iGaming nations. These four countries were chosen based on online gambling and betting popularity and how each is dealing with regulating iGaming.
South Africa
National supervisory body for Responsible Gambling:
The National Responsible Gambling Programme (NRGP).
Legislative Gambling Acts:
National Gambling Act of 2004.
The National Gambling Amendment Act 2008.
Remote Gambling Bill 2014.
Gambling in South Africa underwent a drastic transformation following Apartheid. Land-based casinos, lotteries, bingo and betshops were legalized under the National Responsible Gambling Programme (NRGP), a regulatory body. The NRGP regulations are for offline businesses and, unfortunately, excluded most types of online gambling.
Betting on registered online sports betting sites was permissible under the National Gambling Act of 2004. Although, online casino games, online bingo, and online poker were excluded from the 2004 Act. A revision of The National Gambling Amendment Act, revised in 2008, saw a reasonable chance of legalizing all forms of online gambling. Still, the act has not changed per the 2004 regulations.
In summary; South Africa has legalized online betting, but online casinos are at present illegal.
A draft Bill for the Remote Gambling Bill was tabled in parliament in 2014, inviting the South Africans to express their views on the country's potential legalization of online gambling. The results have not yet been made public./p>
Ghana
Offline and online gambling and betting sectors in Ghana regulated by the following associations and law:
Ghana Gaming Commission (GGC).
National Lottery Authority (NLA).
Gaming Act 721 in 2006.
Ghana has taken great strides in legislating its gambling and betting both offline and online. Offline and online gambling and betting are entirely legal and governed by the Ghana Gaming Commission (GGC) in Ghana. Except for the lottery, which the National Lottery Authority administers (NLA).
The GGC is the primary regulating body for iGaming sectors in Ghana, regulating and issuing licenses to casino and sports betting operators.
Nigeria
Offline and online gambling and betting in Nigeria is largely governed by the following laws:
National Lottery Act 2005.
National Lottery Regulations 2007(as amended).
Lagos State Lotteries Law 2004 (applicable only in Lagos State) among various lotteries laws in other states.
Government agencies regulating offline gambling and betting and iGaming in Nigeria:
National Lottery Regulatory Commission (NLRC).
Lagos State Lotteries Board (LSLB).
Other State Lotteries Boards.
While Nigerians enjoy the popularity of gambling and betting, the Nigerian regulatory system is a bit confusing and lacking in direction. Online sports betting, for instance, is legal in Nigeria. Online gambling, however, is still unregulated by the federal government. Despite the fact that it is illegal to own or operate an online casino in Nigeria, the government has no power to prohibit Nigerians from playing at online casinos based outside of the country (currently there is no regulation, but it's not prohibited).
In addition, government direction is absent in gambling formats like lotteries. The Nigeria Lottery Regulatory Commission (NLRC) and the Lagos State Lotteries Board (LSLB) are both Regulatory bodies that are at odds with each other claiming the right to regulate lotteries.
The legal gambling activities in the country are the lottery, land-based casino gaming, and sports betting, according to these laws. Meanwhile, games like Roulette, dice games, and non-skilled card games are deemed illegal. Additionally, slot machines are regulated, but only licensed operators can offer them.
Kenya
Regulatory body for gambling and betting:
Betting control and licensing board.
Main law that governs gambling and betting activities:
The Gaming Bill 2019, designed to replace the 1966 Betting, Lotteries and Gaming Act.
The Kenyan iGaming market has been regulated with the Gaming Bill of 2019 with sports betting being the most popular activity among Kenyan players.
What can Uplatform do for your business?
Although the African market is actively developing and expanding, it is one of the regions in the world where not all providers understand the needs of the market comprehensively or have addressed issues with the region's digital accessibility or payments requirements.
Business success in Africa depends on several requirements. And the Uplatform team understands the requirements for businesses to flourish in Africa. That's why our solutions provide a sportsbook that covers an extensive range of popular and unique sporting events and a variety of local leagues, championships and bets to appeal to a broad range of players. Over 300 payment methods, including local African ones, multi-device compatibility, comprehensive localization, and customization tools, so businesses can target and attract players right across the continent. In addition, our Telegram and SMS betting solutions address the issue of accessibility, helping those regions with inadequate internet connections to place bets, and opening up even more prospective markets and players throughout Africa.
Uplatform provides a complete and flexible solution with all the tools you need to achieve sustainable growth and profit in Africa.
Stay informed
Subscribe to newsletter