Key insights on Esports Betting

Sure, Esports betting is a hot business topic in our industry right now! But is it just a passing trend? Who is betting on Esports? More importantly, what Esports should you include in a sportsbook portfolio?
No need to worry, the trusted team from Uplatform is here to answer these questions and help you discover all the Esports betting essentials. With Uplatform having one of the largest portfolios of Esports games and events on the market and a massive collection of vital stats that have been thoroughly analyzed, providing valuable insights, we've got you covered on everything Esports. So you'll be fully informed on what all the fuss is about!
There's no denying that Esports deserves all its current attention, as it has drawn quite a large audience in such a short span. According to a new statistic from Statista, the Esports audience has grown by 19,2 percent in two years, reaching 474 million. Based on current trends, analysts predict that the active audience will reach 577,2 million in 2024.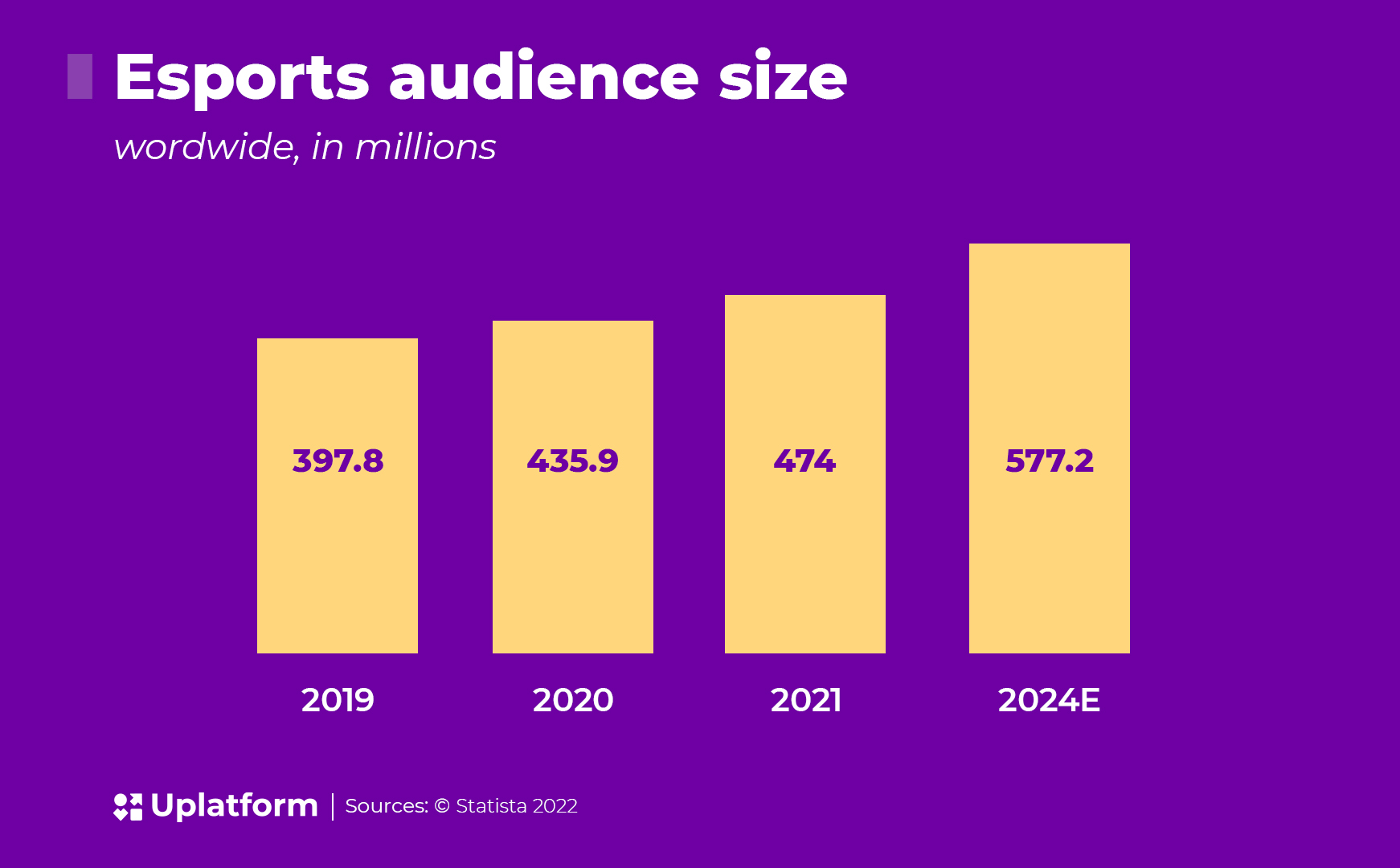 Growth and future projections
The best term to describe the emergence of Esports betting is growth. We can point to a few factors for this. For starters, there's an increasing number of young bettors - millennials and zoomers - who grew up playing video games and have a deeper grasp and connection to this sporting activity. Then there's Esports growth on its own. Computer games are undeniably more than simply a form of entertainment nowadays. They are lucrative professional sports in their own right with tremendous exposure and massive investment. In the first six months of 2020, a record $1.1 billion was invested in the industry. Experts predict that Esports income will exceed $2,5 billion by 2022. And that's only the start of things.
All of this leads to the extraordinary popularity of Esports tournaments, which fill entire stadiums of supporters and a global viewing audience of millions of people right across the world on internet streaming platforms and major TV sports broadcasters. The League of Legends international championship in 2021 received almost 174,82 million hours of viewing!!! And that's without taking into account the Сhinese platforms and the massive popularity of Esports in China!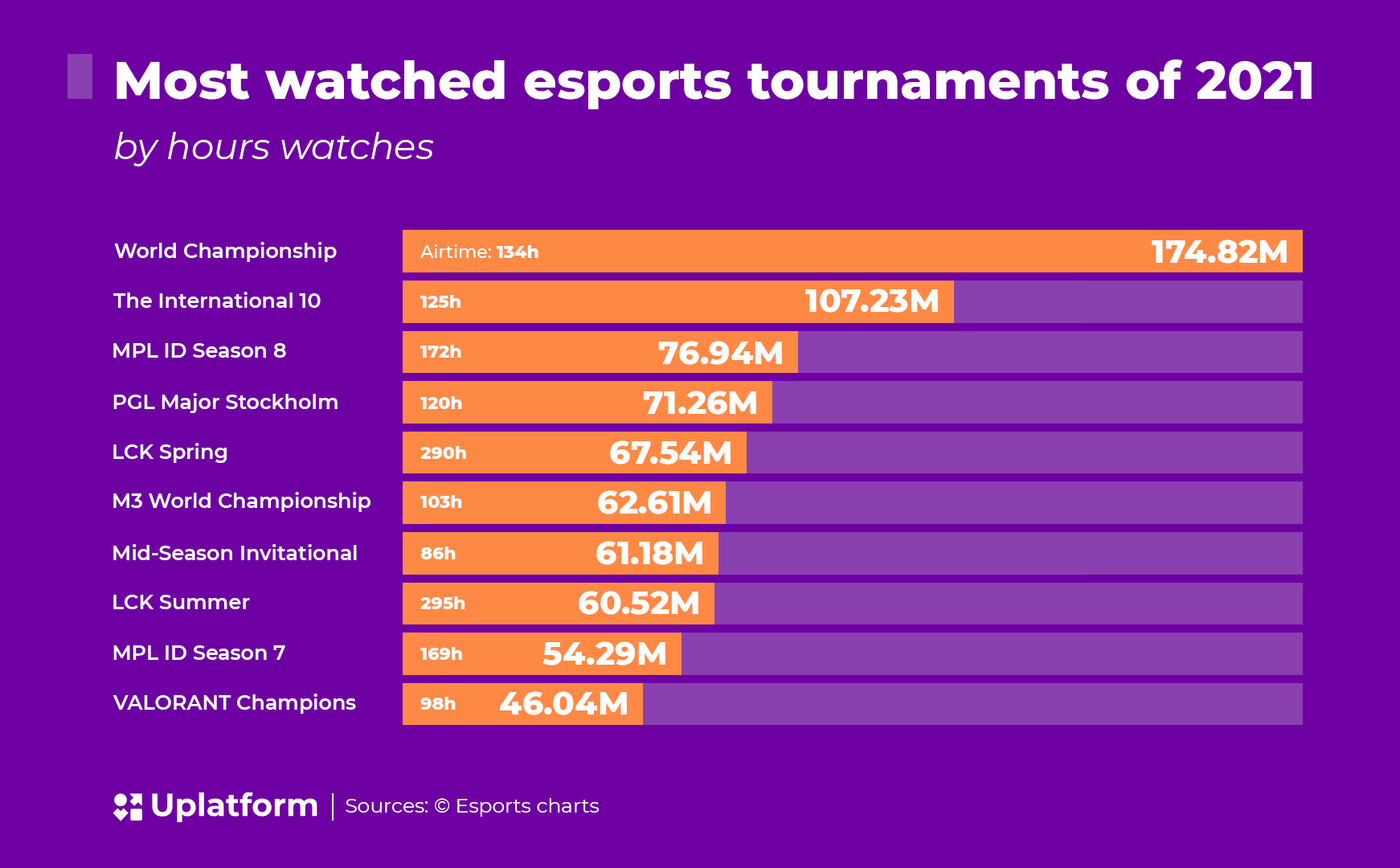 With a worldwide playing audience, enormous exposure, and significant investment, it's easy to understand why Esports betting is growing and you would be brave to say it's a passing trend. Some analysts predict that the Esports betting vertical could expand to $16 billion.
Our Esports team says
"2021 was a real shock. Even with most tournaments and championships being cancelled the Esports sector showed more than 170 per cent growth. And we expect even higher numbers in 2022. There is no doubt that Esports is attracting more and more attention among bettors.".
So, if you have been on the fence regarding whether or not you need Esports in your sportsbook, you may want to think again. This is a gigantic pie, and you'll definitely want a slice.
Uplatform insights: Popular Esports
The Esports favorites CS:GO, Dota 2, and League of Legends, are still up there as popular games among Esports fans. We've also been able to significantly grow League of Legends betting, which previously accounted for less than 10% of total betting, thanks to changes in our offering and the addition of new betting markets.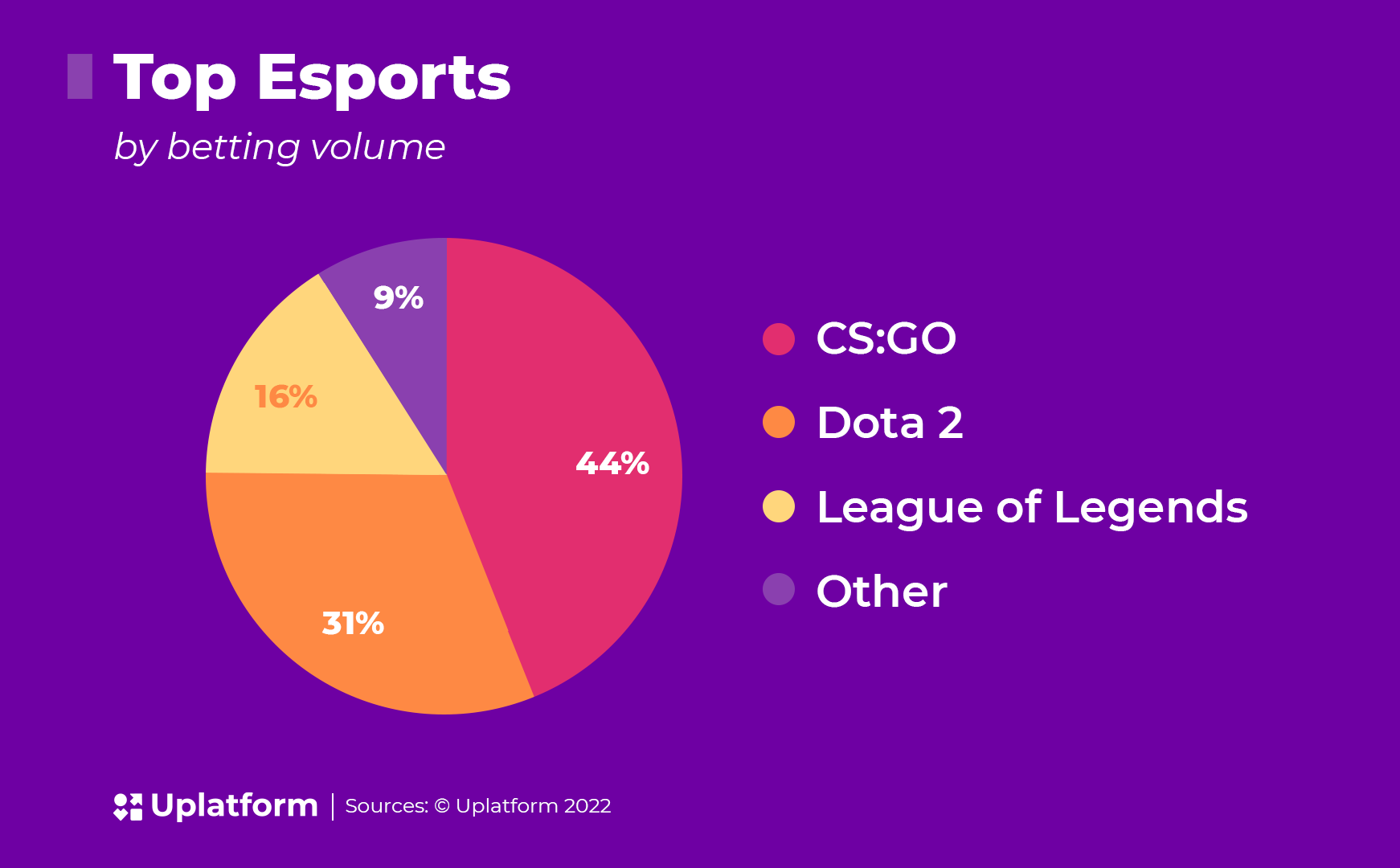 There have been notable developments in less popular Esports as well. For example, after its debut on our platform, Age of Empires has rapidly become a popular betting game. WarCraft III, on the other hand, is failing in popularity from a lack of promotional activity on the part of the game's developers. It's the complete opposite when it comes to Valorant, which has decisively knocked Rainbow Six out of second position in the shooter category. The game's developer's support is influential and a big positive, as evidenced by the numerous high-level Valorant events and tournaments.
Even with some StarCraft II and Quake events being canceled or postponed, both games have remained among the favorites.
Who's betting on Esports?
While the typical Esports bettor is primarily a younger player, it has attracted a very diverse range of people. According to Uplatform data, men bettors account for 75% of Esports betting, while female bettors account for only 5%. However, based on current trends, Uplatform analysts predict that in a few years, women would account for roughly 15% of all Esports betting.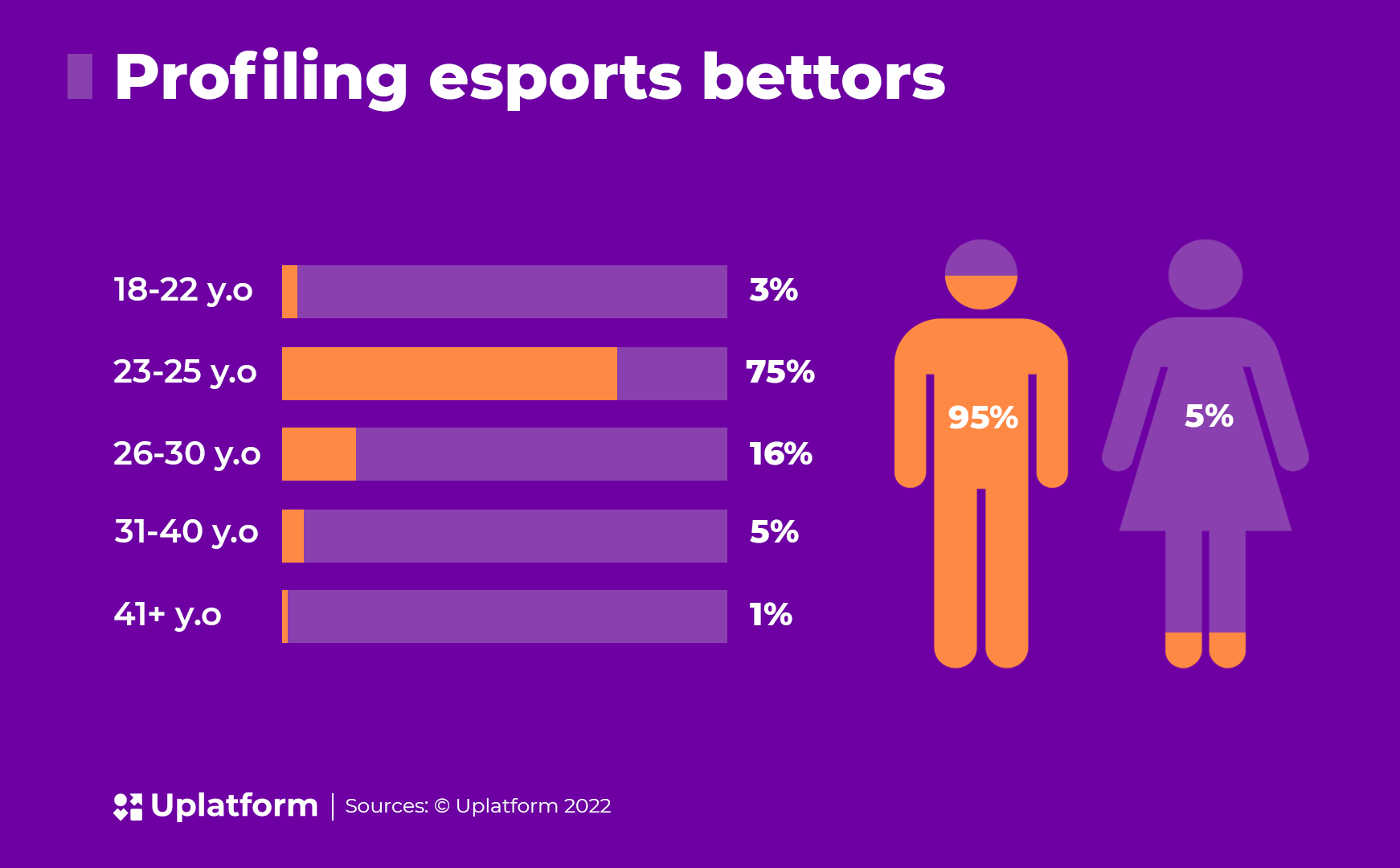 The CIS and Asian areas are the most active bettors on Esports when it comes to geographical location. In comparison to previous years, in Latam Esports is becoming increasingly popular, with a 20% growth in 2021.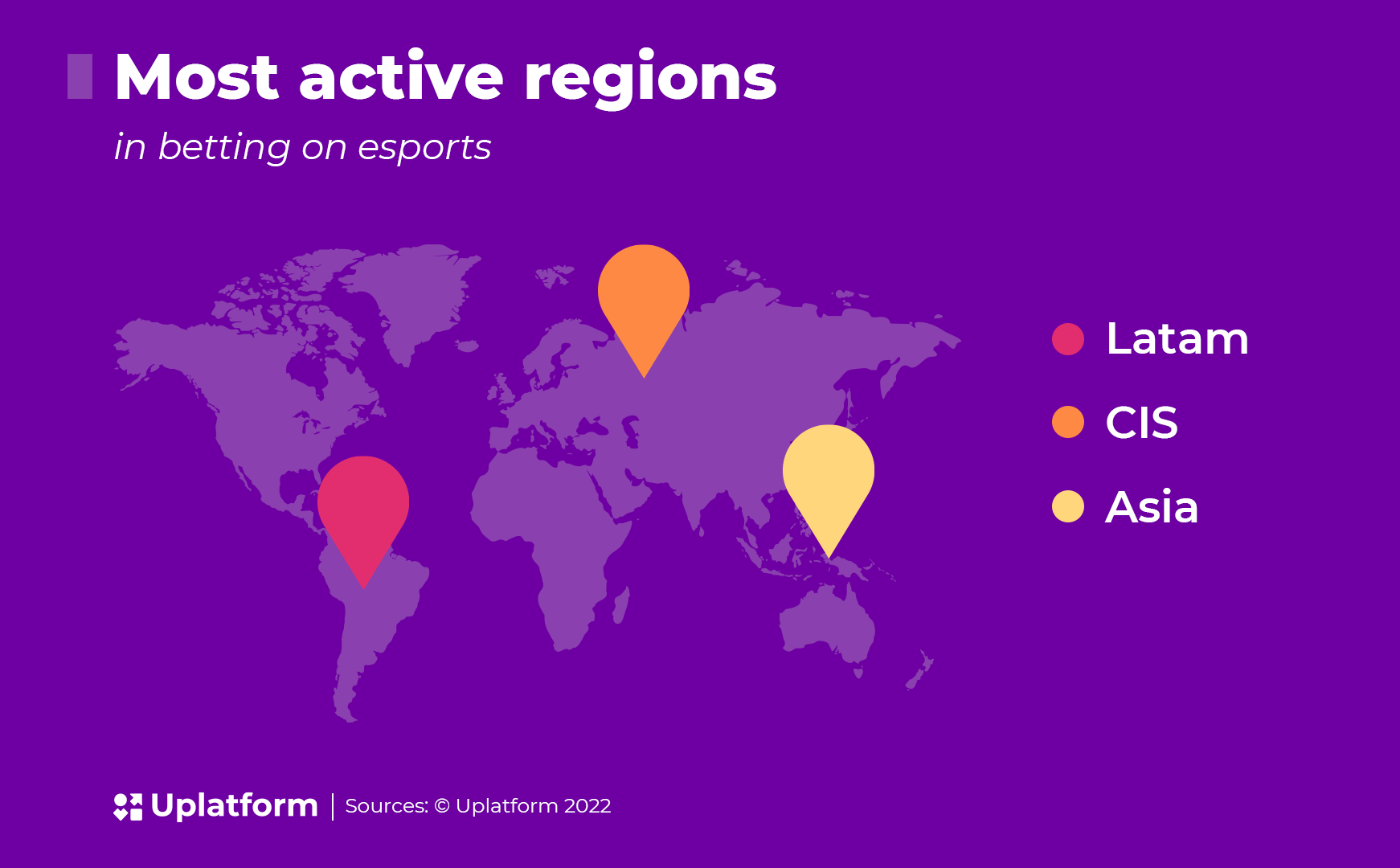 One element that has propelled a new audience to watch these games and place bets on them is the cancellation of numerous sporting events since 2020. With fewer games being played in stadiums throughout the world, the opportunity to gamble on Esports competitions has provided those who missed out on live sports a new format of entertainment through a challenging period. Many people who have tried Esports betting found it to be comparable to traditional sporting events betting.
According to Twitch, which is owned by Amazon, more than 30 million people watch some of the 7 million content creators that broadcast on the platform each month. Hitbox and YouTube, Twitch's biggest competitors, are also pulling in impressive viewership figures. These services have brought Esports and professional gaming to a massive global audience. Steaming providers make it simple to keep up with the world's best players in a convenient and engaging format. It also helps audiences gain a better feel for the top players and teams in the world, giving us more information about who just might win future gaming events and raising the profile of professional gaming.
The incorporation of Esports as a portfolio offering has become a must-have for betting enterprises. Esports also provides additional benefits by attracting a new type of customer while also expanding the options available to existing consumers.
In the next few years, you can expect to hear a lot more about Esports betting, as this industry continues to develop at an incredible rate all around the world.
Uplatform has your back if you want to get in on all the Esports action with an all-around competitive advantage. When it comes to Esports, Uplatform is right in the game, providing you a strategic advantage over your competition by combining industry experience, the most complete Esports offering, and high-quality statistics and analytics.
Contact our team today to capitalize on the rising tide of Esports and extend your portfolio by creating a powerful sportsbook with the help of our professional guidance and experience.
Stay informed
Subscribe to newsletter