Acquire more markets and more profits with unique and trending bets

The rise of the betting and gambling industry, as well as the increase in the number of online businesses, creates a competitive environment for sports betting and casino operators. On the other hand, a crowded field demonstrates a positive surge, and actual demand, making iGaming a healthy and exciting sector to be in. You don't even have to go head to head with existing betting brand powerhouses to perform and achieve success; simply adopt a worthwhile strategy.
One such beneficial proven approach for accelerating growth and achieving long-term profitability for your betting business is to provide customers with a diverse range of unique and trending betting alternatives so that you do not lose out on any opportunities to earn and expand.
As highlighted in the below survey from Statista in which respondents answered the question about what they would likely bet their money on amid the shutdown of pro sports events: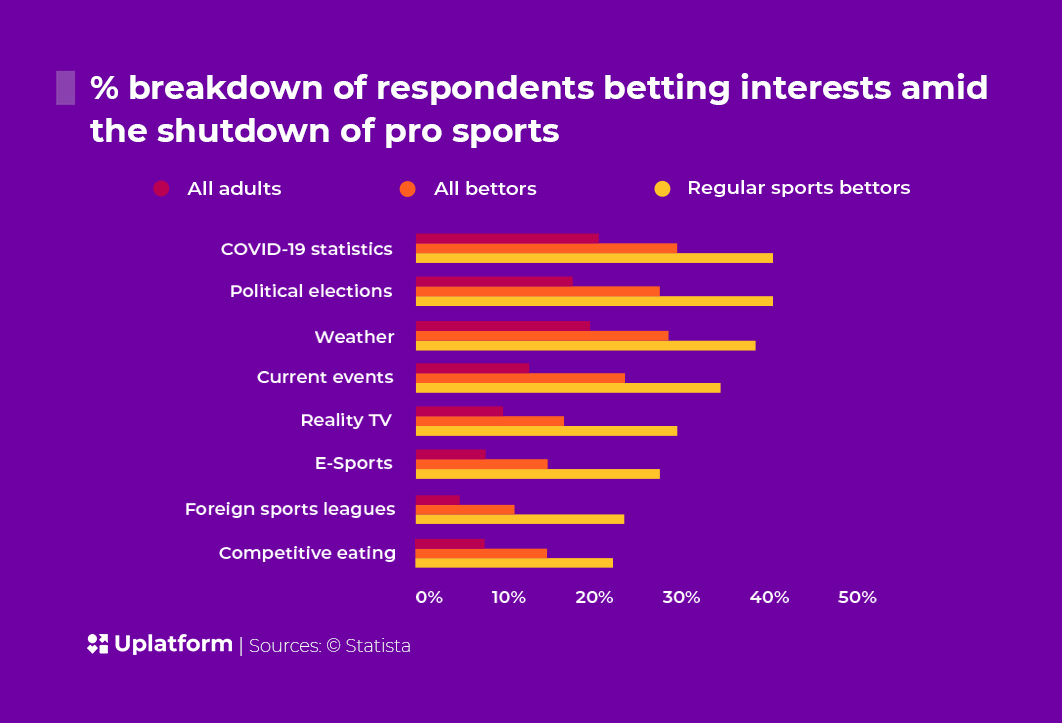 From Life on Mars to Hollywood
In today's digital times, the majority of people have instant access to a vast array of information and entertainment, so it's not surprising that it's more than just sporting events that people are interested in betting on. Thanks to technological advancements, people have become more immersed with movies, shows, news, trends, and world developments through Youtube, TV, on-demand streaming services, and social media via the comfort of their homes and convenience of their handheld mobile devices.
One of the things that makes Uplatform so appealing to our partners is that our diverse sportsbook provides extensive and unique betting options to engage a profit from a wider betting audience. It's not just betting on famous football leagues and sporting icons like Messi and LeBron that gets bettors excited. It's also genuine Fandom, with a devoted, almost cult-like following. Individuals dedicate considerable time and loyalty to hit TV shows and Movie franchises that become a massive part of their day-to-day lives, attracting massive interest with enormous viewer audiences worldwide. Uplatform's sportsbook is well prepared and ready to go right across a variety of market betting, offering a diverse range of bets; from cultural events, baby births, current affairs, weather phenomena, movies, popular TV shows, and award ceremonies. Diversity of betting options is the key, as individuals are willing to bet on a vast array of events, from predicting the next president, or when an island's volcano will erupt, the list is almost limitless.
Diverse and conquer
The ever-growing range of Uplatform's diverse and unique bets allows operations to expand their scope of opportunities to gain more profits. Below is just a small sample from the immense variety and betting possibilities available with Uplatfom.
Hot bets for 2022
As we kick-off into a new year, new things develop, and things can change, and some have a new year resolution and some their eyes set on stardom and success. Everything from:
Politics - Will Kamala Harris be the next USA President replacing Biden.
Films - James Bond, who is going to be the next 007.
Concerts - What act will Headline the Glastonbury music festival.
Award ceremonies - Who will Host the 94th Academy Awards.

Even if you haven't seen the TV program or heard the music, you certainly know something about someone's favorite series or pop hit. Trending Pop culture sparks discussion and curiosity, strengthens relationships between family and friends, and generates a lot of interest in predicting what will happen next. Everything from:
Music Charts - from UK Christmas 2022 Number 1 Single Winner to next Tailor Swift's album.
Media - Who will be Time's Person of the Year.
Squid Game - Will Red Light, Green Light be played in season 2.
Space Race - Which company will have the first human land on Mars.

Unique and unbelievable
It doesn't end there; there are loads more interesting and phenomenal betting possibilities. It could be that the tournament favorite has been eliminated from the Champions League, or a popular TV series has yet to return to the airwaves, deliver more alternatives by offering bettors something extraordinarily entertaining to choose from with Uplatforms unique and unusual catalog of sporting events to wager on. With distinctive and unforgettable titles like Kung Fu Football, Mountain Unicycling, and Reindeer Racing, even those who aren't avid sports fans will appreciate and enjoy these.
Whether you're starting from scratch or seeking to expand your current betting offerings, all of these unique betting selections are conveniently available for your new business project or established betting enterprise. Also with Uplatform's Usports you can seamlessly implement our massive sportsbook offering utilizing a simple and straightforward API integration.
Conclusion
Businesses providing customers with a diverse range of betting alternatives that they actively enjoy will appeal to and engage a more extensive and global customer base, enticing customers to return for more and rewarding businesses with more revenue.
At Uplatform, we will assist you in equipping your sportsbook and casino offering so that it's ready to penetrate all markets and audiences and help you achieve results-driven profits through our extensive suite of professional tools and localization solutions.
Contact our expert team today for your nice slice of global success!
Stay informed
Subscribe to newsletter