Avoid These 5 Mistakes When Opening an iGaming Business

Starting an iGaming business can be thrilling, but success requires a well-thought-out plan. In this article, we will discuss five common mistakes to avoid when venturing into the iGaming industry, including poor market research, inability to localize your content, lack of website accessibility, inadequate marketing strategy, and using an inappropriate approach and provider.
Poor Market Research
One of the most common mistakes that iGaming entrepreneurs make is failing to conduct thorough market research. Market research is vital for understanding players' demographics, content preferences, behavior, and payment preferences in the region or country you intend to target. Even within a single country, preferences can vary greatly. External events, such as a pandemic, and internal events such as shifting demographics and a changing cultural environment, can influence player preferences. Therefore, it is critical to continuously gather data and apply knowledge to tailor your offer to the needs of your target audience. Ignoring market research can result in missed opportunities and failure to connect with your players.

Neglecting Localization
Localization is key to success in the iGaming industry. This includes localizing your content, regional trends, payment methods, languages, and other aspects of your offer to cater to your target audience's specific preferences and cultural norms. Players are more likely to engage with a brand that caters to them in terms of language, payment options they are familiar with, and cultural references they can relate to. Neglecting localization can result in a lack of trust and interest from potential players, which can negatively impact engagement and revenue. To ensure your players get the best experience, it's essential to choose a sportsbook provider that specializes in your region and offers a wide range of sports and events. In this regard, Uplatform is an ideal choice; we offer extensive coverage of sports and events globally and provide various odds formats, including American, English, Decimal, Hong Kong, Indonesian, and Malay. Also, Uplatform understands players' preferences in each region, allowing us to provide casino games relevant to each region, such as hunting and fishing-based skill games for the Asian market and roulette for LATAM. Overall, Uplatform delivers a top-notch experience for providers seeking a comprehensive sports betting and casino gaming platform.
Inability To Access Website On Different Devices
Players in today's digital era expect to be able to use various devices, including desktop computers, smartphones, and tablets, to access iGaming sites. So, failing to optimize your website for different devices can result in a poor user experience and loss of potential players. Your website should be flexible, easy to navigate, and visually appealing across all devices to provide players with a seamless experience regardless of how or where they access your website, which is why Uplatform offers a cross-platform solution that includes full and light desktop and mobile versions and iOS, Android, and Windows apps. We also provide betting services through SMS and Telegram to cater to regions with limited internet access.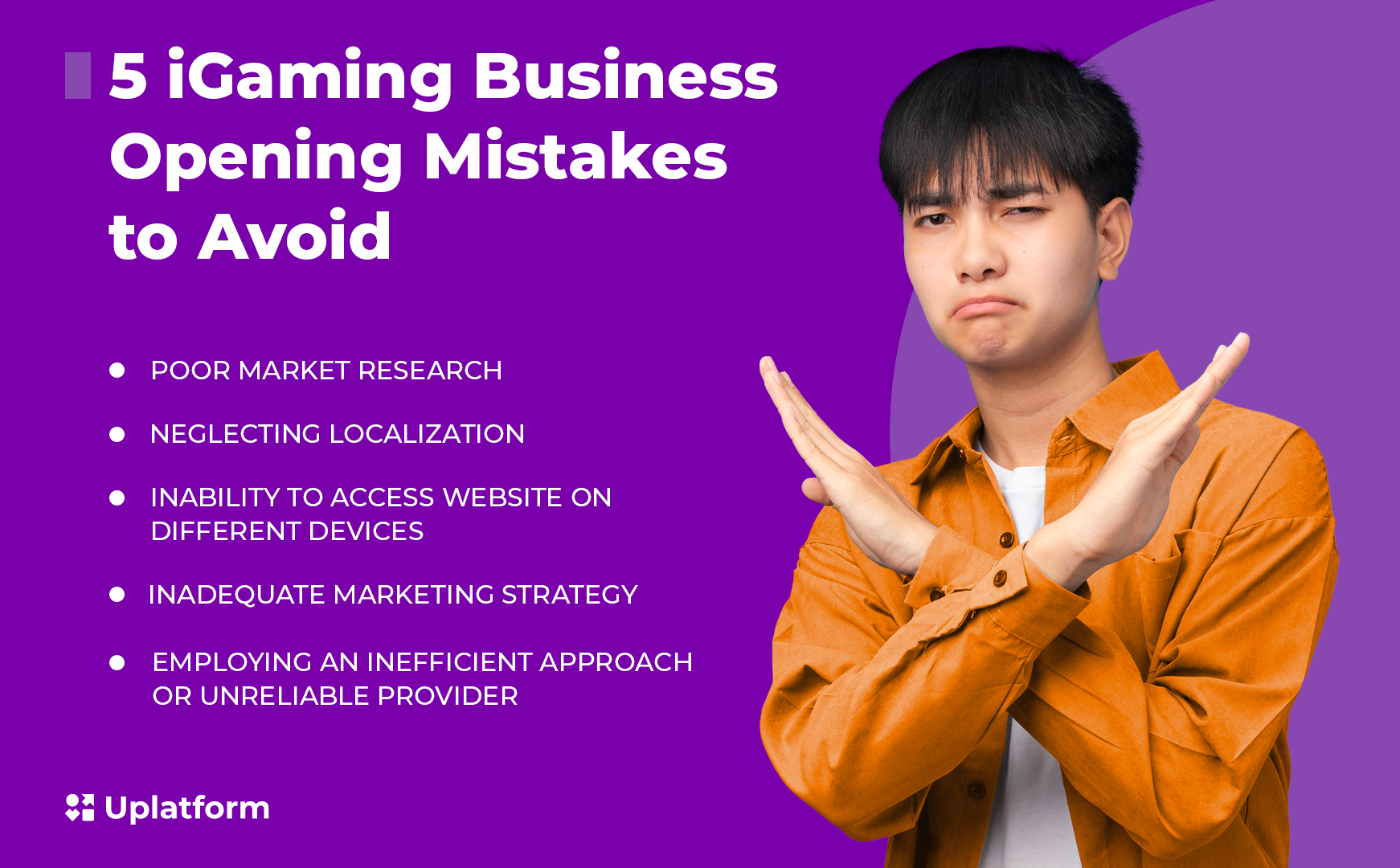 Inadequate Marketing Strategy
A solid marketing strategy is essential for any iGaming company's success. If poorly planned and implemented, an ineffective marketing strategy can result in low player acquisition, limited visibility, and missed opportunities. An effective marketing strategy should encompass a blend of online and offline tactics, including SEO, social media marketing, content marketing, email marketing, and paid advertising. To optimize marketing efforts and attract players to your website, it is vital to identify your target audience, establish clear marketing goals, and allocate resources efficiently. Also, when planning a marketing campaign, it is important to consider the suitable tone of voice and ensure that the message resonates with the target audience by aligning with cultural values and capitalizing on regional trends. Thorough market research is essential in accomplishing this.
Employing An Inefficient Approach Or Unreliable Provider
Selecting the ideal approach and provider for your iGaming business is crucial. Choosing an unreliable provider or neglecting to implement a workable approach can lead to operational glitches, security breaches, and poor user experience. It's important to thoroughly research and verify potential providers, evaluate their track records, and ascertain their offerings to ensure they meet your business goals and requirements. A reliable provider like Uplatform will offer robust sportsbook solutions: sportsbook API, turnkey sportsbook, online casino solutions: casino platform and casino games aggregator, and a full-service platform for iGaming businesses. With Uplatform's full-service platform for iGaming businesses, operators can easily integrate the widest coverage of sports, the largest casino collection, and a comprehensive range of services and tools to assist our clients in their online operations and in building a successful iGaming brand easily.
Conclusion
In conclusion, ignoring these crucial factors when starting an iGaming business may lead to missed opportunities, lower customer satisfaction, and failure in a competitive industry. To succeed in iGaming, market research, localization, website accessibility, strategic marketing planning, and reliable providers are essential. Avoid these mistakes to succeed in the ever-changing iGaming world.
Stay informed
Subscribe to newsletter