Boost your market reach with sportsbook Diversification

Everyone who operates in the sports betting market hopes to expand their business and make a profit. But then, expansion may only be achieved if sports betting content is modeled after the current standard of offerings. Even if a company has found stability in a given market, it will require support in expanding and attracting new bettors. Operators can accomplish this by diversifying the types of bets their sportsbooks offer. By applying this strategy, business owners can reduce risk, broaden their players base, and boost revenue.
Problems with staying the same
There are now more operators than ever, thanks to the rise of mobile and digital betting platforms. Most operators offer competitive odds and a wide variety of promotions to attract and keep bettors. Operators often times offer their players bets on football, basketball, and hockey because those are the three most popular sports among bettors. But what they provide in terms of content remains constant. If this is the case, you may find expanding and attracting new bettors challenging. Moreover, generations come and go, and so do trends. The demographic shift will cause a significant change in the market. Young people will make up a larger proportion of the population; new gambling games will emerge, and sports, as well as virtual sports, will advance. The engagement rules will differ for this generation as technology and society develop, and businesses will need to dance to their tune. Gen Zers are more likely to be interested in innovative betting methods, according to a study by CivicScience. One of our studies has shown that 94% of Esports bettors are below the age of 30. So, businesses must provide a diverse range of the most exciting betting options to attract and retain bettors in this market.
Another factor that necessitated adjustments in how iGaming businesses were conducted was the pandemic. There was a worldwide cancellation of sporting events, forcing many companies that relied on offline promotions to consider other options. Operators can now diversify their portfolios without waiting or depending on the unknown outcomes of global COVID-19 management. Betting operators have a huge revenue potential if they are willing to make changes that have proven successful. One of such changes is diversifying their offerings by providing Esports, virtual sports, and a comprehensive online casino portfolio. Businesses that did not do this saw a decline in sales, and some went out of business.
To prevent this, we provide a diverse selection of exciting, unique, and regionally tailored sports and events, and we are always on the lookout for more to add to the list in the hopes that every bettor finds a game they love.
Take a peek at the range of content; you're likely to find something you've never heard of before or even thought was feasible.
Broaden your current offer
One way to broaden the variety of bets available in your sportsbook is to extend into new markets, tournaments, and leagues. In this way, you can attract more bettors even if you only provide a few sports, such as football or basketball, by giving them more options to bet on through a variety of extra features. African bettors, for instance, enjoy betting on both domestic and European leagues and tournaments because more than 500 African footballers, accounting for approximately 6% of all club player bases, have contracts with Europe's 11 prestigious top-tier leagues.
It's also crucial to add new markets. The more outcomes there are, the more bets will be placed. We realize how important it is to provide our clients with a diverse range of markets, which is why, for example, we offer over 1500 different markets for each FIFA World Cup 2022 game, including the following:
Bets on how a selected player will perform in a game
The scores' time
Number of yellow/red cards
When injuries occur
Number of headed goals, among many others
In-house bookmakers consistently update these odds and markets during live events
Alternatively, you could introduce new offers, such as:

Unique sports
Bossabol, Reindeer Racing, Sepaktakrau, Jai Alai, and Bubble Football are just some exciting and unique sports that will make your sportsbook distinctive. These are not some made-up list; they are real sports played in real places, with real championships and tournaments on which you can place bets. Kung fu volleyball, which combines martial arts and volleyball features, is another fascinating sport—combining football, volleyball, and kung fu with aerial acrobatics. The Asian nations like Malaysia, Thailand, and Indonesia all enjoy the sport of Kung Fu volleyball (Sepak Takraw). It is speculated that it first emerged in Malaysia hundreds of years ago. Popular sports may have a wider reach, but these lesser-known competitions offer opportunities to expand into new demographics and markets. With these kinds of niche sports on offer, your sportsbook can attract a wider audience.
Esports
Based on our research, it would be a huge mistake to ignore the growing industry of Esports when working towards expansion. 'Growth' sums up the emergence of Esports betting the best. Esports betting has experienced a tremendous expansion in recent years, drawing global investors from all industries. The current global audience for Esports is over 474 million, and data suggests that number will rise to over 577 million by 2024. Many of today's younger bettors, including the Gen zers and millennials, have a deeper understanding and connection to this sport due to their childhood experiences with video games. After COVID forced the suspension of sporting events, interest in Esports skyrocketed. A record $1.1 billion was invested in the sector during the first half of 2020. According to industry experts, revenue is expected to top $2.5 billion in 2022. If you wish to offer Esports and gain a competitive advantage, Uplatform is here for you. We have over 300 betting options and over 9500 pre-match and live events.
Current Events And Pop Culture
Since the COVID-19 outbreak, people have become so connected and attentive to practically everything going on in the world that bettors have had to pay more attention to non-sports betting. This means that operators must keep an eye on the betting market's shifting needs and demands. Offer bets on the most entertaining and captivating non-sports events, such as politics, award shows (such as the Oscars), weather forecasts, and TV series plots (such as season 2 of Squid Game). You can capitalize on emerging markets and accelerate your company's long-term growth and profitability by providing players with a diverse range of new and popular betting options.
As shown in the following Statista study, in which respondents were asked what they would bet their money on if professional sports activities were canceled: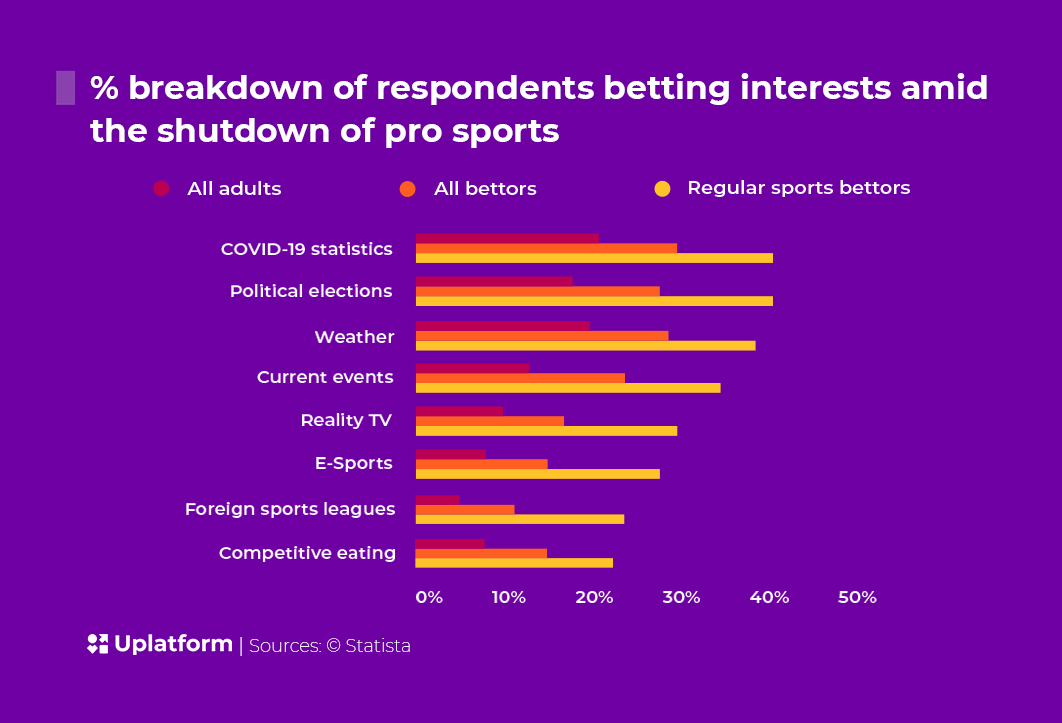 The 2020 U.S. election, for instance, has reportedly generated more money than any other event in Forbes' 20-year history. At a total of $257 million, the 2016 election was the second most popular in history, only slightly behind the election in 2020. Even though the potential payouts in non-sports betting are lower than in sports betting, it attracts a lot of new players. At Uplatform, we stand by the motto, "Be prepared for anything." Our content portrays this diversity, ranging from ecological impacts and international political events to award ceremonies like the Oscars to television series and Hollywood blockbusters, and even questions like who will succeed Pope Francis, who will have the most popular song in the United Kingdom on Christmas 2022, and when Taylor Swift will release her next album. Uplatform's sportsbook team is prepared for any eventuality, wherever it may occur.
Regionalized content
Players will only join your site if you accommodate their individual preferences. One way to do this is to provide content tailored to specific regions. A sportsbook that appeals to local tastes and interests can provide a more personalized experience for its players. Instead of just Premier League football, you could provide options for betting on local matches in lower-tier leagues in the United Kingdom or cricket in India. A higher percentage of players will stick around if the content is geared toward their interests, which is why localization is so important.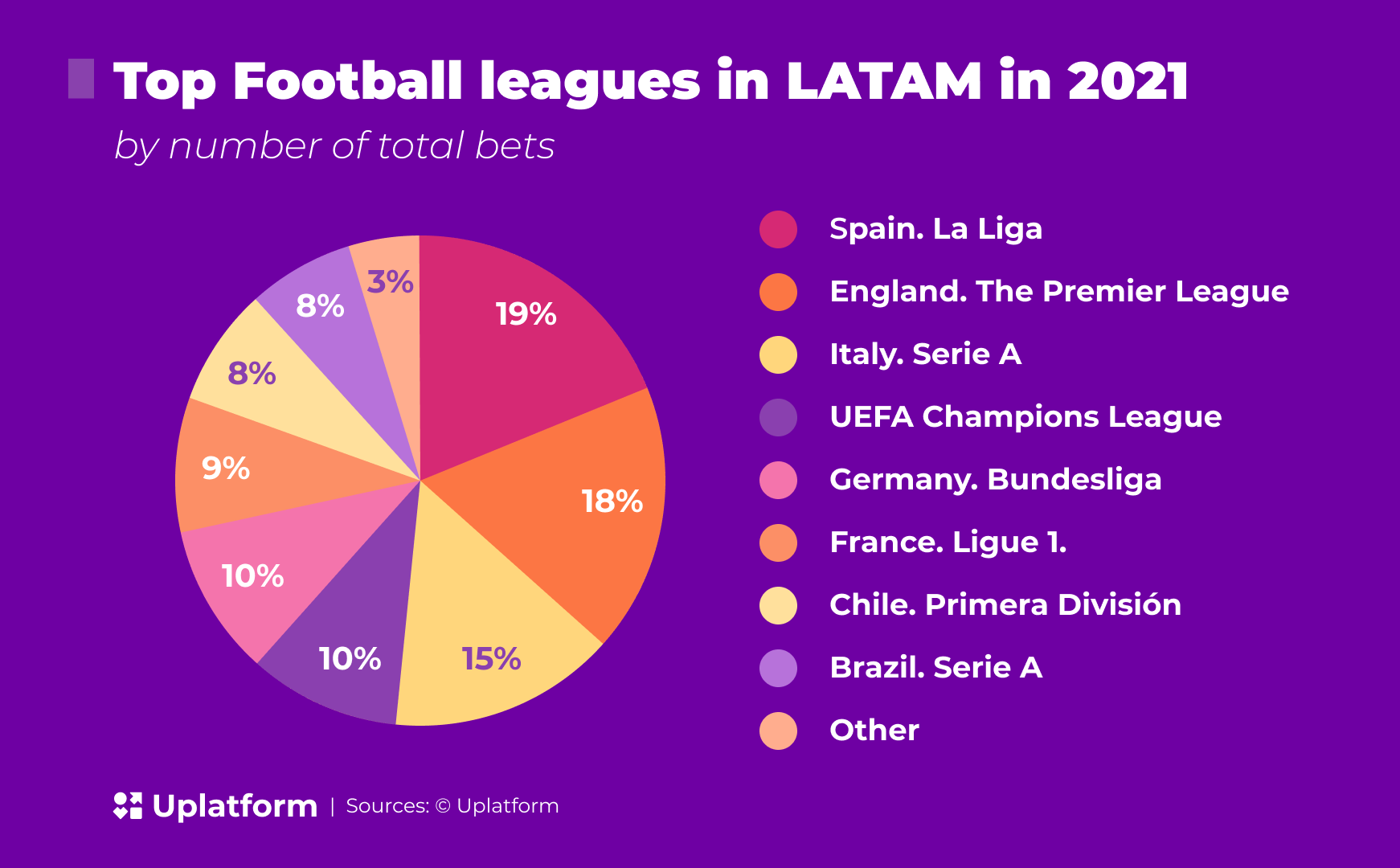 Considering the case of Latin America, the region is well-known for its passionate football fan base; therefore, operators should explore the preferences of its fans. La Liga, the Spanish league, has the most followers in LATAM, as shown in the above infographic. This may be because many of the best players are from Brazil and Argentina, which share a similar language and culture. Offering a variety of odd formats, including the American, English, Decimal, Hong Kong, Indonesian, and Malay formats, can help you reach a wider audience. Bookmakers in the United Kingdom and Ireland often use fractional odds (also known as British odds, UK odds, or traditional odds). The decimal odds system is widely used in the continental Europe, Australia, New Zealand, and Canada (European, digital, or continental odds).
Almost daily, something in the news piques the interest of people willing to place bets on the outcome of various events, so Uplatform offers a sportsbook with practically infinite options.
Finally, the above example of Esports taking the place of live sports during lockdowns demonstrates that diversification is an effective risk-reduction strategy for businesses seeking to enter new markets, attract more bettors, and boost profits. Despite initial perceptions, content diversification provides quality content that keeps bettors engaged and entertained. To attract bettors who are new to placing bets, operators need to have a broad range of options at their disposal. All businesses go through the same stages: start-up, gradual growth, scale-up, expanded sustained growth and profit, and, on occasion, exit due to profit and growth stagnation. Suppose you want to be in the sports betting market for a long time. Then you should think about how diversifying your product line could help your business grow. When deciding what new features to add to your sportsbook, it's natural to have questions. Having a knowledgeable and helpful partner like us on your side will be highly beneficial.
Stay informed
Subscribe to newsletter