Competition in the iGaming industry

"It's so easy to hate,
It takes guts to be gentle and kind"
Sang The Smiths and while it's true being in the iGaming business is tough, should we all turn into mean Scrooges? We all know that the market becomes increasingly saturated as more businesses enter the iGaming industry. Currently valued at about $300 billion, the industry is not only remarkable for its size, but also for the impact it has had on driving technological advancement. For instance, consider mobile technology, improved connectivity, and the development of apps. Additionally, it indicates that there is more competition among these businesses.
Market share
Gambling is practiced by about 26% of people worldwide. With 4.2 billion doing it at least once annually, there are roughly 1.6 billion gamblers worldwide. According to a UK study on online gambling, 17% of people in the country engage in online gambling, which generates £5.3 billion in revenue for the online gambling industry as a whole. The average age of online gamblers is 18 to 39, with 47% being between the ages of 20 and 29. Only 17.6% of online gamblers are female, while 82.4% of bettors are male, making men significantly populated among gamblers in this sector.
Speaking of the GEOs, Asia is in the lead, with one of the countries generating an enormous $50.18B annual revenue. With 197.16 million thrill-seeking gamblers, America comes in second with an astounding $47.62B in revenue. If you still think of Las Vegas as a gambler's paradise, Makau has taken over, but it's still glitzy.
It's not surprising that 96% of online gamblers opt to play from home, 55% prefer to use their mobile devices, and 12% say their favorite time to do so is when they are on public transport. Anything to make the journey more pleasant.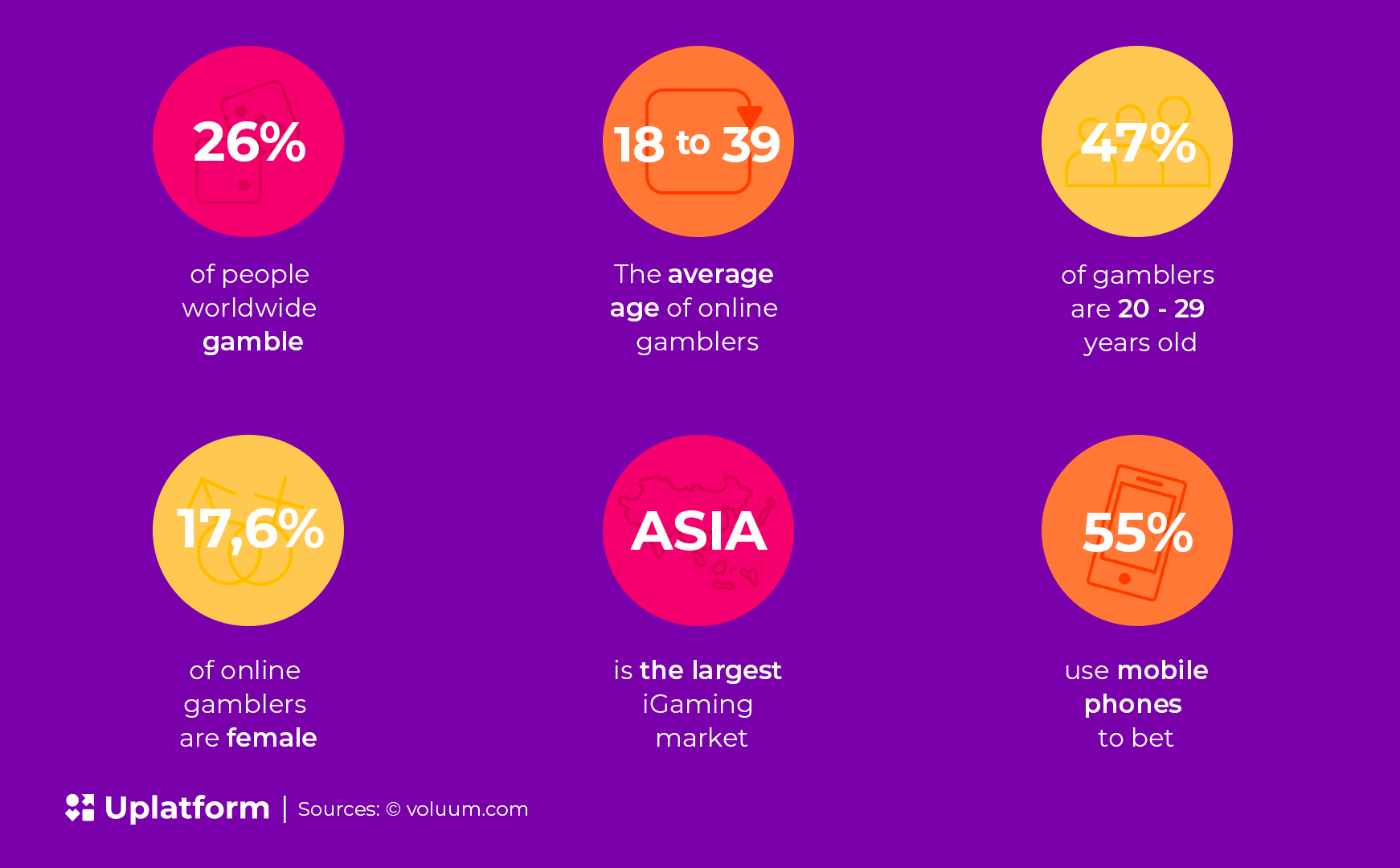 The global iGaming market is projected to expand to $81.08 billion in 2022 at a compound annual growth rate (CAGR) of 10.4%. Speaking of the future, sports betting, which was valued at $72 billion last year, is expected to increase to $140 billion by 2028, representing a growth rate of more than 10.1%.
So it should be no surprise that many companies want a piece of these profits. Why wouldn't they? However, they must be exceedingly imaginative and intuitive to benefit from this profit. Promoting and marketing will assist in retaining existing players as well as attracting new ones. It's a competition, but an honest one.
Marketing tools
Companies are looking for innovative methods to attract players to brand-new sports betting and casino websites as the iGaming market becomes increasingly swamped. As a result, there are now more offers and promotions available.
Bonuses and offers
Bonuses are a sure way to attract and keep players' interest. It is vital for efficient marketing to provide players with primary bonuses and incentives catered to their preferences and needs. According to a Merkle study, many credit card users prefer to choose their bonuses. This demonstrates how personalized bonuses work better. In other words, you would need to provide options that let players personalize their bonuses and offer bonuses that grab their attention. With personalized bonuses, you won't just be engaging in routine business; your players will value the bonuses personally, helping you stay ahead of the competition.
Every market is different, so the bonus strategy should be too. For instance, our bonus solution offers all the tools needed to keep players interested. In addition to well-known and familiar benefits such as cashback, welcome bonuses and loyalty programs, their solution also provides other types of bonuses that are most valuable to the player like a bonus for a series of losing bets and accumulator of the day.
We also provide gamification tools, such as competitions, challenges, leaderboards, and achievement-based missions. You can also create personalized bonuses that target particular markets and players with the help of modern features like advanced segmentation and targeting.
SEO
Another strategy for iGaming websites to stand out in the market is to rank high on search engines and drive traffic to their pages through a strong SEO presence. The research shows that 75% of users never scroll past the first page of search results, so an effective SEO strategy is essential to increase traffic from simple searches. The best way to raise the rankings for your respective link is to create optimized content for search engines like Google.
Success depends on utilizing Google's analytics and keywords, which can be used anywhere on your page. For instance, a betting website might have specialized content for important occasions like the World Cup or the Cheltenham Festival. Create a blog on your website or a dedicated landing page to explore various issues about the sector, offering an insightful look at these topics while raising your Google profile.
Paid Search
Gambling and betting projects also compete in paid search since pay-per-click, and cost-per-click campaigns on Google and its partner's network can help route traffic to specific pages.
The payoff can be enormous with the right ad content and targeting, despite the requirements and application process possibly seeming challenging. As stated by Powertraffick, "90% of internet users see Google display ads worldwide," so it's likely more people will see the ads. You can precisely target your audience by demography, interest, location, and other factors with the help of advanced targeting capabilities. Generally speaking, Google Ads can be a valuable marketing tool for the iGaming industry, but keep in mind that it only works fully if you obtain the proper Google Ads certification and follow the Google policies regarding iGaming advertising.

Sponsored Advertising
Getting the word out and advertising your product to the correct audience is becoming difficult and expensive in this increasingly competitive market. That's why betting companies have been very innovative in their social media strategies, promoting their brands through influencers, streamers, and sports teams. Even though the iGaming industry considers this a relatively new marketing channel by some standards, it is probably the most effective and, if used properly, the most precisely targeted channel currently in use. It directly reaches the user.
Traditional strategies, like television advertising, are still widely used, especially during major events. Advertising at Esports events or sponsoring the teams has also become a great marketing strategy.
Social Media
Top iGaming websites are very active on social media. Their handles should be quickly found in the first search, and their hashtags should be well-known on Twitter. Having a strong brand name can be the distinction between gaining new clients and losing them to competitors.
Seven out of ten gamblers questioned, according to research by ESPN, use Twitter, and the conversations there influence gamblers to wager more frequently and with higher stakes: 65% of gamblers claimed they are more inspired to place a wager on a big event that is trending on social media. 72% of gamblers look up the status of their live bets on Twitter after placing them.
Although gambling is probably not the first thing that comes to mind one hears TikTok, it has been noticed that some major players from the sports, betting, and gambling industries pop up on the platform, with trending hashtags like #bets, #bettingtips, #sportsbook, and more. Currently, there are an astounding 30 million followers for the hashtag #gambling. For those in the gambling sector, TikTok is an important platform, but businesses must be aware of the platform's young audience to prevent issues.
To establish a relationship with players and distinguish themselves from the competition, Uplatform advises iGaming brands to research the markets they want to be presented in and base their marketing strategy on the market analysis, whether to use social media, online forums, answer networks, paid search, or sponsored advertising.
Affiliate Marketing
Affiliate marketing is an essential component of the strategy; without it, getting traffic will be even more challenging. It is necessary to build an affiliate network, attract new participants, and maintain connection and loyalty through the affiliate program, good conditions, communications, and VIP events. It is a lot of work, and you need a good analytical solution for in-depth reporting and statistics.
Aside from that, you can set up monthly and weekly payments as well as a flexible commission structure.
For instance, we offer a solution with flexible commission structure settings - Revenue share, Standard CPA, Tiered CPA, Hybrid, and Sub-Affiliate - so using these kinds of tools, you can track your performance and build a network.
Reputation Marketing
Reputation marketing is promoting, monitoring, and acquiring positive brand content, such as reviews, social media comments, online forums, and traditional press. Bettors are very savvy and cautious and will only bet with the most reputable websites.
This means that to build trust in your brand, you need the help of others. Social proof refers to the idea that people will copy the actions of others whom they admire. You can use this in many ways when marketing your betting or casino website:
Encourage your players to leave feedback
Display positive reviews on your website and social media pages
Monitor and respond to reviews and feedback online
Monitor negative reviews and respond to them accordingly
Competition boosts innovation
Industry rivalry also fuels the development of innovations. The primary goal is to draw users who are accustomed to modern luxuries. Therefore, the best online casinos and betting sites look for and adopt state-of-the-art technological advancements.
Increased safety

Players cannot trust online casino websites unless a safe environment is established. Let us remember that new cyberattacks occur daily. Using banking encryption technologies is a step in the right direction, but more is required. The use of 'blockchain' is most likely the best solution. Improved security features such as fingerprint logins, face recognition, quicker payments, two-factor authentication, and the adoption of web 3.0 technologies are also on the way.

Use of several payment methods

Deposits and withdrawals must be swift and easy for players. It's also important for the payouts to be fast and hassle-free. iGaming websites must offer secure and adaptable global and local payment methods that apply to every location or country where players will be playing. Credit cards, bank transfers, eWallets, mobile payments, e-currency exchangers, payment systems, cryptocurrencies, eVouchers, and other payment methods are all available on our multifunctional platform.

VR and Metaverse

There were many discussions among industry experts about whether virtual reality (VR) will be adopted by iGaming or not. However, games with live dealers may grow more popular as VR takes up more space in the meta-universe. The relationships between players may also improve. These two traits work well together when playing poker, as a person might reveal whether they are bluffing or not by their body language. There are now a few VR casinos, even if virtual reality (VR) is still in its beginning stages. It's possible that more online gaming businesses may soon offer VR choices.

Mobile Devices And Smartwatches

A growing 55% of internet gamblers utilize mobile devices. Operators must offer their players both efficient applications and betting websites to help them with their daily betting and gaming activities, given the growing popularity of apps in the iGaming sector. Players and operators will begin experimenting with wearable devices like smartwatches in 2022. Smartwatch slots are already available, and several developers have seen the potential of this kind of gambling.

Interface and usability

The easier it is for people to use your website, the more they will use it and keep returning. So, gambling and betting companies continuously update their websites to attract more players, keep them, and stay ahead of the competition.

Conclusion

iGaming is one of the world's industries with the most promising growth prospects, and this trend is expected to continue. Despite the fight to stay afloat in the market due to its quick growth and the influx of new companies, businesses must ensure healthy competition that will lead to the industry growing even more by adopting innovative techniques. Although we have listed all of the necessary strategies for standing out, building a relationship with the players comes first. Create a common language and attitude with them, and give your players a sense of belonging through your marketing materials and channels. People often select a brand based on not only how well the product aligns with their preferences, but also because of the brand's identity, its position within the market, and how the brand interacts and communicates with its players. The use of different marketing tools, bonuses and affiliate marketing are just some of the approaches that gambling businesses will keep experimenting with to outperform rivals. More competition often leads to better innovation, and as technology advances, it will only become a more exciting industry to work in.
Stay informed
Subscribe to newsletter