Esports betting: the making of billionaire industry

Esports has evolved from a small sector to a large industry, a billion-dollar industry currently drawing in many investors from around the world. Esports has over 474 million global audiences and is expected to exceed 577 million by 2024. In this article, we will be discussing the enormous growth of this industry.
Debut
Esports' first debut in 1972, beginning very small, has grown into one of the biggest industries worldwide. Esports first started with Spacewars - a game about steering a spaceship and shooting down the enemy. In 1980, the Atari Space Invaders competition held the first large-scale video game tournament. The Atari space event had a massive influence on the growth of Esports. Another significant moment for Esports was the Nintendo World Championships, which took place in 1990. The grand prize winner received $10,000 in cash at this event, a car, a 40-inch television, and a gold trophy.
Online games such as PUBG, Apex Legends, Call of Duty Mobile, and many more have attracted large audiences in recent years, with millions of participants and viewers. By 2028, Emergen Research predicts that the growing Esports industry will account for $5.1 billion in global revenue. During the pandemic and the lockdown era, there was an unanticipated increase of more than 170%. This growth resulted from the cancellation of big sporting events, which encouraged multiple sportsbooks to begin offering Esports betting.
The Audience
Esports, which began as a hobby for youths, now has a more diverse client base, with over 4% of female gamblers and 30% of female spectators. This is admirable in a male-dominated industry like Esports, and according to our statistics, the percentage of female Esports bettors will soon surpass 15%. Further analysis of our data shows that the majority of Esports bettors are between the ages of (23-25), although people of different ages are slowly catching on. Additionally, more than half of the audience is from the Asia-Pacific region.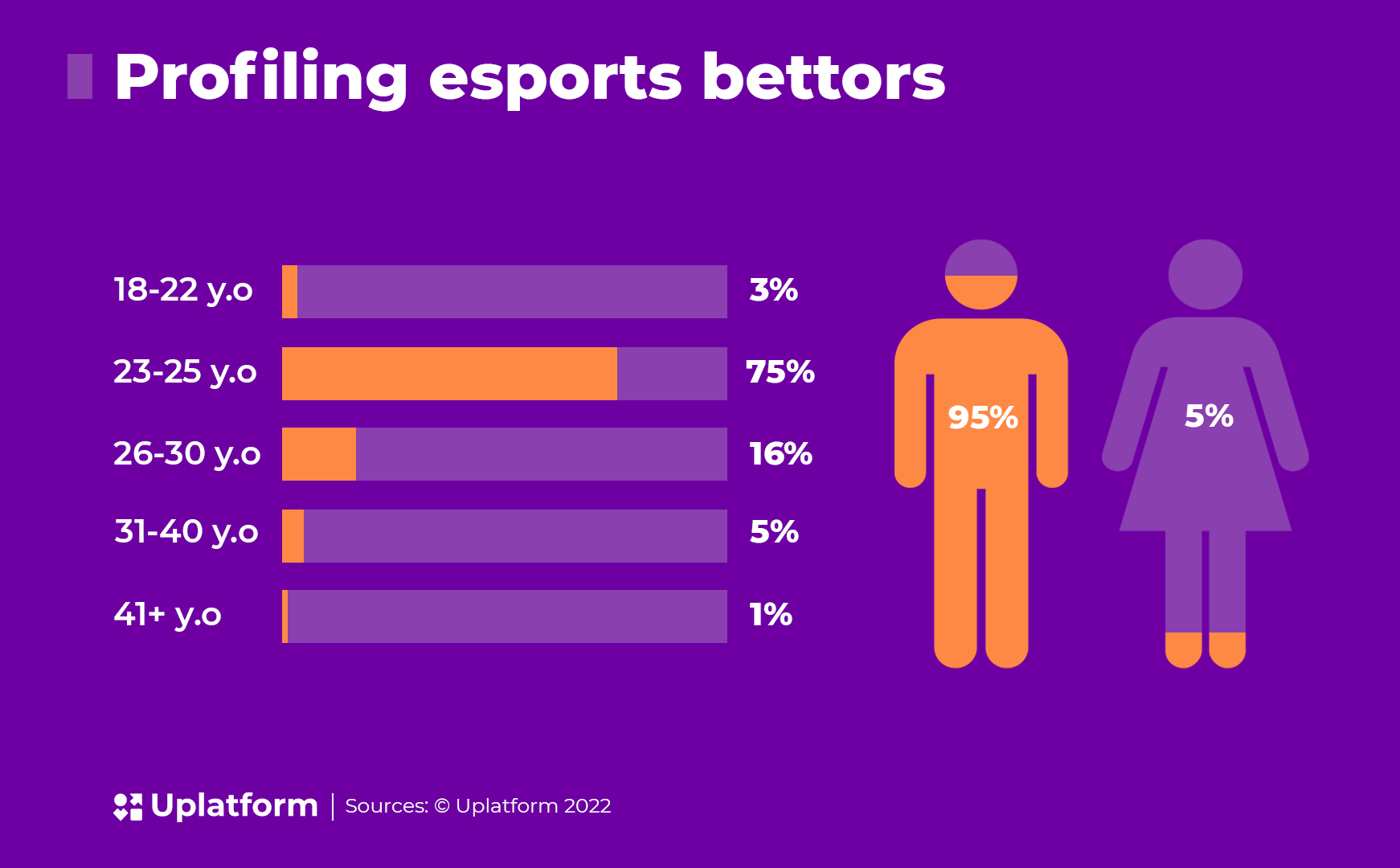 Let's look at some popular Esports games that are now featured in gaming competitions:
Fighter Person Games such as Mortal Kombat, Super Smash Bros, Street Fighter V, and Brawlhalla.
Multiplayer online battle arena (MOBA) like League of Legends and Dota 2.
First-person shooter (FPS) games like CS:GO, Call of Duty, and Apex Legends.
Sports games like FIFA, Rocket League, and Madden.
Other games like card games and real-time strategies.

Dota 2, League of Legends, and CS:GO are the most popular. Uplatform has noticed that the number of active League of Legends bettors has significantly increased over the past year. We have observed that Age of Empires players are starting to embrace the game more since its most recent release.
Top Most Anticipated Esports Events for 2022-2023
2022 The International 11 - will have18 teams competing for a $500,000 prize fund.
League of Legends World Championship 2022 - offering a $2.2 million grand prize.
2022 Asia Pacific Predator League - a prize pool worth $400,000.
Valorant Champions 2022 - Over 176 million viewers and $3.6 million in prize money.
PUBG Global Championship 2022 - includes teams from 32 countries, 18 of which are Asian.
LCS 2022 Championship - with an average of 123000 views and over 17 million viewing hours
2022 Asian Games - hosting players from over 40 countries on different continents.
Hearthstone World Championship 2022 - will feature sixteen teams competing for a $50,000 prize.
Dreamhack 2022: Atlanta
Dreamhack Winter 2022
These games' popularity implies industry growth and strong future prospects. So, suppose you're an operator interested in expanding your sportsbook. In that case, it's necessary to include Esports betting options, which we at Uplatform can support by providing 300+ betting markets, 60+ Esports and games, and 9500 pre-match and live events.
Conclusion
Thanks to Esports, a more comprehensive range of options are available to players. The popularity of Esports among the younger demographics is rising, and betting options are becoming a necessary component of the websites or mobile apps they frequent.
The market is now attracting the attention of various demographics due to its wide exposure and interest in big tournaments. It is quickly becoming the world's most financially profitable market.
Uplatform provides extensive features, including a full-featured sportsbook, multi-device support, adaptability to different markets, in-depth event coverage, and strategic localization possibilities. Some of the Esports games we offer include, but are not limited to, Angry Birds, Call of Duty, CS:GO, and card games such as Pokemon and Hearthstone.
Working with us ensures that you will work with a team with superior industry expertise, a personal approach, and expert consulting, giving you an advantage over your competitors.
Stay informed
Subscribe to newsletter