Guide to choosing a sports betting platform

Entrepreneurs often ask the question, "How to select a sports betting platform?" when they are looking at starting or expanding their sports betting business. With so many providers out there on the market to choose from, the task of selecting a provider can be quite overwhelming.
There is a wide and varied range of sports betting software providers, content, products, and services available on the market. The key to choosing the right sports betting platform provider is to approach it comprehensively. By doing so, you'll be able to cover all your market needs and ensure that your investment pays off.
To make this process less overwhelming for businesses, we've comprehensively covered the essentials and prepared this excellent guide.
6 Key points on selecting the right sports betting platform.
1. Research
Ensure that the sports betting software provider you choose is reliable by conducting thorough research. A platform's quality extends beyond its software and features for betting. Selecting a provider requires a detailed analysis and assessment of the providers to determine who they are and everything they offer. How well do they understand the sports betting industry, are they readily available and easy to get in touch with, and which other betting operators use their platform? In addition, do they possess all the necessary licenses, and are there any extra costs or software requirements? Research is vital - Having already budgeted your costs, you don't want to find out later that you have to invest more finances into your project to get it fully operational.
2. Appealing and Enticing
Sports betting software solutions provide different types of content, bets, and functionality. As a result, you'll want to ensure that you stand out from your competitors while providing a comfortable and intuitive experience for players. With extensive experience dealing with different geographical conditions and betting preferences, Uplatform's professional team understands these needs. That's why our team is on top of everything in the sports betting sphere, keeping up to date with all sports betting trends and must-haves. Uplatform provides sports betting operators with a variety of bet types and bonuses, as well as the following user-friendly features.
Regionalized content: Providing local sports content is also essential. Throughout the world, there are many local regions that are deeply connected to their local sports, whether it's cricket in India or amateur football in Africa. It is essential to cover not just global championships but also popular local leagues and events, such as supplying LATAM players with their favorite Spanish La Liga or lower-tier football leagues they love and follow with passion.
Quality experiences - With pre-match, live, and multi-live betting, including the unique live zone that offers real-time 2D, 3D, and video translation, entertain and enhance the player's overall experience.
To meet the demands of each market, you need to provide different odds formats, such as American, English, Decimal, Hong Kong, Malay odds, and Indonesian. Typically, British and Irish bookmakers offer fractional odds (also called British odds, U.K. odds, or traditional odds). Decimal odds are used throughout continental Europe, Australia, New Zealand, and Canada. Moreover, there are also different website views such as European (classic), Asian (adapted to Asian markets), and Italian. Local trust will increase along with your popularity and profitability if you offer odds representing the local players.
Total accessibility - For some players, it may be a device, operating system, or inadequate internet access, while for others, it may be a language barrier. Make sure you don't lose players by offering localized content, simple access, betting options, and local payment methods. Along with Apps for iOS and Android, Telegram and SMS betting for world regions with limited digital coverage to help promote and grow your business's player base.
Enticing Bonuses - Increase conversions and retention by offering players First-Deposit Bonuses, First-Time Deposit Bonuses, Cashback bonuses, and many others.
Display all information and statistics about matches, teams, and tournaments directly on the match page; easy navigation keeps players on your page and assists with placing bets.
3. Diverse and Extensive
Sports such as Football, basketball, golf, and tennis are essential for you to provide, along with some unique and rare sports that might appeal to your potential audience. Uplatform's comprehensive content range offers a vast and diverse range of deep-laid betting events (with 5500+ markets available), including low-tier leagues, local championships, and even amateur matches each of them are . With the way sports betting has evolved, it's essential to remain attractive and competitive.
In general, players will sign up for sports betting sites that offer their favorite sport or event, so if you're offering a wide selection of these, you will likely attract more players. Here are a few examples of what to include in a diversified sportsbook portfolio.
Esports - Over the past five years, Esports' popularity has grown significantly. Esports have millions of followers worldwide, and the International Olympic Committee now recognizes them as legitimate sports. Esports titles like League of Legends, Dota 2, Overwatch, and Counter-Strike are considered essentials today rather than just options for sportsbooks. If you want to attract and appeal to the younger generation of players, having bets on Esports in your portfolio is a must-have.
Virtual Sports - With real-to-life graphics, virtual sports provide a new dimension to the sports betting industry. Sports betting fans enjoy the convenience of betting 24 hours a day, seven days a week. Unlike actual sports, where all occasions follow a program, players can join the action at any time with virtual sports.
Betting on non-sports - There is so much happening in the world that people like to keep up with everything from current events and pop culture. The weather, politics, TV show plots, and movie franchises are all part of our daily lives. Non-sports betting offers up a huge selection, and bettors love it.
Providing your players with unique and trending betting alternatives is one option you can take to continue to grow your betting business and achieve long-term profitability so that you do not miss out on any opportunities for earning and expanding. Statista's survey below asked respondents what they'd likely bet their money on amid the shutdown of major sports events, and the following responses were provided: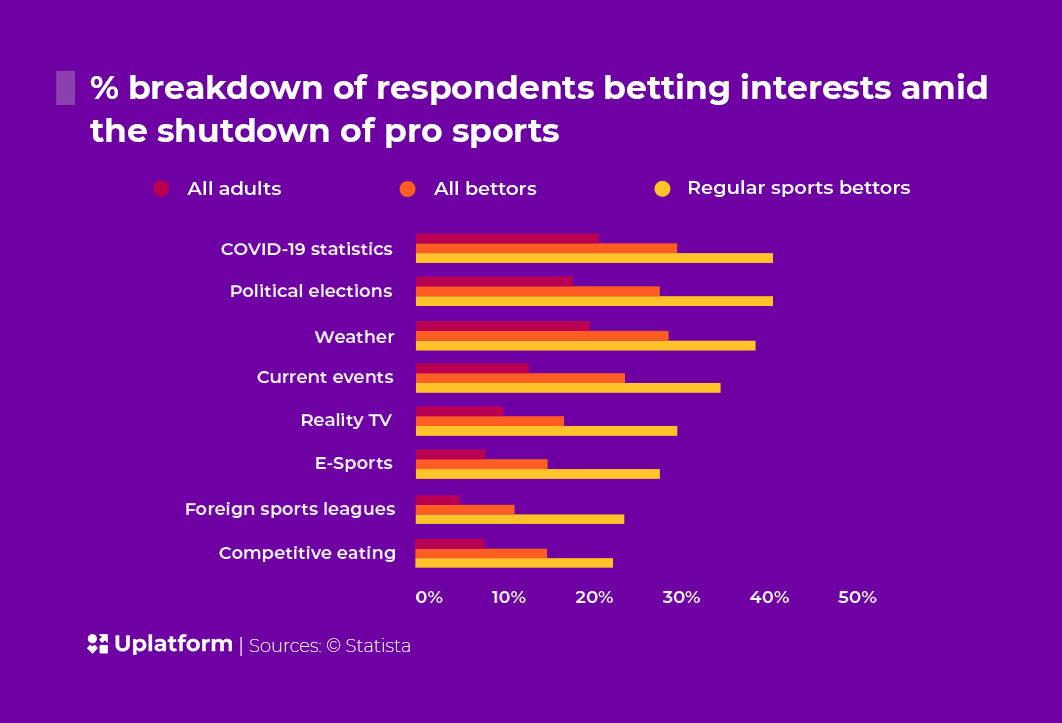 4. A wide range of payment options
It is also essential to offer a wide range of payment options to accommodate all preferences. In today's global economy, people like to have more options. Payment now extends beyond simply having the options for bank transfers or Credit cards. Cryptocurrencies such as Bitcoin have become popular due to the constant innovation of fin-tech and the increased use of e-wallets and other digital formats. The most popular payment options and alternatives should be available to players to avoid creating barriers for them. Uplatform offers all kinds of payment methods, including local and alternative ones. Our offer includes eWallets, mobile payments, cash, e-currency exchangers, payment systems, cryptocurrency, and eVouchers. To stay competitive, businesses must be flexible when introducing new payment methods based on market needs and conditions.
5. Agent scheme
To capture a truly global market, you may need to augment your business into regions where typical methods are ineffective and have no reach. An Uplatform's Agent scheme is a powerful and effective software that supports multilingual functionality and multilevel agent hierarchies, detailed reporting of agent and player actions, and the capacity to place bets on behalf of players and print betting slips. Helping to expand and advance your business globally.

6. Advice and Support
Sports betting platform providers that are reputable and reliable will be there for you when issues arise. When you need assistance with basic questions and guidance about the software, advice on content or marketing and promotions, or problems with the platform or payment services, you want quality support quickly. Another important factor to note is that unless you intend to manage your own Customer Support network, you should look for a provider who will offer readily available support for you and your players.
At Uplatform, we understand the importance of advice and support; our clients can count on us for all levels of support, from technical issues to general operational questions. Our highly qualified team always welcomes any issue, no matter how simple or complex. We also assist our partners in retaining players through ongoing personal engagement. By providing support in 31 different languages and a range of convenient support options - live chat, hotline, or email, we ensure their access to a wide range of foreign yet lucrative markets while promoting new levels of localization.
Final Thoughts
Ultimately, it all comes down to your sports betting business successfully competing in today's huge sports betting market. The primary goal is to connect with sports bettors and ensure that they stick with you rather than choosing one of your rivals. At Uplatform, we are very aware of the fierce competition in sports betting, what the players want, and the difficulties that businesses face in running their operations. To provide streamlined, high-quality, and efficient operations and an amazing playing experience for all players, we have created a multi-featured betting software platform that has everything businesses need to grow, profit, and thrive. In addition to addressing your operations and players, our comprehensive offer does so without requiring additional time, system integration, or financial resources.
Stay informed
Subscribe to newsletter