How Mobile Apps are Changing the iGaming Industry

When considering a brand to do business with, the active on-the-go modern consumer has their expectations, and smartphone usability is one of their primary expectations. With more bettors going online, the iGaming industry isn't on its own regarding mobile access. The number of people who place mobile bets online is increasing. Players are proactively considering mobile compatibility and accessibility, along with the variety of content and payment options available. Around 55% of bettors bet on mobile devices because of convenient internet access and mobile gambling apps. With these kinds of stats, it's becoming increasingly crucial for betting operators to provide their bettors with mobile applications and mobile-friendly websites.
Furthermore, mobile betting is the only way to participate in iGaming in many developing countries worldwide. Since mobile phones are inexpensive and internet access is affordable, online betting has become the most viable method. Like in Kenya, for example, Mobile devices are used by 88% of Kenyan players for sports betting and casino games. Across such regions, mobile betting is now a fundamental part of the gambling sector.
Based on the numbers
According to data, mobile devices are increasingly becoming the preferred online betting method. Mobile betting apps are a significant reason for the industry's surge in growth, which is evident from the following statistics.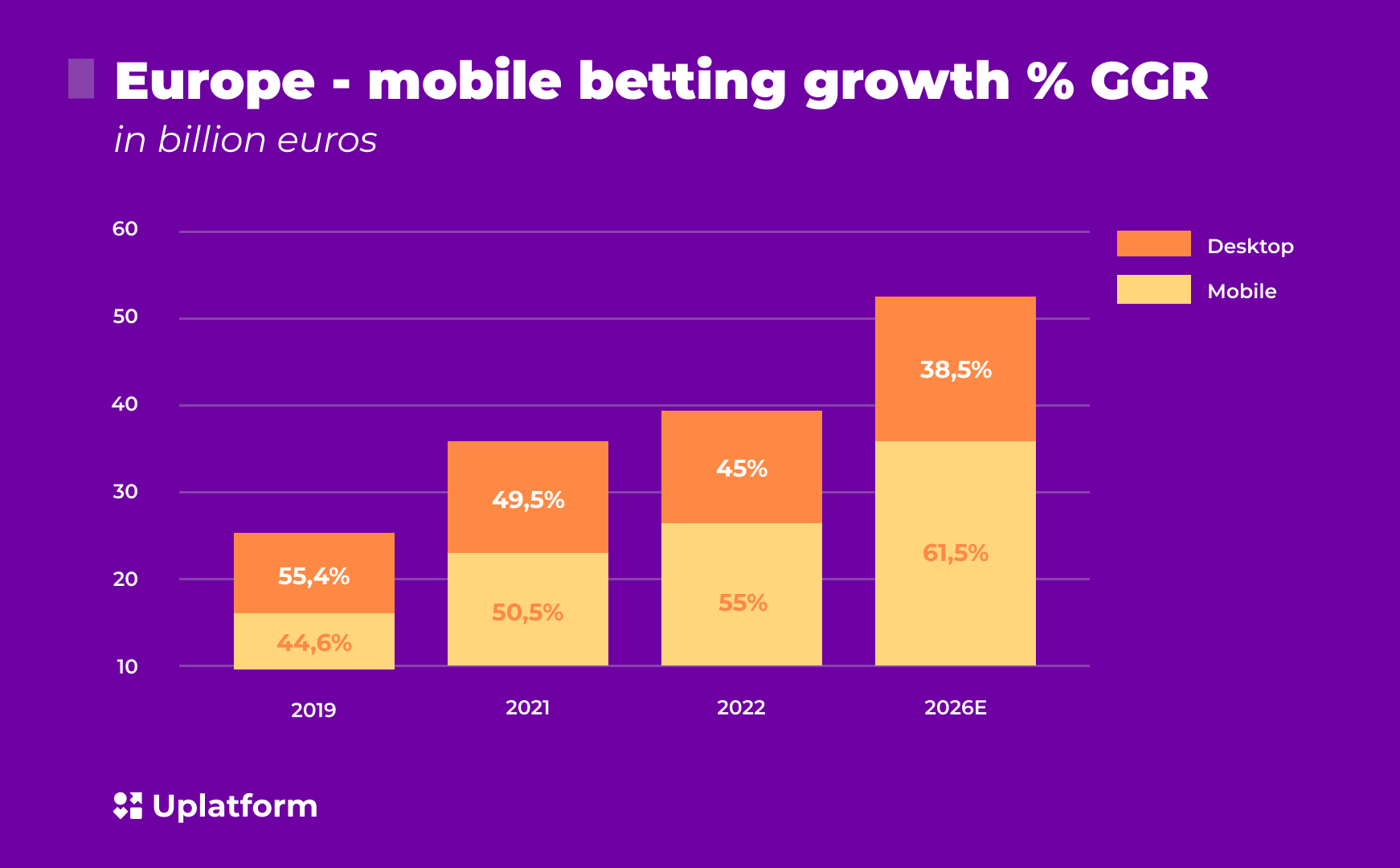 Young adults under 35 continued to use mobile phones to access online betting in 2020, according to the Gambling Commission. Women and men place bets online almost equally, with 56% placing bets online and 44% placing bets online. A surprising fact about female bettors is that they use mobile devices more frequently than male bettors, with around 55% of women placing bets through mobile devices.
Apps are on the rise
Apps are becoming more popular as more companies offer services on mobile devices. Betting companies no longer need only a mobile-friendly website. Whether betting on sports or playing casino games, most players today prefer mobile apps. Dependable mobile apps that feature fast live streaming and mobile-friendly UIs give players a fun betting experience, thus increasing the operators' prospects of earning more revenue. With attention spans shrinking, mobile apps enhance and sustain player connection by reducing the likelihood that players will become distracted and close an open browser tab unintentionally, as often happens mobile browser versions.
Mobile accessibility is an expectation these days, as outlined in the article's introduction. Apps offer a simple, intuitive, and enjoyable gambling experience 24 hours a day, 7 days a week. Online betting is becoming increasingly popular, as mobile apps allow players to place bets quickly and safely from anywhere.
The importance of providing players with various betting options cannot be overlooked. Mobile versions of betting websites are also still very valid and effective for various factors, such as increased accessibility, simpler marketing, inexpensive traffic, and simpler management. However, mobile applications remain a necessity. Following are a few reasons why apps are a must-have:
Benefits for the players
Convenient accessibility
Apps that offer sports betting give players access to a variety of bets, 24 hours a day, 7 days a week. A reliable internet connection is all they need to be able to place bets seamlessly. Regardless of the time zone, players can access any betting website using their smartphones.
Using less data
Since apps only download content from remote servers when they are needed, they use less data than websites. Therefore, it is preferable to use mobile apps in regions like Africa or parts of Latin America where mobile data is expensive, or the internet connection is unstable.
Optimization
Mobile apps utilize the local storage on the device to load user data quickly. The data for websites is usually stored on a server which is much slower to load when compared with mobile apps. When internet connectivity is erratic or poor, mobile apps offer an advantage in areas where data access is slower.
User-friendliness
Often, iGaming websites are less user-friendly than apps. The challenge of fitting a website-designed layout onto a small screen can be one that leads to less friendly UX. Players require a seamless navigation interface throughout the entire betting journey, so it's crucial to offer mobile apps that give them a high-quality visual design that's stable and convenient. Also, because of their simple user interface, iGaming applications are more suitable for betting novices.
A secure environment
Many of the top names in the iGaming industry have launched secure mobile betting apps. Security features and end-to-end encryption are built into these apps. Neither the financial nor data of the bettors are at risk from hackers accessing their personal details. Two-factor authentication is available to Uplatform app users. Regardless of the player's password, they cannot log in without their fingerprint or FaceID. After ending a session, the bettor may choose whether to remain logged in or log out.

Benefits for the operators
Safe and secure
In order to prevent fraud and to make apps more secure, software providers implement more security features. Operators and players both benefit from mobile applications being less prone to cyberattacks.
Regional benefits
Many households in Latam or Africa lack PCs, making smartphones the primary means of accessing the internet. Apps also use less data than websites, which makes it easier for bettors to place their bets using them. Therefore, it is crucial for operators to offer a mobile app in such markets and regions, regardless of infrastructure availability.
Enhancing retention
Most apps are designed in such a way that the player knows exactly what to do when they open them. Through a bet-friendly design and UI, players can register and wager with a single click, without rethinking their navigation process. Apps enable players to receive notifications even when they're not betting, which results in a higher retention rate, thus keeping players focused on the most important task, betting. An engaging user experience and a high retention rate result from having apps with a user-friendly layout and design.
Reputable and relevant
It is essential to have a mobile presence in order to remain relevant in today's digital world. When dealing with a brand, modern-day consumers first download the brand's mobile app. Mobile apps also increase the trustworthiness, reliability, and stability of brands, so players are more likely to choose brands that offer them.
Broader Player coverage
It might be better for some people to use a desktop version, while others prefer a mobile version, and others might prefer apps. As a result, multiple options should be available to satisfy all preferences and increase registrations and betting activity.
Improved live betting
The convenience of betting while watching a game through an app cannot be overstated. Live betting generates 46% of sports betting GGR, proving it to be one of the most popular activities. Players are increasingly relying on mobile apps to increase live betting, making them a valuable option for attracting and engaging new players.
Closing thoughts
To avoid losing out on potential players and markets, providing players with multiple options to access your sports betting or casino website is vital, and no option or version should be prioritized over another.
That's why at Uplatform, we offer our clients access to a variety of channels and options. Including desktop, light website, mobile website, apps, SMS, and Telegram betting options, which allows our partnered clients to reach more players and markets and attract and retain their players.
Our mobile apps are fast loading, adaptable, and safe, delivering a seamless user experience. Also our apps incorporate all the essentials, including a multitude of languages and payment methods, as well as a shared wallet and a simple registration process. It's easier than ever for players to register, deposit, and withdraw money with Uplatform's bespoke developed apps.
Does your iGaming business provide mobile solutions that deliver the ultimate experience to your players and enable you to reach all your desired markets? If not, contact the team at Uplatform to ensure you remain ahead of the competition and that your sports betting or casino enterprise continues to profit and expand!
Stay informed
Subscribe to newsletter