Recipe time: Baking a successful iGaming brand in LATAM

The LATAM iGaming market is luscious like a freshly baked pie, and you can easily carve out a slice for yourself while baking a successful brand with our expert recipe.
Baking time: 2 months
Ingredients:
Localization
Regulations research
Mobile-friendly solutions
Relevant payment methods
Following the trends
The region has gained significant attention in the iGaming industry, and it's becoming more appealing as a possibility as more potential participants become accessible. Numerous nations with thriving iGaming industries include Colombia, Peru, Argentina, Mexico, Uruguay, and Brazil. Brazil, for example, has a remarkable legal track record and the likelihood of legalizing sports betting soon, the country has the potential to become the world's largest market for sports betting. So, what steps are necessary to bake an iGaming brand in Latin America successfully?

Directions
Step 1:

Mix all of the elements of localization to make your offering ideal for a chosen country in the region.

There are 20 countries and 13 dependencies in Latin America, making it one of the world's most diversified regions. Many of these countries have Spanish or Portuguese as their official language. A closer look at the regions where English and Dutch are spoken reveals even more variation. Modify your project to fit these requirements if you plan to launch in these regions.

In addition to language, localization also takes into account popular sports, leagues, and betting preferences in each region. It's no secret that football has captured the hearts of Latin American sports enthusiasts. The region boasts some of the world's most passionate and dedicated football fans. The love for the sport has skyrocketed even more since Argentina brought home the FIFA World Cup trophy. In fact, a staggering two-thirds of all bets placed in the region are on football matches. Latin American fans follow not only the World Cup, but also the highly anticipated Champions League, the Italian Serie A, the English Premier League, and Spain's La Liga. Notably, the last two have remarkably even levels of interest.

It is vital to offer big tournaments or leagues as well as local ones for football or other sports. Football isn't the only sport that attracts LATAM sports fans, so creating localized content for sports bettors is essential in this region. Because of this, Uplatform delivers complete, LATAM-ready betting software specifically designed to appeal to regional players. Horse racing, motorsport, tennis, and basketball are just a few of the local favorites we cover to cater to the betting preferences of the people in each region. We have more than 200 sports and 1.5 million pre-match and live events worldwide available for betting, including regional delights like the Brazilian Campeonato Pernambucano U20 league and the Chilean Tercera Division.

In addition, reviewing betting experiences is necessary. Each nation has its own gambling culture, and even within a nation, regional traditions can vary greatly. For instance, players from Argentina have different betting habits than those from Brazil, and even within Brazil, there are regional differences, and operators typically have a higher frequency of lower bets. Various marketing tools, such as bonuses, cross-selling, and other features, can greatly boost player engagement. To follow multiple events simultaneously, Uplatform offers a unique live zone with the ability to hold multiple live bets. This feature is very popular in LATAM. We also offer Bet Constructor, Bet Builder, and a variety of unique bet types to keep LATAM bettors interested and entertained.
Step 2:

Season your dough with some research to ensure betting regulation.

iGaming legalization, regulation, and taxation have recently risen to the top of the government's agenda in most parts of South America. You must be aware of all local rules to be certain that you act legally. Leading the charge to pass necessary gambling regulations that will strengthen the local economy and lessen the negative effects of illegal gambling are countries like Argentina and Uruguay.

On the other hand, Bolivia and Ecuador continue to abide by regulations created more than a century ago, mostly by religious leaders, which has wreaked havoc on their gaming industries. Other countries, such as Brazil, are successfully bridging the gap and modernizing their laws in the face of traditional opposition by enforcing progressive legislation.
Step 3:

Add mobile-friendly solutions.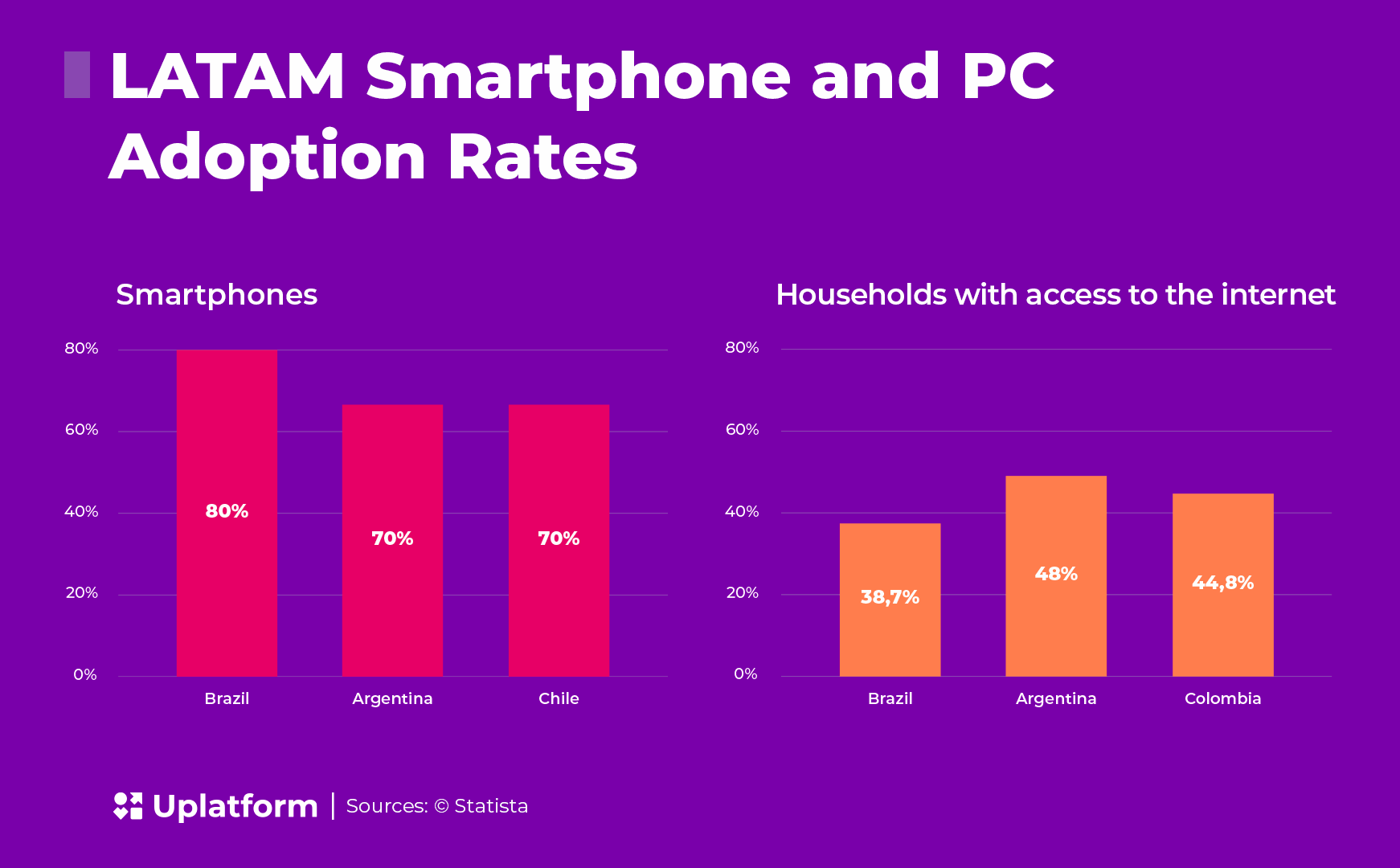 The iGaming sector in Latin America has experienced meteoric expansion thanks to the availability of smartphones in the region. According to Statista, in 2020, 80% of Brazilians owned smartphones, and this number was projected to grow to 88% by 2025. The adoption rates were 70% in Argentina and 70% in Chile. Since most people in these countries cannot afford personal computers or video game consoles, mobile devices are becoming increasingly popular. Even with smartphone adoption, coverage may still differ even within a particular country; for example, rates are higher in the south of Brazil but significantly lower in the north. According to data gathered in 2020, 48% of Argentinean homes have access to the internet via a computer. While the rate in Brazil is only 38.7%, it is 44.8% among Colombians. The LATAM market presents unique challenges with high mobile internet usage and low PC household penetration, making it essential for operators to offer accessible solutions through light web versions, mobile apps, and mobile web. Uplatform provides a comprehensive solution to these challenges with its offerings, including SMS and Telegram betting, to help operators penetrate this market successfully.
Step 4:

Pour in the relevant payment methods.

The statistics on Latin American banking and payments vary greatly depending on the country and region. In Brazil, for example, most adults in the north do not have access to financial services such as debit cards, credit cards, or even bank accounts.

Latin America has a different level of financial market access compared to countries such as the United States or European countries. Local institutions, payment networks, and fintech companies are more popular than traditional international institutions. Although cash transactions are still the dominant payment mode in many Latin American countries, mobile payments and digital wallets continue to gain traction among players. Despite this, a large portion of the unbanked population still exists. To address this issue, innovative fintech companies, banks, and governments in the region have developed alternative payment methods to provide financial services to those without access to traditional banking. This effort to embrace digital payments has been made to improve the region's overall financial landscape.

Understanding local bettors' preferences and offering convenient payment options for them in their own country improves trust and betting experience. With the decline of conventional global banking institutions and the widespread use of payment alternatives, Uplatform is best suited to satisfy the needs of Latin Americans. We offer a wide variety of payment methods, including but not limited to e-wallets, mobile payments, cash, e-currency exchangers, payment systems, cryptocurrency, and eVouchers. We also facilitate payments through various gateways, including Inovapay, Directa24, AstroPay, Pay4fun, Vcreditos, and All4pay.

Also, some LATAM countries require the introduction of agent schemes. Uplatform's multilevel agent structure, extensive reporting, and statistics give businesses full command of their operations, allowing them to adapt to the unique demands of the LATAM market and thrive across Latin America.
Step 5:

Frost and decorate with industry trends

Esports are growing at a rate comparable to traditional sports in many parts of the world, and Latin America may currently be a small Esports market. Nonetheless, the increasing number of teams participating in LATAM Esports games suggests that Esports in Latin America will grow rapidly in the coming years. Dota 2 teams, League of Legends teams, and Counter-Strike: Global Offensive (CS:GO) teams already have a significant presence in the area. With the growth of local teams, steadily rising popularity, and rise in tournaments in the region, LATAM is a market that should not be neglected.

Uplatform is thrilled to be one of the leading providers in the rapidly expanding world of Esports. Their cutting-edge sportsbook allows businesses to capitalize on the exciting growth of the Esports market in Latin America. Our comprehensive offering provides Latin American Esports fans with a vast selection of choices, including popular games like CS:GO, League of Legends, Dota 2, Rocket League, and many others. With coverage of top leagues, random matches, and a wide range of markets, we are dedicated to delivering the ultimate Esports betting experience.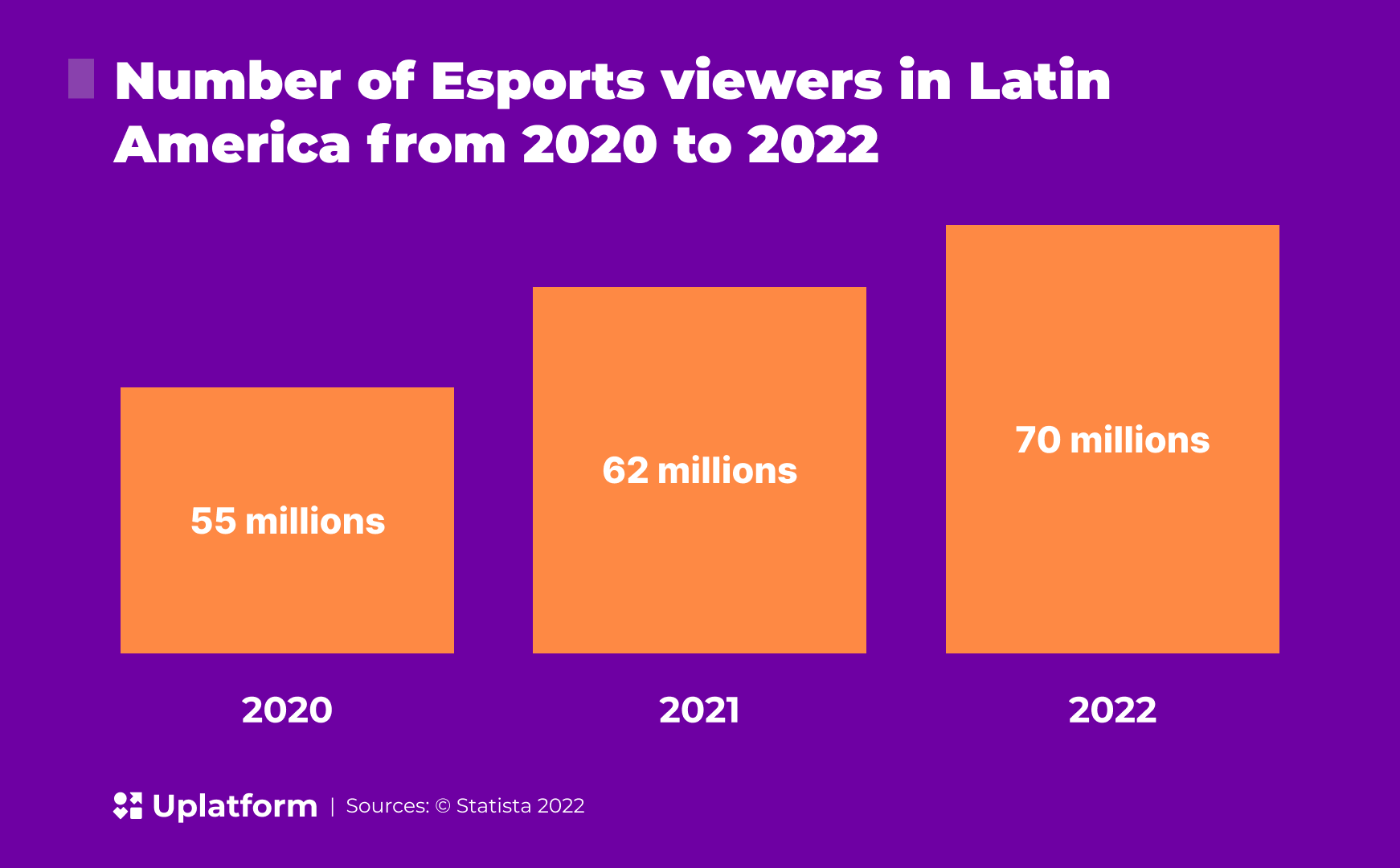 Step 6:

Food is ready; serve the pie.

Now that your iGaming brand in LATAM is done and ready to be served. Baking and serving your pie with a seasoned and trustworthy sous chef like Uplatform can ensure sustainable success. With our extensive hands-on experience and in-depth data analysis, we have created a range of effective solutions tailored to meet the unique demands of the LATAM market.

Allow our experienced team at Uplatform to assist you in navigating this exciting market and reaching your goals. Contact us today for expert guidance and advice.
Stay informed
Subscribe to newsletter