Sportsbook Checklist for the FIFA World Cup

The FIFA World Cup, the most prestigious football competition in the world, kicked off last month. This is, therefore, a fantastic chance for businesses to capitalize on increased visitors and revenue. Since the 2022 FIFA World Cup is played in November, starting a week and a half after the break for domestic leagues and ending just eight days after the final, operators will need to plan accordingly. The highly regarded Champions League and Europa League are still in play, domestic league competitions are still ongoing, and European domestic leagues are at their peak. Not even mentioning other popular sports, such as the Formula One season, which is coming to a conclusion and also attracts a lot of interest. Due to these events, the number of people who sometimes bet for fun is expected to rise dramatically in the coming days, and more bettors will get engaged during and after the World Cup.
Nevertheless, peak betting times may be highly demanding on the sportsbook; therefore, operators must have the perfect structure to handle these rough times and make the best of it while providing their players with a wonderful betting experience.
This article will go over sportsbook features that will help you earn profit during this high-demand season.
Multiple betting markets
A betting market is the possible outcome of sports events. The more outcomes that may be bet on, the more likely players will visit your website to place bets. On each 2022 FIFA World Cup game, our Sportsbook API provides over a thousand unique betting options, including:
Unique bets
Bets on how a selected player will perform in a game
The scores' time
Number of yellow/red cards
When injuries occur
Number of headed goals, among many others
Our in-house bookmakers are constantly updating the markets and odds for upcoming events, for instance, the November 30th match between Argentina and Poland. We had 1492 markets for this match, including bets on red cards, who will be the first player to score a goal, and so on.
Live betting
The convenience of betting while watching a game cannot be overstated. Live betting generates 46% of sports betting GGR, proving it to be one of the most popular activities. We provide a unique live zone with 2D and 3D live action and a multi-live function that allows to place multiple bets in the same window.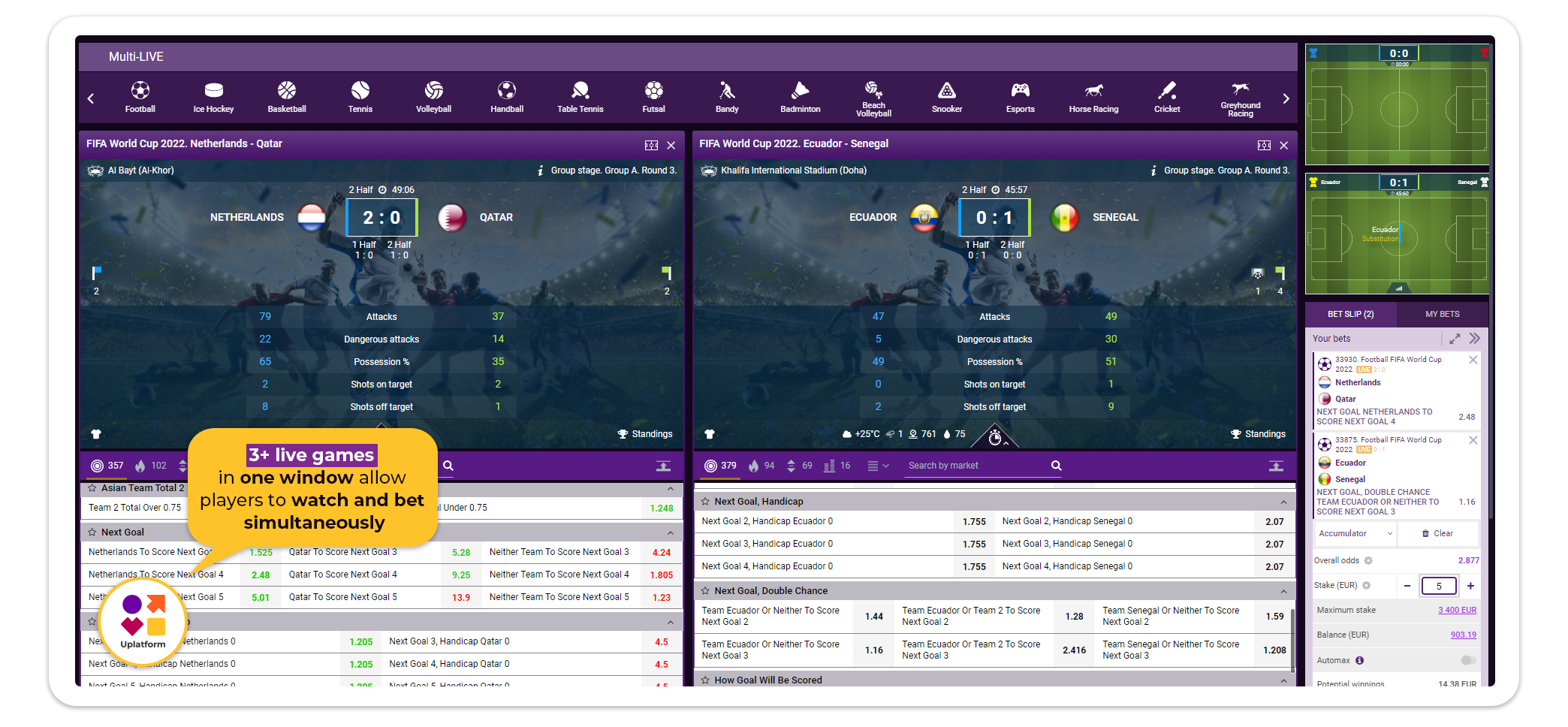 A broad selection of betting options
Stacking matches, in which players can bet on three or more events on a single match day, is another vital aspect of big tournaments. Numerous games will be played on the same day due to the World Cup's compressed schedule, which increases the value of the numerous betting options. During large sporting events, when the average bettor has several different games on the line, it's important to consider the player's psychographics. Our sportsbook provides a wide range of multi-bet combinations, including the Accumulator, Lucky and Chain, one-click betting for sporting events, special bets (where bettors can bet on a player, make player-player or team-player bets), the bet builder (where bettors can withdraw from multiple events in a single match), the bet constructor, etc.
Essential info about matches
Statistics is a crucial and effective tool for any bettor. It ensures more accurate sports prediction and high-quality pre-match and live analysis. An essential detail that players should consider when predicting is the performance of the most recent face-to-face meetings. It is easier to predict the outcome of the following games using such statistics.
Simple and user-friendly interface
The more user-friendly your website is, the more time people spend on it. If the site is comprehensive and easy to navigate, users won't have trouble finding the necessary information. A bet-friendly design and UI allow players to focus on the most important task, betting, without having to stop to figure out the navigation process, from simple 1-click registration to banners and pop-up notifications with perfect timing. The ultimate goal of any design is to provide the best possible user experience.
Landing pages carefully crafted and developed to include all relevant information about FIFA World Cup matches can bring in new visitors looking for bets on those games. These pages are ideal for match websites and public pages of fans of a specific team. The conversion rate from this traffic will be perfect, and you can promote your favorite team's schedule or upcoming games on these pages.
Localization
To provide a comprehensive solution specially tailored to the World Cup, a wide range of content is required to attract an extensive range of bettors. Additionally, betting site owners must support a variety of languages, accept local payment options, modify odds and betting lines to suit regional preferences, and provide betting on national sports teams to localize their operations properly. Here are some of our tools and solutions that enable you to localize and modify content to suit the preferences of every player:
Sorting of national teams accurately based on the user's location
65+ languages, including some uncommon ones like Icelandic and Khmer
Different odds are available, including fractional, decimal, Moneyline, Indonesian, Hong Kong, and Malay odds
Several views - European, Italian, Asian

These and other related capabilities are built into iFrame and Turnkey solutions. With our Sportsbook API, you can provide your iGaming business with the most feature-rich sportsbook accessible. By utilizing our Turnkey, you will gain access to a solid platform, 300+ PSPs, and the opportunity to easily launch a new product or enter a new market all at once.
Stay informed
Subscribe to newsletter