Sportsbook must-have features

Choosing sports betting software can seem like a daunting task because of all the factors that need to be taken into account. Uplatform has extensive expertise in providing efficiently localized sports betting software. We've compiled a list of features that our clients should anticipate from the best sportsbooks and what we provide. We recommend that you create your own list to ensure that you include all the necessities. Here are the key features to look for when choosing a sportsbook: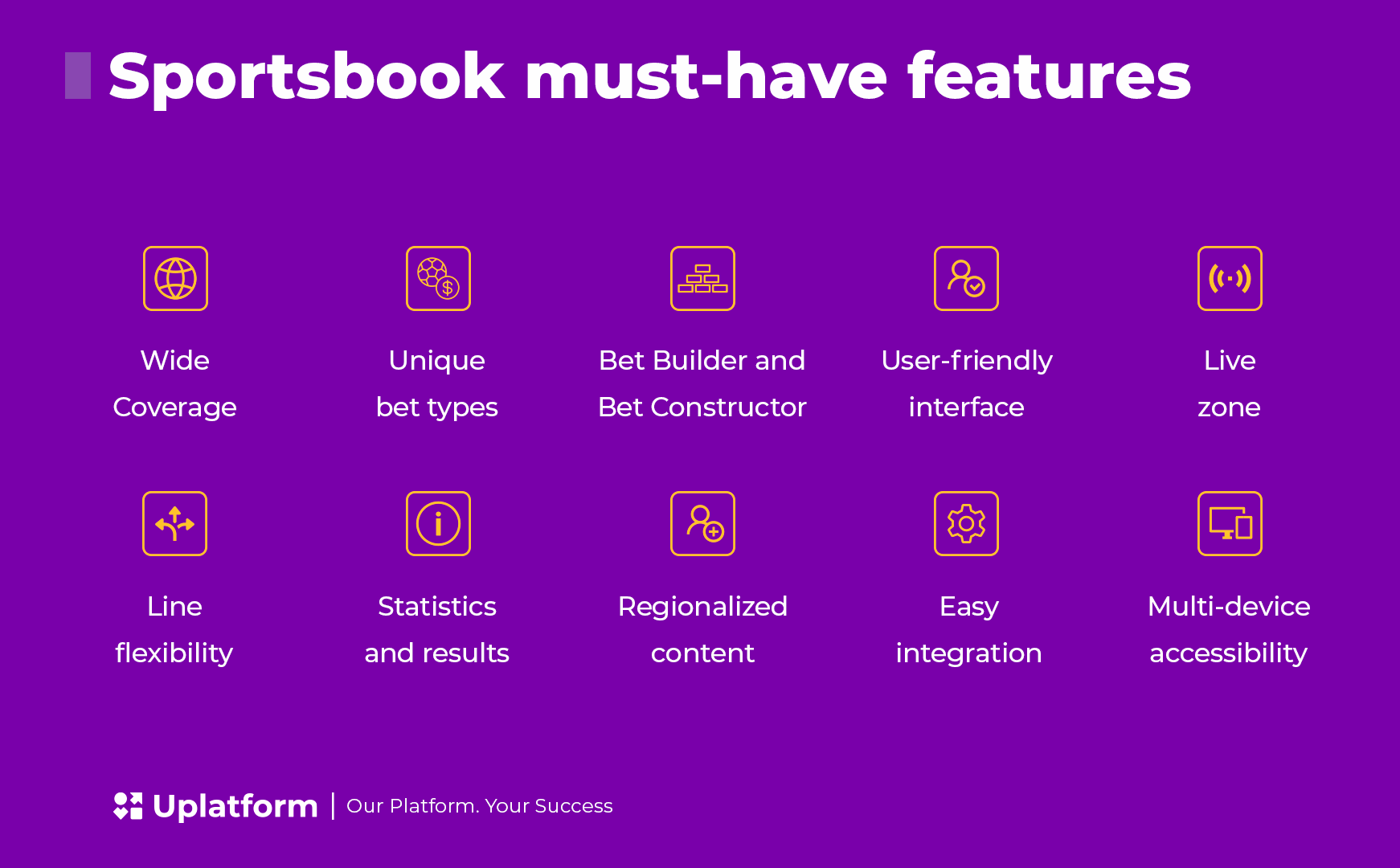 Coverage
Sports betting has changed and has become very diverse, so offering a wide range of options is important. At Uplatform, we have 260+ sports and Esports, over 1.5 million pre-match and live events, and offer everything from live sports to Esports, virtual sports, and even non-sports betting on TV shows and the weather. It is crucial to include a diverse range of tournaments and leagues, comprising both global and local events, to meet the diverse needs of players and bettors worldwide. This includes providing coverage for must-have global top events and contests, amateur tournaments and matches, as well as low-tier leagues, and offering a comprehensive selection of markets for each game.
Unique bet types
A great strategy to set yourself apart from the competition is to diversify your offers. Offer bets on a specific player's performance in a match or activity and bets such as player vs. player or team against team. We also accept wagers on geopolitical and cosmic occurrences, weather, and other natural phenomena. The possibilities are endless.
Bet Builder and Bet Constructor
An ideal sportsbook offers their customers a wide variety of betting options, ranging from simple to complex. In a unique innovation, bettors now have the flexibility to choose from a wider range of outcomes across many markets within a single game. The Bet Constructor is in high demand because it increases the chances of player engagement.
Bet Builder is a special feature that allows players to make a slip out of several events in a single match.
Live zone
Sports enthusiasts are incredibly active, not just in pre-match betting but also in live betting. Over 46% of all bets are placed live. When the game begins, viewers have a better understanding of what is going on and prefer to place bets on what is still to come. The number of live events and markets, the frequency with which they are broadcast, and the frequency with which odds and statistics are updated are all important factors that bettors consider. To provide an optimal sportsbook, you must provide bettors with enjoyable real-time betting experiences.
For the most important matches, Uplatform's sportsbook offers real-time 2D and 3D translations, and live streaming for esports and games, and covers a wide choice of live events and betting markets for in-play betting. Furthermore, we have a distinct multi-live feature that enables users to select multiple events and view them all in a single window.
User-friendly interface
A sports betting solution provider must offer seamless software and post-launch support. The software should work perfectly even in traditionally challenging markets. Bettor convenience requires an attractive front end as well. The software should also be user-friendly and provide an informative bet slip with the option to include several bet types such as Accumulator, Lucky, Chain, and Anti-Accumulator. The software should consist of one-click bets, the simplest and quickest way to place bets with no extra effort.

Essential info about matches
The ideal sportsbook should be able to display all information and data pertaining to matches, teams, and tournaments directly on the match page, as well as provide easy navigation to keep users on your page and assist them in making better judgments when placing bets. We don't want players checking statistics at other websites where our competitors are placing ads, do we?
Regionalized and personalized content
Due to different regional regulations, traditions, and languages, players tend to have different preferences depending on their region. So to retain your players, choosing a sportsbook provider that offers your players their preferred content and options is essential. Uplatform sportsbook ensures regionalized and personalized content for your players. Here are some of our amazing localization features:
Sorting of national teams based on the user's location
200+ sports - both globally admired and those preferred in particular world regions
68+ languages, including rare ones
Different odds formats are available, including fractional, decimal, Moneyline, Indonesian, Hong Kong, and Malay odds
Different views - European, Italian, Asian
We select the most anticipated match worldwide and provide the best odds
Line flexibility
A quality sportsbook should prioritize player customization and convenience. We recognize the value of customization and provide options for players to add their favorite championships for quick access and easy tracking. We also ensure that our interface is adaptable to different regions, displaying national teams and relevant sports based on the player's location and choice. Furthermore, our platform allows operators to add or remove sports and leagues based on their target market. We are dedicated to providing a seamless and tailored experience for players and operators, making our sportsbook profitable and convenient for operators to cater to their audience's unique preferences.
Multi-device accessibility
To meet the ever-growing demands of the online betting industry, operators must ensure that their platforms are multi-device compatible. According to recent studies, mobile phones now account for more than 55% of all bets. In regions such as Latin America, where PC household penetration is low, mobile devices are the preferred option for betting. Operators require accessible solutions such as light web versions, mobile apps, and mobile web to address these challenges. Uplatform understands the evolving nature of online betting and the importance of catering to the needs of bettors in various regions, which is why we offer comprehensive solutions for operators in various regions, such as Android, Windows, and Apple apps, as well as SMS and Telegram betting for regions with internet challenges. Operators can attract more bettors, keep their site in high demand, and stay ahead in the competitive online betting market by providing seamless and convenient betting experiences across multiple devices.
Easy integration
Setting up a sports betting website from the start involves significant effort and resources. Everything must be put into place, including the software, the line, the website's design, content provider, and administration and management tools. You can seamlessly integrate our simple, customizable, and compliant API solution with your existing platform or website. Allowing you to manage your business with great flexibility without disrupting your already-established gambling operations.
Summary
While creating and running an online betting brand may seem daunting, doing it with a reputable sportsbook supplier's support makes it as easy as pie. We have an excellent reputation, one of the finest turnkey and API solutions, and extensive market knowledge. Our multi-channel, mobile-friendly, award-winning Sportsbook has everything to keep you thriving and productive in the business.
Stay informed
Subscribe to newsletter