The benefits of SMS and Telegram betting!

Staying ahead of competitors and capturing the attention of bettors can be challenging in the highly competitive and fast-paced iGaming industry. In this article, Uplatform would like to shed some light on solutions that may not be on everyone's radar, but their implementation can provide businesses with substantial opportunities to expand into more markets and attract more bettors.
A great advantage that iGaming platforms have brought to the industry is increased access to sports betting via the convenience of mobile devices. Apart from the most widely known online betting options, a few betting options are becoming more widespread and shouldn't be overlooked. On an important note, these are simple but very effective solutions that provide excellent opportunities for businesses seeking to grow their brand beyond those already exhaustively established markets and looking to reach a betting audience on a truly global scale.
The Evolution of SMS betting
The likes of WhatsApp and Facebook Messenger have become mainstream players in how most people communicate these days, making them an everyday part of our lives. Considering how commonplace these Apps are, it's easy to forget how powerful a simple SMS can be.
Despite being overtaken by other messaging apps, SMS text messaging was the global standard for messaging on the go for many years. Although, SMS may not be the current standard, it's still no minnow by any sense. Five billion people continue to send and receive SMS messages, according to SlickText's analysis of SMS usage statistics. To put that stat in percentage terms. It represents about 65 percent of the global population, which is quite an impressive figure.
Furthermore, according to the site's projections for 2025, SMS would continue to remain a prominent service for communication, with six billion individuals projected to send and receive text messages.
How does SMS betting work?
SMS (Short Message Service) is a text messaging technology that has existed since 1992. Since 1992, very few technology developments have been made to the service. Despite limited technological changes, SMS is still a widely used commercial tool. Many businesses, including sports betting, have discovered that SMS can help them expand their customer base and improve their services.
Using SMS betting, players send codes to a specific number, and software processes the information sent via the SMS message to confirm the player's bet. As well as registering an account and logging in, SMS betting services provide players with a variety of other basic functions. Also, players can withdraw funds and check on betting results through SMS.
Considering the ease of using the internet for sports betting, it may seem quite an unorthodox approach and even odd that SMS betting is even an option today. Despite this, there are still significant areas around the world where using the internet is not a feasible or affordable option for many people, due to very high costs for data usage, as well as slow and inadequate internet connectivity. SMS betting can assist with these issues because it works in areas worldwide by providing a cost-effective, efficient, and simple-to-use solution whenever data is expensive or in areas with unpredictable or insufficient connections. Moreover, SMS also provides an easy and convenient method of making payments in such regions. If you plan to operate your sporting betting enterprise in these types of world regions, it might be beneficial to use SMS as an effective alternative solution.
How about Telegram betting?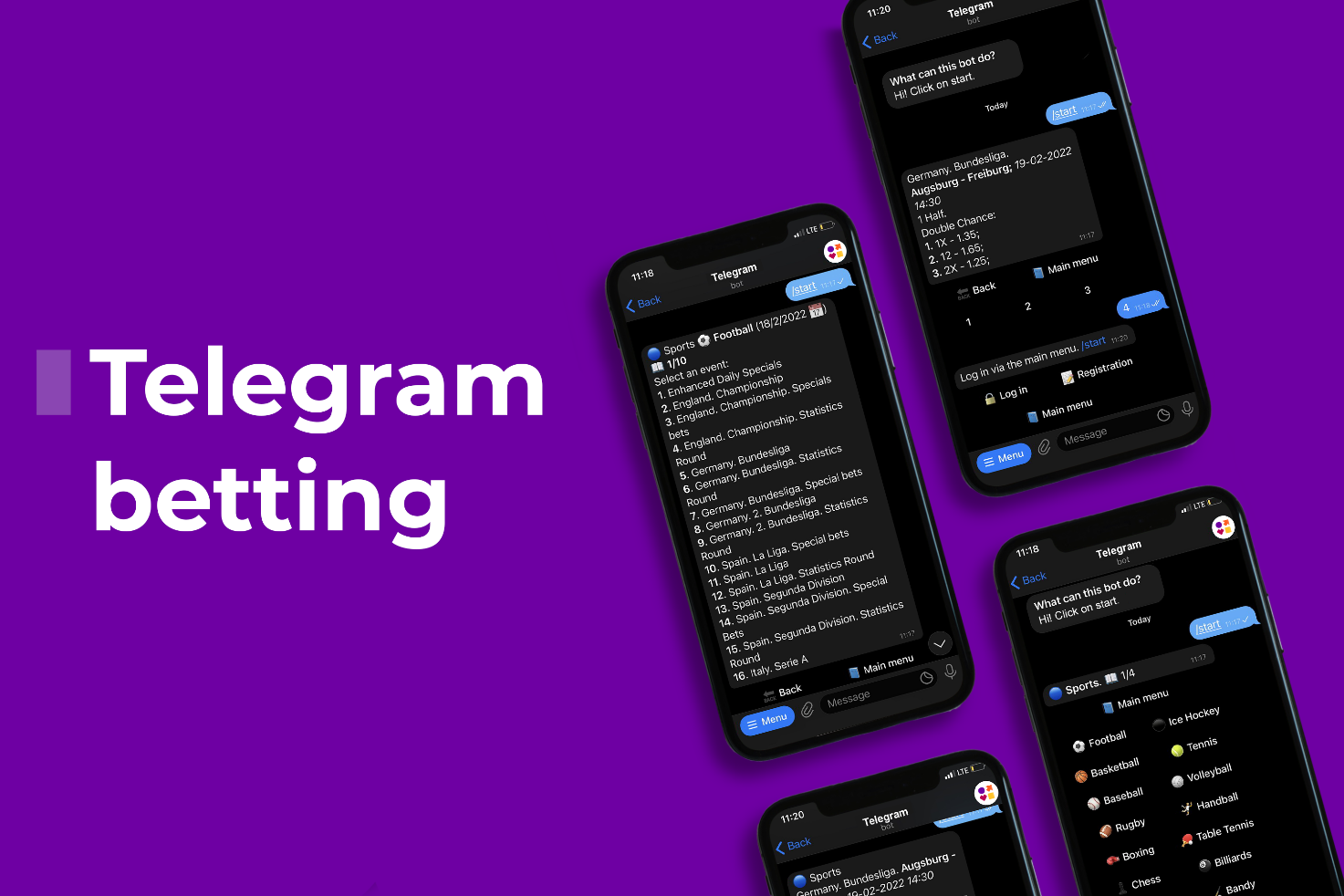 Yet another messaging solution may be able to provide the same benefit as SMS. Over the past few years, Telegram Messenger has become an incredibly popular App of choice worldwide. This service boasts more than 500 million active users, according to its App Store listing. It is more than just simply another messaging app; it is also a social network with groups and channels. Among its most exciting and innovative features are bots. Since its release in 2013, Telegram has continued to improve and develop. In 2015, Telegram bots based on its API were introduced, which are third-party apps. These bots can be used for creating chat groups, channels, and community discussion groups, among many possibilities. Also, users can issue a command to the bot (from a list of options) and obtain a range of the information. For example, you can use a Telegram bot to get the latest global news, promo coupons for sales on your favorite brands, or information on when rock concert tickets go on sale. There is also the option for placing bets through Telegram. But, how does this betting via this service work exactly?
Players who use Telegram have many different betting options available to them. From a comprehensive betting perspective, the Telegram betting experience is not so different from that of using a regular betting website. The only difference is that bets are placed using chatbots through the Telegram App.

Here's what it looks like with Uplatform's Telegram solution. Users can choose from a variety of markets, sports, and leagues in the chatbot. They can then press the button to place their bet once they are satisfied with their selection and ready to proceed. Whenever you bet with Telegram, the same account, login, wallet, and bonuses apply across all channels, including the website and mobile app. Also, administrating, analyzing, and reporting is controlled via the same back office and CRM.
What are some of the advantages of Telegram betting? One advantage is convenience, by providing players with flexible service that is simple and easy to use. You're also extending the range of options you provide when it comes to accessing your services. Finally, you might just be giving your brand an extra boost to gain more players and expand to new markets.
Greater Accessibility
SMS and Telegram betting are quite possibly not the first options that come to mind when it comes to gambling, but they are both incredibly effective and proven solutions for sports betting. Additionally, these solutions have been embraced by only a few providers, giving your betting brand an added edge, plus an appalling solution that your rivals don't yet offer.
The team at Uplatform is dedicated to providing effective solutions and tools that are individually tailored to serve customers in all markets and regions throughout the world, ensuring that their businesses run smoothly and profitably regardless of where they do business. As a result, we work hard to guarantee that our sportsbook solution is fully compatible and accessible on all devices. This includes betting options for the popular smartphones Android and iOS as well as providing SMS and Telegram.
In an age where things rapidly change, from playing trends to technological advancements, betting options and solutions need to move along with these changes. It will be fascinating to observe how SMS and Telegram betting develops over time.
Uplatform's comprehensive tools and array of results-driven solutions can provide your business with exactly what it needs to prosper and flourish, whether it's in established or new and emerging markets.
Contact us and let our highly-skilled team help you discover your full potential.
Stay informed
Subscribe to newsletter