The Evolution and rise of mobile betting

Whether it's food delivery, social media or editing images, shopping, or booking transport, mobile phones are used for everything today. The statistics on mobile betting, however, may surprise some. Approximately 55% of online bettors use their mobile devices to place bets. Taking into account that 26% of the population gambles, try to estimate how many people are looking at their phones right now and betting. Mobile devices accounted for 70% of online betting revenue in 2020 according to Uplatform's statistics team. There are several betting verticals covered in this stat, including sports betting, casino games, bingo, lotteries, and poker games, to name just a few.
People stats
Thanks to the widespread availability of internet and data coverage from parks, cafés, and even subways, practically anybody with a mobile phone may access online betting. According to a 2020 Gambling Commission report, mobile phones are the most prevalent means for young adults under 35 to access online betting.
Men and women bet online in about similar percentages, with 56% of men and 44% of women doing so. In fact, female bettors tend to use mobile devices more frequently than their male counterparts. Women account for about 55% of all mobile bets.
Why do players like to bet on their mobiles?
One of the key reasons is complete convenience. Mobile devices are becoming increasingly popular among players since they are quick, simple to use, and always accessible to bet on, no matter where you are. They also do not require any physical effort, like that of paying a visit to the local bookmaker to place a bet. Players can now play casino games and place bets online practically anywhere, at any time, and with ease, thanks to the growing availability of fast and inexpensive 4G and 5G connections.
A significant development worth mentioning is the growing network of private satellites orbiting the earth. Starlink, a bold venture from Elon Musk, plans to provide internet access to anyone on the planet. These types of initiatives can only lead to an increase in the number of bettors worldwide. As of now, Starlink is available in 32 countries, and by 2022 it will be available in every country right across the globe. Satellites are used instead of mobile phone towers or common Fibre-to-the-Node broadband network architecture services, so even the most remote areas can access the internet. From camping deep in a forest or while exploring the bottom of the Grand Canyon users will still be able to get a high-speed Internet connection between 80-120 Mbps, which is sufficient to browse the web and run video streaming platforms and play popular games.
This is a stat that might surprise some. Gambling and playing casino games on mobile devices is still largely an activity mostly a home-based activity. So, there's nothing better than playing from the comfort of your own home, right? Otherwise, where else can you play? See below for more information.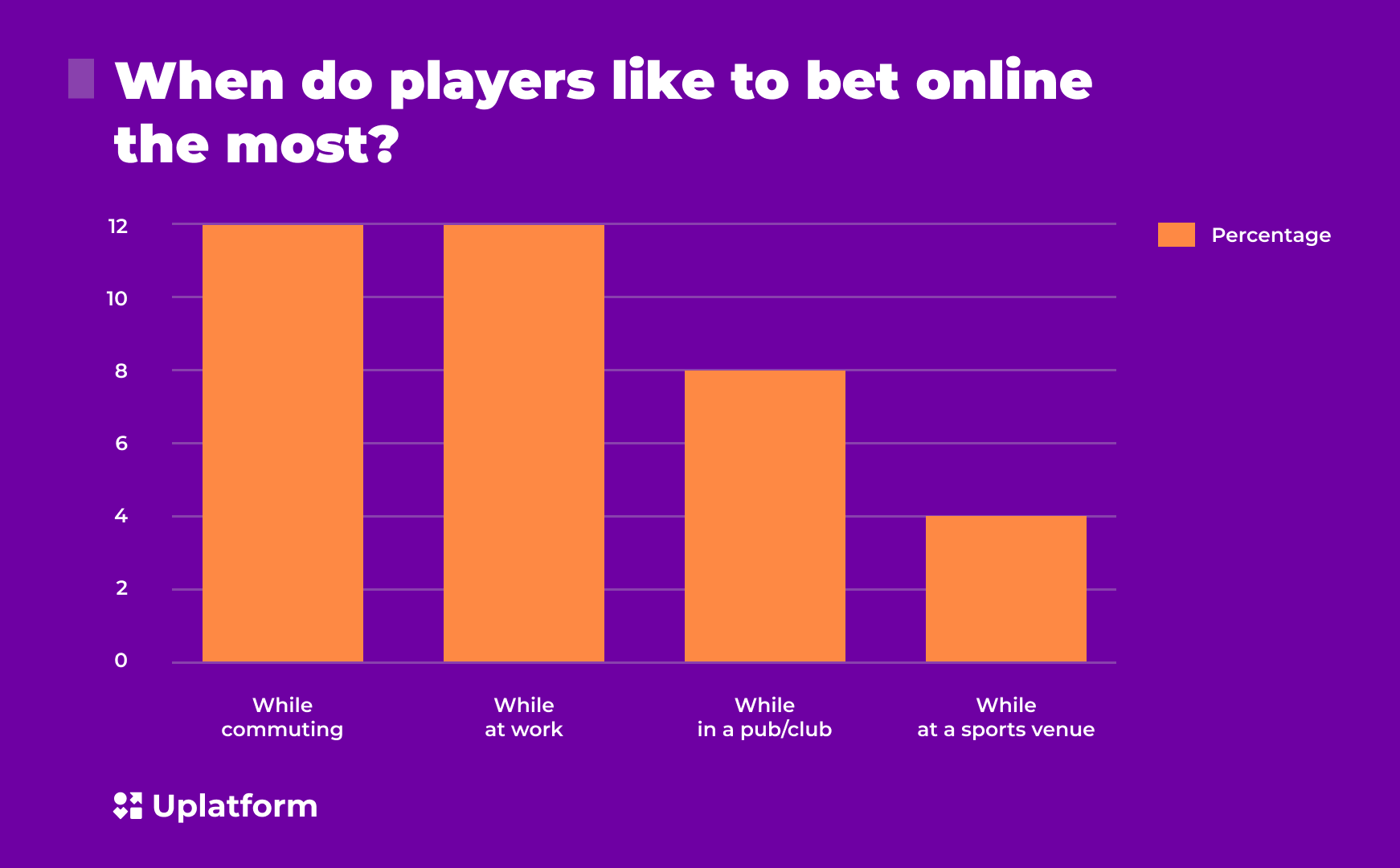 Mobile betting is the only way to participate in iGaming in many developing countries. Since mobile phones are inexpensive and internet access is affordable, online betting has become the most popular and favorite option. Kenyans, for instance, use their mobile devices to place bets or play casino games 88% of the time.
Europe is also seeing a rise in mobile betting via smartphones and tablets. The number of bets placed via such devices was 44.6% in 2019. A projected 61.5% market share is expected by 2026, a significant increase from 50.5% by 2021.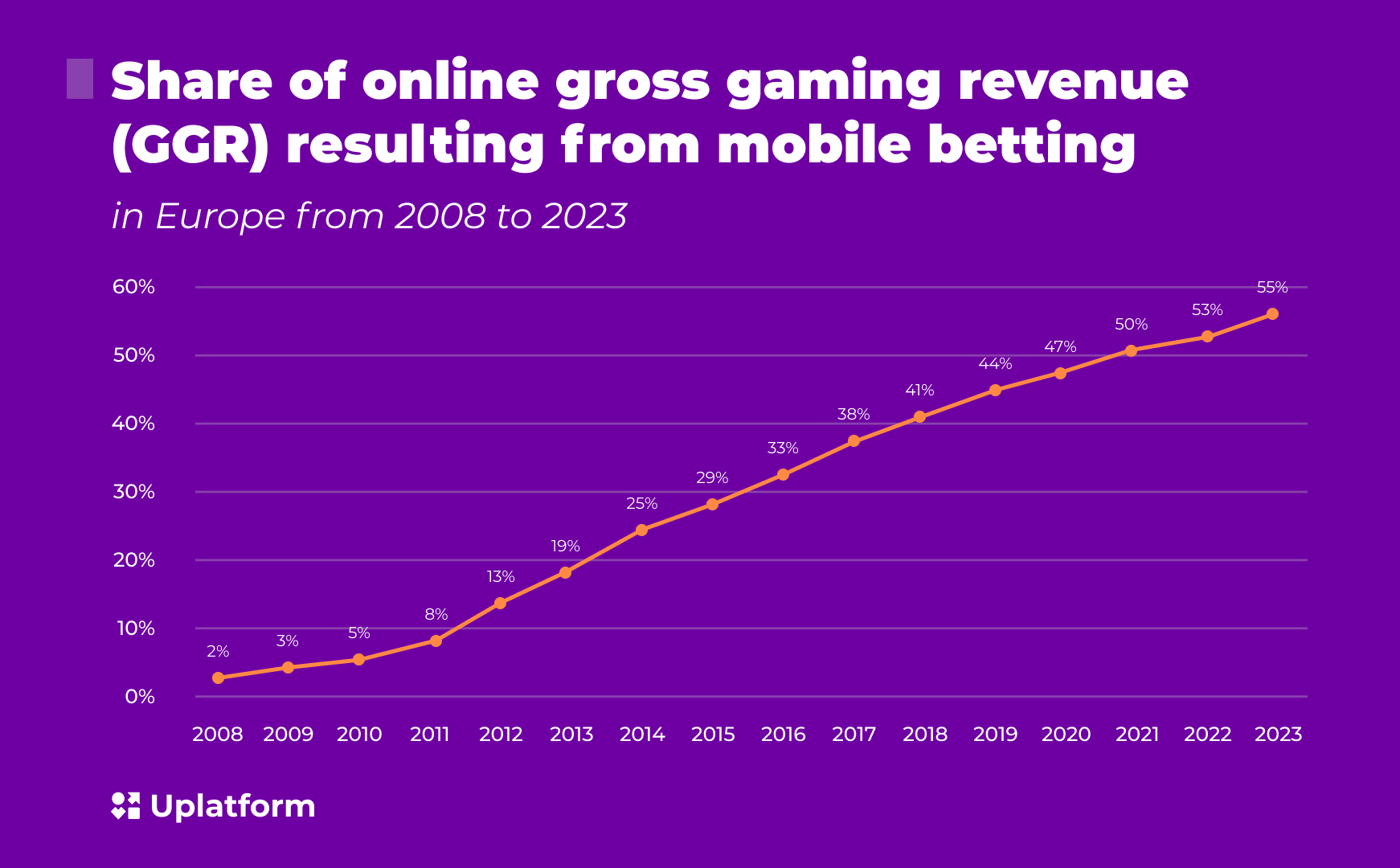 Across the globe, mobile devices are being used on a much greater scale than desktop or laptop computers, as can be seen in the infographic. The increased adoption of smartphones coupled with the improvement of internet accessibility is fueling the iGaming mobile market boom.

The Past and Future of Mobile Betting
Mobile betting has not been a brand-new concept. It has been around for nearly two decades. Would you believe it? On the first generation of Nokia phones, the very first online casinos were installed.
This actually happened back in the early 2000s, when the first Nokia phones were released. The first mobile casinos also appeared on these Nokia phones. Although, the industry didn't see massive growth until iOS and Android were launched, as evidenced by many of the iGaming stats. It seems, for now, that iOS and Android phones have changed the mobile betting landscape for years to come.
For a variety of factors, mobile internet gaming has seen rapid growth. The most important driving factor is mobile apps. The fact that there is an app for almost everything these days, games and applications being at the center of the iGaming experience is something that cannot be overlooked. The true potential of mobile gaming became evident with the debut of the first online casinos with virtual gambling, and much has evolved since then. Digital casinos' dynamic nature has allowed them to adapt effectively to mobile technology, which is one of the reasons for their success.
In today's iGaming landscape, having a mobile-friendly website isn't enough for betting businesses. Regardless of whether they want to bet on sports or play casino games, players are now compelled to download a mobile app. It's no wonder, then, that the number of betting companies developing native mobile apps is increasing. Also, mobile applications with quality live streaming and mobile-friendly UI's provide players with convenient and enjoyable betting experiences, as well as increased revenue for operators, especially in an era when attention spans are decreasing.
As a full-service platform provider, Uplatform more than adequately satisfies all the market requirements and playing demands. We not only provide full and light versions of betting websites, but we also provide quick, versatile, secure, and user-friendly applications that deliver all of the necessary capabilities to meet the current iGaming industry's needs.
There have never been more ways to get involved in sports betting or casino entertainment than now due to Uplatform's amazing multi-device solutions. With convenient access via our fast and secure mobile and desktop apps, SMS and Telegram betting, and more than 300+ payment methods including GooglePay and ApplePay. Uplatform provides one of the most comprehensive and effective platforms in the industry today.
Final words
It's no longer a question of whether or not mobile betting is the way of the future. Mobile phones have become an integral part of our daily lives, and we carry them with us wherever we go.
This is why the whole Uplatform team strives to deliver the greatest mobile betting experiences. Not merely by providing players with rewarding and dynamic experiences. But also by catering to the demands of geographical regions without basic internet infrastructure through effective localized mobile access simplicity.
The key difference between Uplatform and most betting platforms is that our products are developed with a performance strategy to deliver results. Taking full consideration of the customer and their journey, the way we have designed our platform enables us to comfortably, swiftly, and effectively guide players through the registration process and into active betting, which has so far delivered a conversion rate of 35 percent or higher to our clients.
Is your iGaming brand ready to compete in the exploding world of mobile betting? Let our experienced team show you how our strategically developed platform can help your business profit from the global mobile betting market boom.
Stay informed
Subscribe to newsletter