Women Talking iGaming: One Not to Be Taken Lightly

As more governments legalize online gambling, experts predict the market will grow to about $1 trillion in the next decade. And as surprising as it may sound, a lack of diversity is detrimental to success in the betting and gambling industry. Thus, firms in the iGaming industry should have more diversified leadership and adopt more moral practices when dealing with players.
The topic of women's positions and roles in the gaming industry is frequently discussed at conferences. We are super proud that many women at Uplatform have attained leadership positions through their unwavering commitment and hard work. In honor of this commitment, we are delighted to celebrate the contributions of our female executives today.
Nowadays, people of all ages enjoy the excitement and convenience of online betting and gambling, and as a result, more women are entering the field of iGaming. The industry, especially Esports, is extensively covered, albeit almost exclusively from a male perspective. In honor of International Women's Day, let's find out what role women play in the iGaming industry.
Diversity in the C-Levels of iGaming Firms
Inspiring and accomplished women can be found working in various iGaming roles today, including but not limited to tech, product development, marketing, design, legal or operational services, and customer support. It's inspiring to see more and more women rising to executive roles in the gambling and betting sectors. These ladies are killing it in the professional gaming world, shattering stereotypes and proving that iGaming is for everyone.
Eight iGaming firms in EGR's Power 50 2020 rankings have a woman in the top post, showing that the online gambling industry has made progress regarding women in senior leadership positions. However, the All-In Diversity Initiative co-creator, Kelly Kehn, is aware of the need for structural changes in the business world. Kehn has 22 female CEOs or non-executive directors on her list, which she compiled from her own experience hosting a call for female executives in the industry.
The Betsson Group has also started a Women in Betsson program to encourage and empower female employees. Lena Nordin, the chief human resources officer (CHRO) for Betsson Group, told EGR Insight that the company regularly does internal benchmarking to make sure that comparable positions are compensated similarly.
The provider has also supported many programs that help women succeed in the workplace, such as the Women in Tech conference in Stockholm and the Swedish Female Engineer Network. Nordin also highlighted ways the industry could promote D&I and incorporate it into the company culture.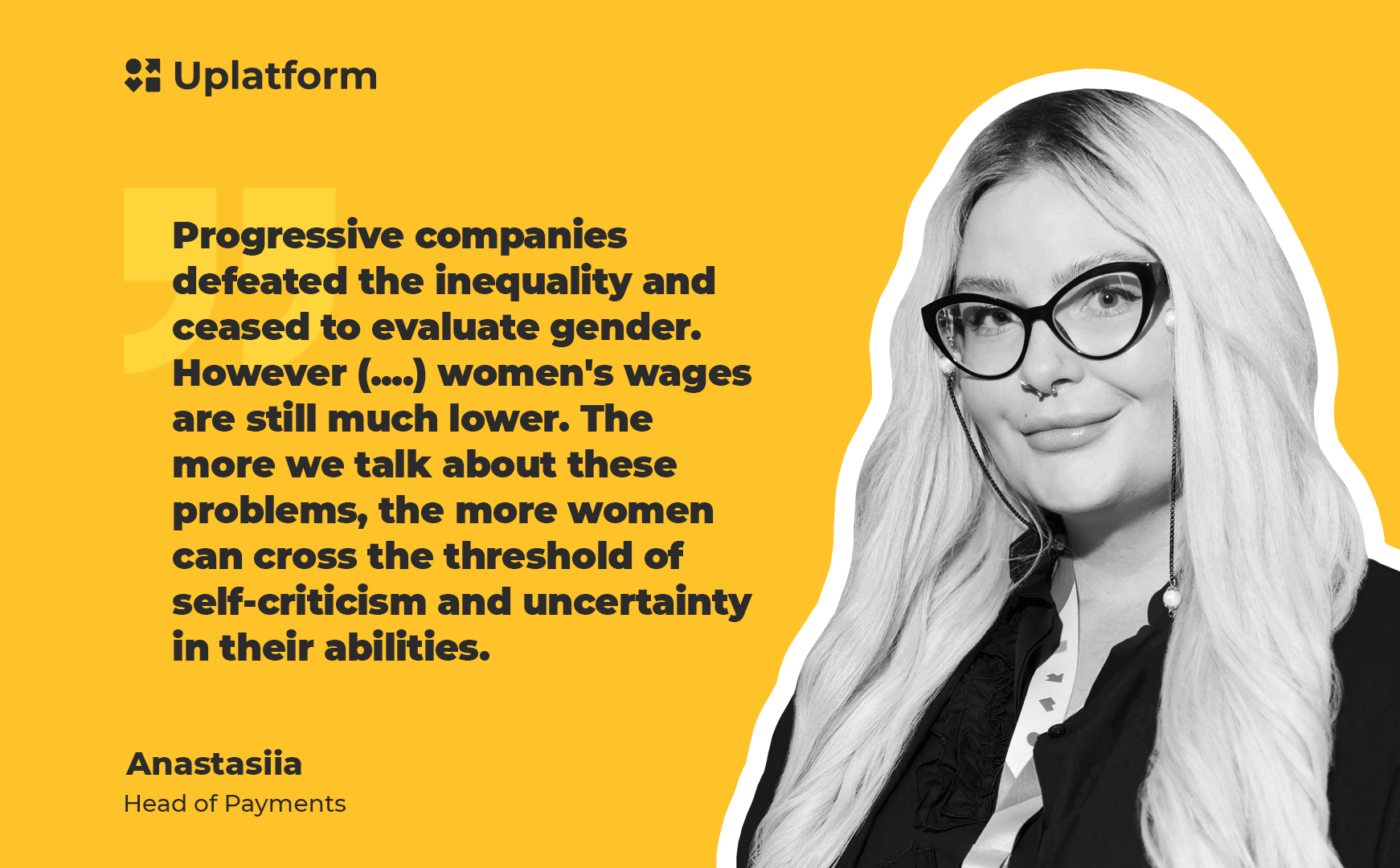 Anastasiia, Head of Payments at Uplatform, says,
"I have worked in the IT industry for about 10 years now and have been lucky not to encounter gender prejudices that would interfere with my professional growth. It is worth noting that in the C-Level positions, I managed to work in different departments and spheres - from finance (CFO) to Product Owner of the technical department, and started from the position of middle and even junior manager.

At the same time, I observed a significant increase in women occupying technical and high-level managerial positions. Progressive companies, the majority of such in IT, defeated the inequality and ceased to evaluate gender. However, despite the established balance, women's wages are still much lower. I have noted from interviews for different positions in my department that men, on average, ask for a salary 10-15% higher than women, and the level of candidates at the same time is identical. The more we talk about these problems, the more women can cross the threshold of self-criticism and uncertainty in their abilities. Girl Power! :)"
Uplatform is proud to have female executives excelling in their various roles on our team, recognizing the value of workplace diversity. To facilitate better gender diversity in the iGaming industry, we support organizations such as 'Women in iGaming,' which plays a vital role in raising awareness of women's underrepresentation through active participation in various conferences. Maria Bashkevich, the Head of Marketing at Uplatform, belongs to one of these groups.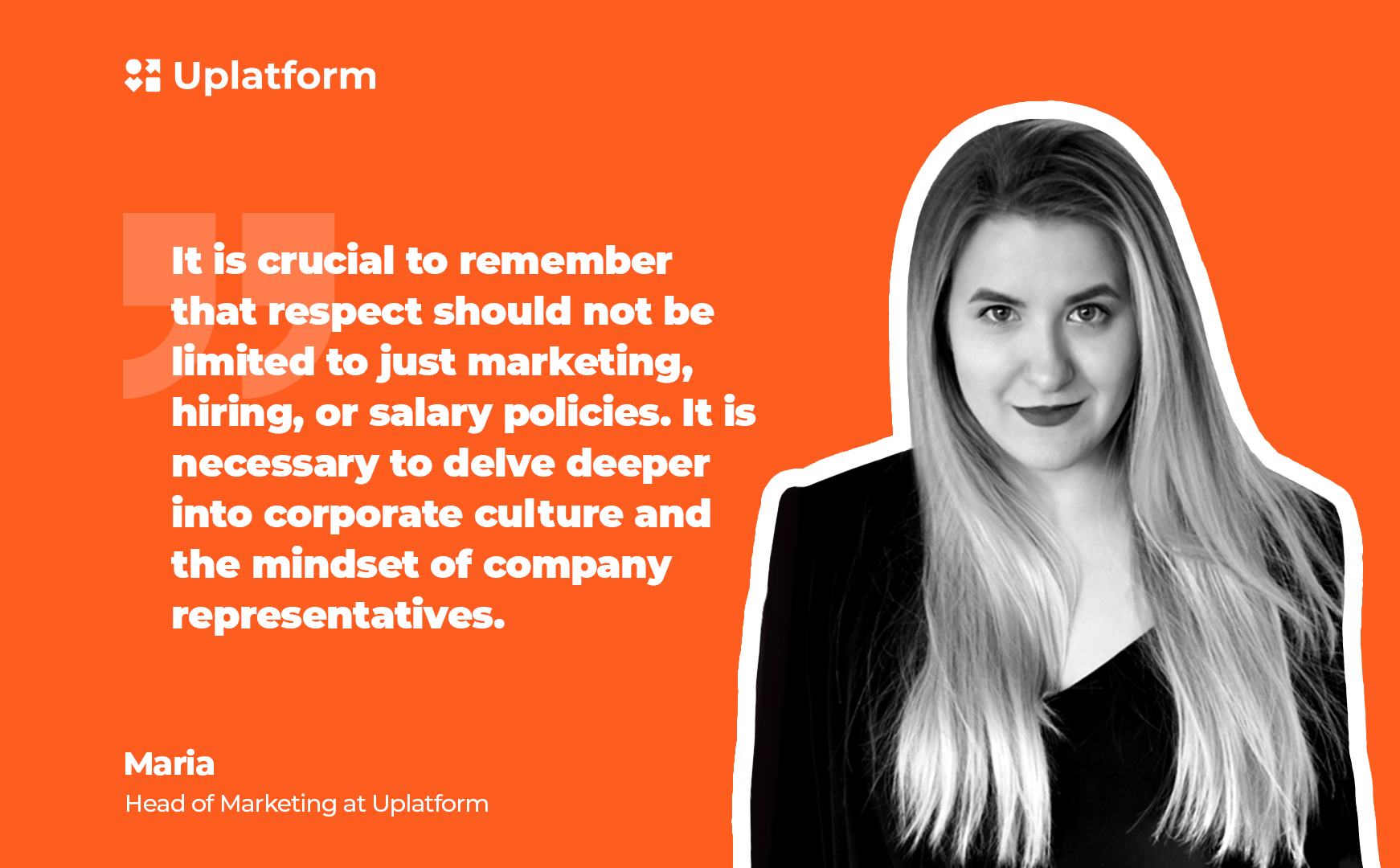 "I'm glad the industry's marketing has evolved to a more diverse approach, away from cheap and easy advertising based on sex triggers. This is evident in interesting, innovative campaigns and new engaging mechanics in both online and offline channels. I can't remember the last time I saw a half-naked person of any gender in a b2b ad. However, as an industry, we still have a long way to go in b2c marketing.

I also applaud the positive trend of working with promo staff because I now see greater diversity in genders, nations, shapes, forms, outfits, etc. I worked as a hostess and promo girl 15 years ago, and I've noticed a significant shift in the companies' approach to this matter.

Nevertheless, it is crucial to remember that respect should not be limited to just marketing, hiring, or salary policies. However, it is necessary to delve deeper into corporate culture and the mindset of company representatives. Unfortunately, on industry events there are still delegates with sexist and ageist views, which has a negative impact on women's positions in the industry. Panel discussions, as well as changes in companies' marketing strategies and corporate culture, I hope, will educate the industry and foster a new level of mutual respect."
Ethical Approach to the Players
Despite traditional expectations, betting is becoming increasingly popular among women. In many countries, the percentage of women betting is starting to catch up with that of men. This trend is seen in Argentina and the United Kingdom. For example, women in the United Kingdom have some of the highest rates of online gambling participation worldwide. YouGov research shows where there is room to expand the female consumer base and how their perspectives and behaviors differ from those of males. Statistics from YouGov support some commonly held views regarding gender roles. Women are more likely to participate in gambling than men, whether buying lottery tickets (72% versus 58%) or playing bingo or keno online (6% versus 2%). More men than women participate in online sports betting (45% vs. 23%), poker (7% vs. 1%), and fantasy sports (4% of men vs. almost no women).
"Our data shows that the proportion of female bettors in Esports is on the rise, from 2% in the past to roughly 5% in the present, with a further, extremely favorable trend predicting an increase to 15% in the next couple of years," says Nelli, Sales team lead. "Because of this, businesses must consider it when developing their strategy, marketing plans, themes, and sporting events,"
says Nelli, Sales team lead from Uplatform.
She further continues,
"iGaming has created a wider accessibility to betting services, thus diversifying the customer groups noticeably. And although gender inclusion in gaming was hard to believe just a few decades ago, women nowadays make up almost half of the punters, showing more loyalty to the brand they choose and even depositing more than men. You've probably noticed companies' tendency to adapt their marketing strategies to be more present in social media. Even the designs became more neutral to appeal to the lucrative group of high LTV users.

So what can a platform provider do to meet the needs of female players? Offer more casino content, as numbers show that ladies mostly prefer to gamble. Easily accessible native applications are also a must, as females prefer playing from the comfort of their homes and mainly from their mobile devices. How is it changing the industry? In my opinion, we are heading towards a more respectful, safer environment where everyone can enjoy iGaming equally."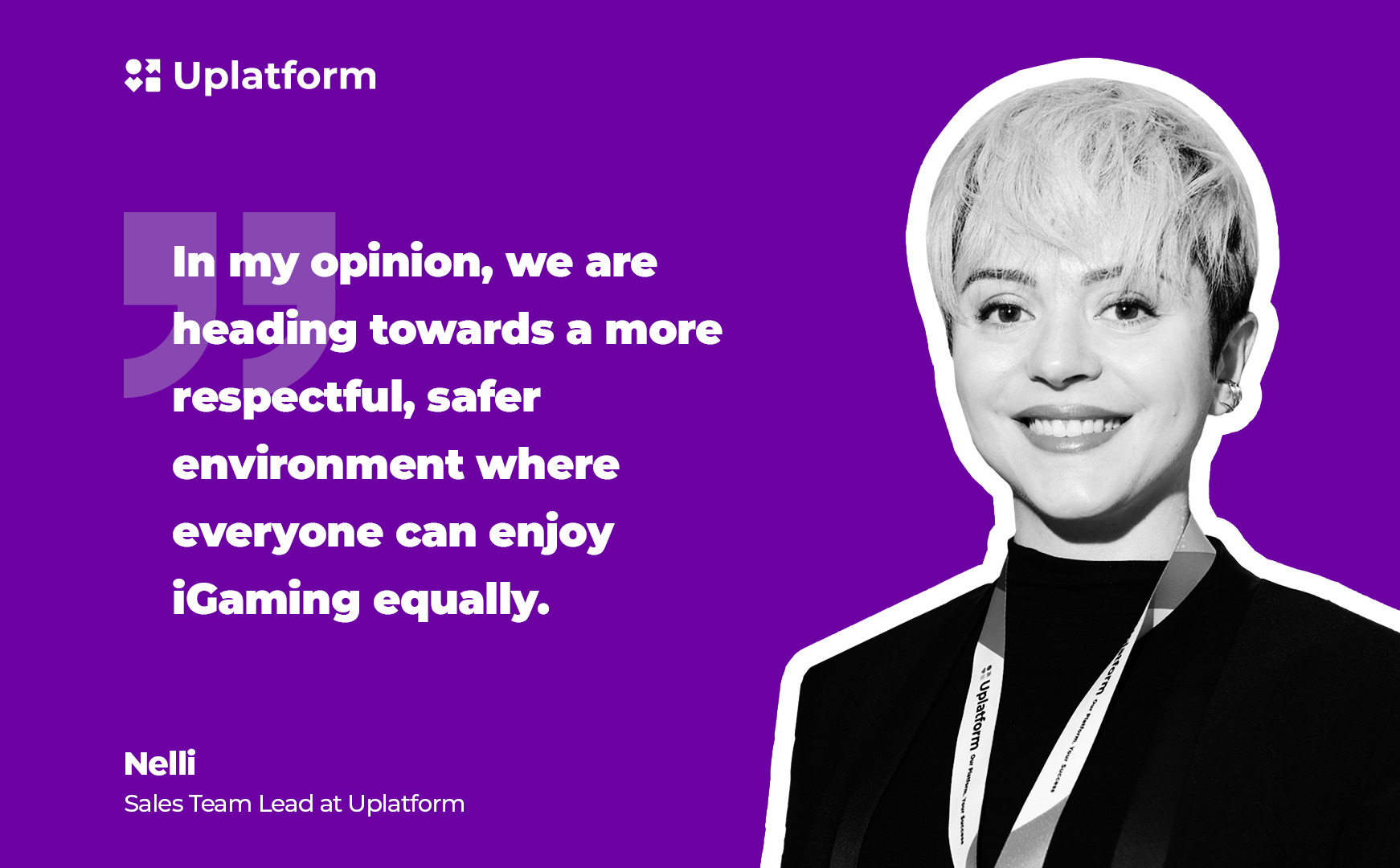 General Ethical iGaming Standards
In addition to gender diversity, promoting diversity and inclusivity across all aspects of the gambling industry is important. This includes ensuring no discrimination based on race, ethnicity, sexual orientation, age, or other characteristics.
As important as the games are, so are ethical iGaming standards, compliance with the law, and openness about winnings and losses. Operating responsibly and maintaining a good reputation will open up many other business prospects, so will providing timely responses to users' inquiries, settling disputes, and following all applicable laws.
Establishing a solid reputation takes years of hard work, particularly in the competitive iGaming industry. Players are more likely to bet with you if they perceive you as trustworthy and open, which is very important in today's market. A good reputation, however, is fragile; one slip-up can ruin years of effort.
Creating a safe and inclusive environment for all individuals involved in the industry, including players and employees, is essential for promoting a positive and sustainable future for iGaming.
Diversity and inclusivity can also positively impact business outcomes, as a more diverse workforce and customer base can bring new perspectives and ideas to the table, leading to increased innovation and growth. Moreover, promoting diversity and inclusivity can also help to attract a wider audience and build a stronger brand reputation, as consumers increasingly value companies that prioritize social responsibility and ethical practices.
Overall, promoting diversity and inclusivity in the iGaming industry is the right thing to do from a moral and ethical standpoint. It can also have tangible benefits for businesses in terms of innovation, growth, and brand reputation.

Conclusion
iGaming is at the apex of progressive professions, with a proven track record of success in creating a community free of genderism and other forms of discrimination. The business world is a driving force for inclusion, diversity, and appreciation. As a result, women in professional fields have significantly profited, showing that they are eager to work in an environment that does not favor one gender over the other but instead rewards workers for their skills, dedication, and leadership rather than their chromosomes.
Constant shifts in the law and the iGaming sector make for many moving parts. And right now, one of the most important questions to ask yourself is whether or not the tone of your brand's communications is appropriate for the female iGaming demographic. To use the right style and content for a female audience in a particular market, you need to be smart, know your products and industry, and be familiar with the culture.
Stay informed
Subscribe to newsletter