The path to success
Seamless Integration
Looking for that comprehensive Sportsbook to diversify and grow your business? Then the search is over. With Usports, you'll get access to a feature rich sports betting software with the greatest and widest selection of top and unique sporting events for pre-match and live betting.
Our Sportsbook is customizable, modifiable, and easily localized, providing a massive selection of matches and leagues (including lower divisions), giving you complete personalization to build and control with additional freedom and flexibility. Easily integrate into your existing platform with our simple API solution. Easy as 1-2-3.
When you team up with Usports API, you'll receive our expert assistance every step of the way. Enjoy the perfect formula for success!



950,000+

Pre-match events




5,500+

Markets




300+

Sports and esports




35%+

Conversion rate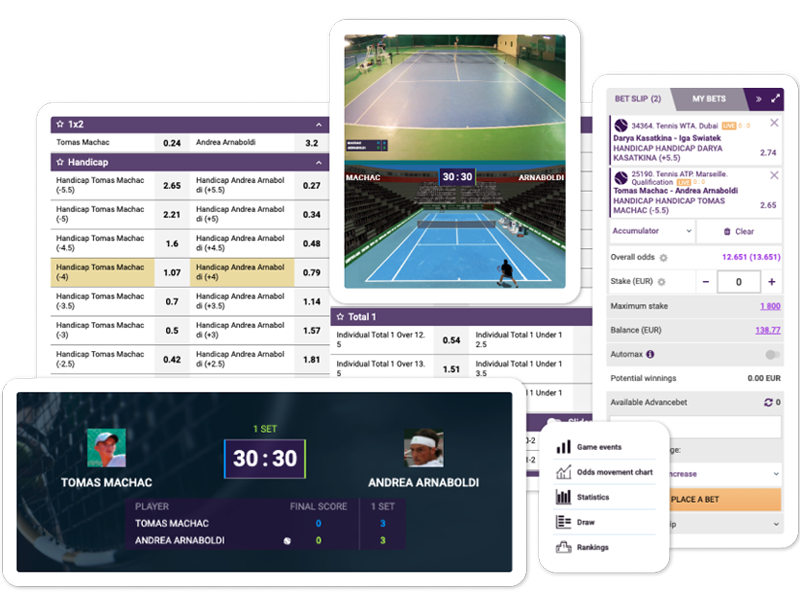 We provide a widest sportsbook that is innovatively developed to be efficient, adaptable, and reliable, ready to deliver you success in all markets.
More than 200 sports in line, including low tier leagues, local championships, even amateur ones and 1,5 million pre-match and live events.
Features: unique live zone, multi-live bets, BetConstructor, BetBuilder, popular and unique bet types. Including convenient and informative bet slip.
Various odds formats: fractional, decimal, moneyline Indonesian, Hong Kong and Malay.
Effortless localization: regionalized content, 350+ payment solutions, 63 languages, and so much more.
1,5 mln
Pre-match and live events
POPULAR AND IN-DEMAND
Esports
Gain the widest Esports library with DOTA 2, CS: GO and FIFA, WarCraft III, League of Legends, Valorant, Quake Champions, Rainbow Six, Call of Duty, including unique bets on Sonic, Tabs, Overcooked, and cybersports like football, hockey, cricket, golf, and a multitude of others.
Be No.1- Esports has drawn quite a large audience in such a short span. According to our statistics, the Esports sector has grown more than 170% compared to previous year.
9500+
Pre-match & live events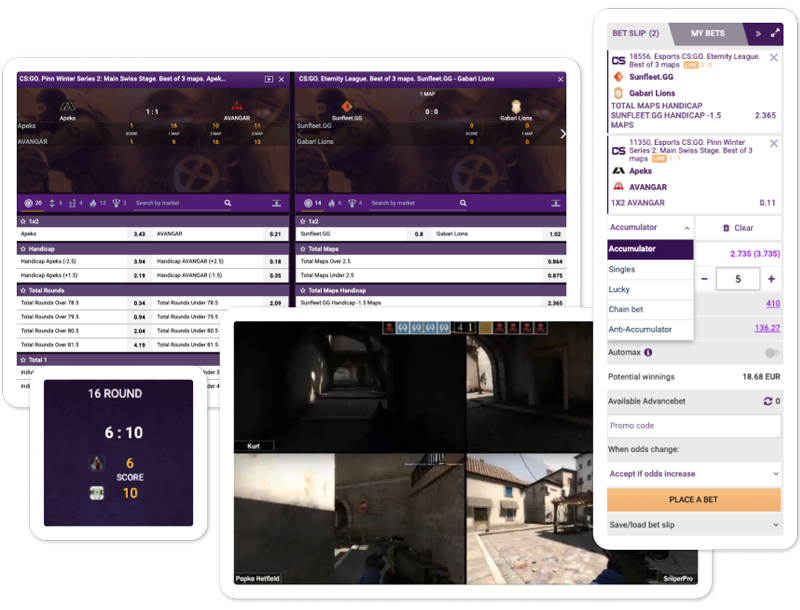 regional focus
Tailored to your market
If content is king, localization is queen. Engage the sports, leagues, and features popular in your geographical location to efficiently localize and meet your market demands. We provide an all-in-one solution individualized to your target market, offering you:
Market-specific content. You'll get regionalized content based on geolocation settings; line flexibility with the option to add regionally popular leagues and sports.
Popular odds formats: American, English, Decimal, Hong Kong, Indonesian, Malay.
Translations – adaptable content in 65+ languages including rare languages like Khmer.
Consultations are crucial! We're a talented and skilled group with a can-do attitude and a wealth of industry experience. The potential of unknown, volatile, and complicated infrastructures is enormous, and we have the know-how and expertise to tackle any project. Trust us to lead you and show you the way successfully.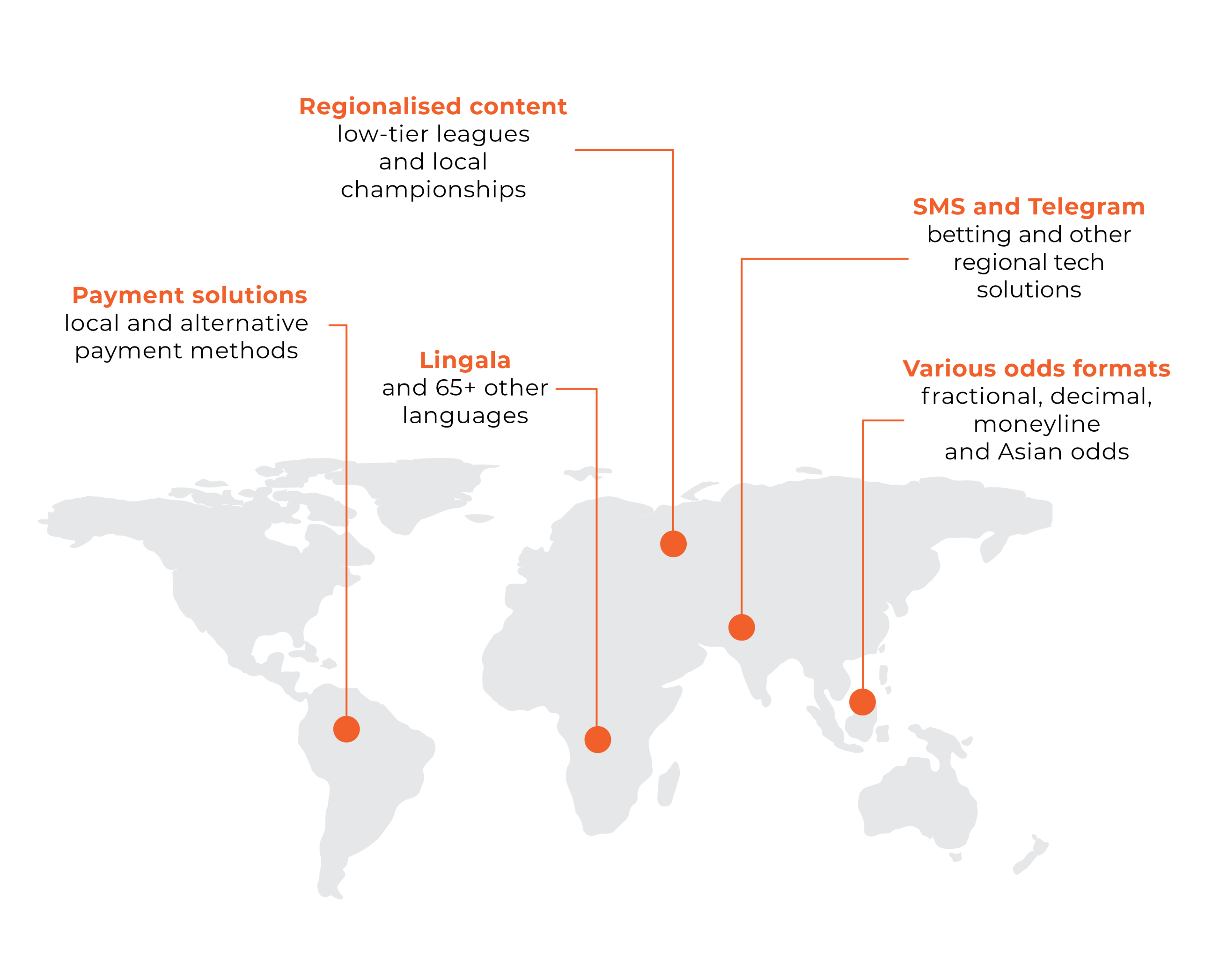 Every advantage by your side
Reasons to choose Us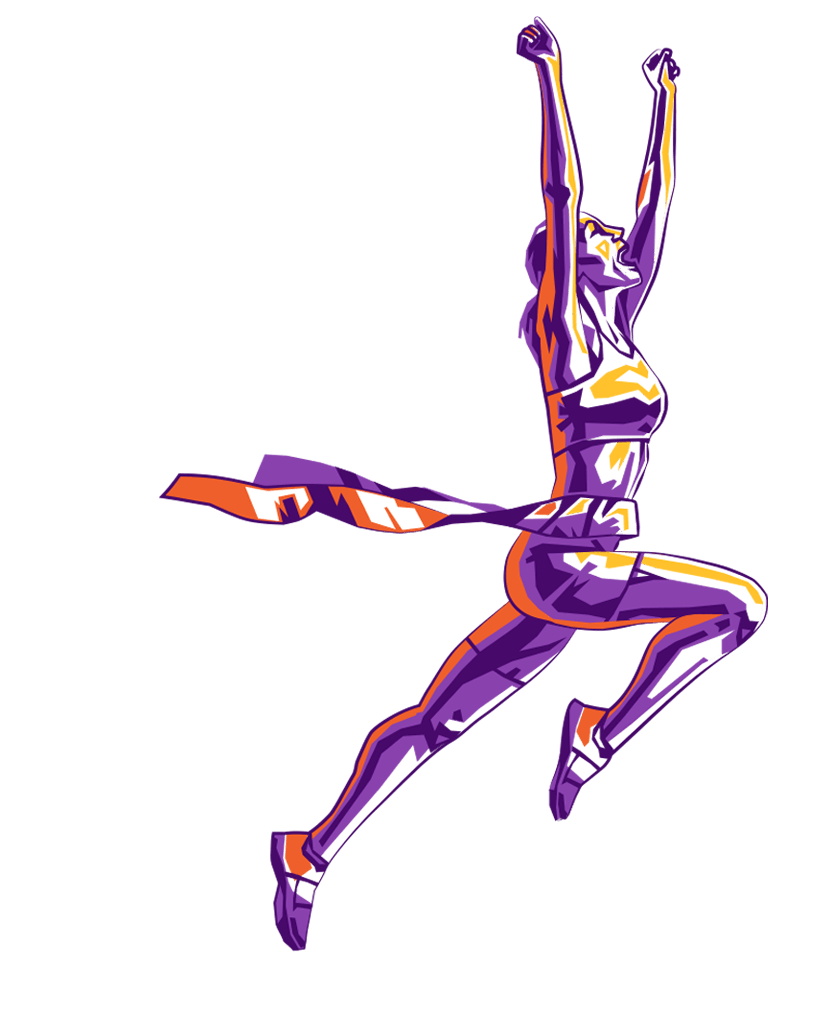 Ultimate sportsbook

Attract players with even the most individual taste offering them the widest selection of sports, esports, events, markets, traditional and unique bet types.

New level of live betting

Increase the number of live bets using our exclusive multi-live bets and LiveZone. More convenience, more bets, and more profits.

Easy integration

Quick and easy integration of the best content on the market with our massive Sportsbook.

Total control

Take command with our multilingual back-office tools. Monitor, fine-tune, understand, analyze and take appropriate actions.

Professional advice

We're there for you, providing comprehensive consultancy any time you need us.
STAY INFORMED
Subscribe to our newsletter