A Cross-Cultural Study: Bettors' Behavior in Different Regions

It's time to channel your inner Sherlock Holmes and decode the secrets that will have you saying, "Elementary, my dear Watson!". If you're looking to establish and receive more revenue, expanding your iGaming business in other regions is the most logical step in this rapidly expanding market.
Research shows that the worldwide online gambling market is projected to thrive at a Compound Annual Growth Rate (CAGR) of 11.7% between 2023 and 2030. With the market estimated to be worth USD 63.53 billion in 2022, the potential for growth and profitability is undeniable.
The iGaming business is not only multiplying but also venturing into new markets as governments relax rules and regulations. This evolving landscape presents a unique opportunity to delve into the behavior of bettors from different regions and examine how cultural factors influence their engagement with iGaming websites.
In this article, we will delve specifically into the realm of sports betting, exploring its significance in the iGaming industry and the various factors that influence its popularity across different regions. So put on your detective hat, because we're about to uncover the secrets behind successful sports betting in the world of iGaming.
Latin America
"Latin America as a whole is a very different and mixed region. With the influence of European and American sports on the taste of its bettors, it differs from other regions due to the wide variety of sports that customers seek,"
explains Randall, Sales Manager at Uplatform.
He further emphasizes that trends among bettors in Latin America are very diverse but constant. Now bettors are not only looking for the odds of the main matches but also proposals that are attractive and original. Another main trend within sports bettors is live betting, also with many options for customers to explore and choose the bet that most appeals to them. Regarding casino issues, the preference of players for slot machines and live casinos is notable, and for the new generations, Esports is a necessity.
In light of these evident advancements, it is undeniable that iGaming in Latin America has witnessed a significant rise in popularity in recent years. The popularity of sports leagues like Liga MX and the Copa Libertadores has contributed to the growth of the online sports betting industry. Mobile betting apps have also played a role.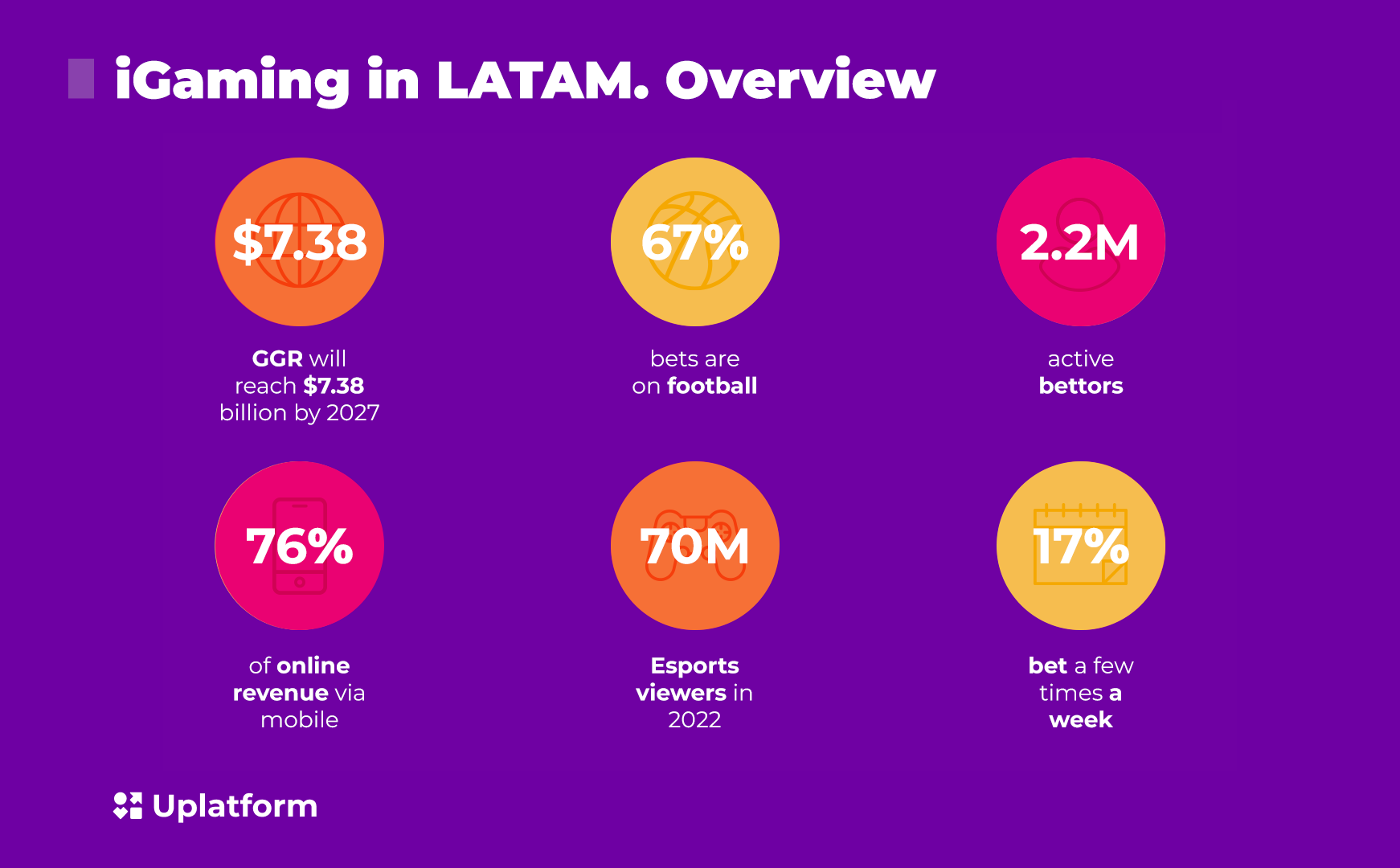 Popularity surges have been especially notable in Mexico, Brazil, Argentina, Colombia, and Peru. More than a million gamblers are currently active in Mexico. As more people access mobile betting apps and online sportsbooks, this number will increase. We offer betting platform for LATAM with the following features:
Tailored to meet specific needs of desired country
Multi-lingual support
Payment methods popular locally
Region-specific content
Diverse range of betting options
International and domestic sports and leagues
Latin online bettors have an ardent passion for a wide array of sports, with football, horse racing, tennis, basketball, and motorsports ranking among their primary areas of interest. Given that Latin Americans are renowned for their unparalleled love for football, it comes as no surprise that it holds the utmost popularity in the region. A staggering 67% of their bets are dedicated to football, showcasing the immense following it commands. Apart from the globally celebrated FIFA World Cup, the UEFA Champions League, Italian Serie A, English Premier League, and Spanish La Liga all enjoy substantial viewership and garner considerable betting activity. Interestingly, the level of interest in the latter two leagues—English Premier League and Spanish La Liga—is remarkably similar, further highlighting the balanced enthusiasm Latin bettors have for these competitions.
It is worth noting that alongside football, other sports also command significant attention from Latin online bettors. Horse racing captures the imagination of enthusiasts, while tennis tournaments featuring top-tier players attract widespread interest. Basketball, with its energetic gameplay and the success of regional teams, captivates the attention of Latin American bettors. Additionally, the high-octane world of motorsports, encompassing events like Formula 1 and MotoGP, finds its dedicated following among Latin online bettors.
Several indicators also suggest that the Esports industry in Latin America will expand rapidly in the coming years. Many professional Esports teams are based in the region, including Dota 2, League of Legends, and Counter-Strike: Global Offensive (CS: GO). Winning on a favorable stage may do wonders for a team's popularity and word-of-mouth, and it can also attract sponsors and investors, allowing the ecosystem to flourish. It is gradually occurring throughout Latin America and the Caribbean.
It is crucial to acknowledge that the betting habits of Latin American players may not only diverge from those of European players but also vary considerably between different Latin American countries and even within a single country. Consequently, betting operators catering to the Latin American market should anticipate a high volume of bets placed at lower values.
To effectively cater to the Latin American market, iGaming operators must understand the diverse betting cultures shaped by historical, cultural, and socioeconomic factors. Each country has unique betting practices and preferences, with Latin American players often favoring frequent lower-value wagers.
Asia-Pacific
"The iGaming industry in Asia is poised for remarkable growth, driven by innovation and adaptability in response to the evolving landscape," notes Rakhi, sales manager at Uplatform. "The rapid pace of change in Asia indicates a strong interest among operators to tap into the Indian market, leading to the creation of gaming products tailored to its unique needs. This presents an exceptional opportunity for growth and innovation in the iGaming sector."
Expanding on this, Sam, Uplatform's regional sales manager, highlights the need for operators to understand the specific dynamics of the Asian market.
"Our research has revealed a knowledge gap among non-Asian-based operators regarding the importance of rolling commissions and the impact of affiliation marketing in Asia,"
explains Sam.
"To effectively develop the Asian market, operators should avoid relying solely on non-Asian experience. Instead, they should seek insights from local experts who comprehend the nuances of the region's gaming industry."
The emerging trends in Asia demonstrate that iGaming preferences vary significantly compared to other regions. Rakhi points out,
"Games like Ander Bahar, Teen Patti, Rummy, and Poker have gained immense popularity in Asia, surpassing their appeal in other parts of the world. Additionally, live dealer games have become a preferred choice among Asian players, highlighting the importance of providing engaging and skilled dealers to meet their preferences."
Acknowledging the significance of affiliations and partnerships, Rakhi adds,
"Affiliations play a vital role in the functioning of casino operations in Asia. Collaborations with local affiliates can facilitate the understanding of cultural nuances, customer preferences, and effective marketing strategies specific to the Asian audience."
With 60% of the global population residing in Asia, it comes as no surprise that the region boasts the largest gambling revenue worldwide. Research indicates that iGaming in Asia accounts for approximately 40% of all wagers placed globally. Being a vast continent with over 4.6 billion people, the country exhibits diverse regulations and unique player behaviors across different regions. However, certain characteristics are shared among Asian bettors.
Sportsbooks for Asia should include traditional Asian sports such as Muay Thai, Kabaddi, and cricket in India, as well as popular international sports like basketball, UFC, badminton, and football.
Traditional values such as frugality also play a role in shaping the preferences of Asian bettors. Rather than placing large bets on single events, they tend to spread their wagers across multiple smaller bets. This approach reflects a desire to mitigate risk and maintain a sense of control over their betting activities. The prevalence of online betting projects in Asia has made it convenient for individuals to access a wide range of betting options, resulting in frequent engagement and simultaneous participation in multiple events.
A notable development in the Asian betting landscape is the surge in Esports betting. Esports has gained significant traction in Asia, with numerous online Asia sportsbooks offering odds on popular games such as League of Legends and Dota 2. Countries like South Korea, China, Japan, and Southeast Asian nations have produced some of the world's top Esports teams, consistently performing well in global tournaments and leagues. These competitive achievements have further fueled the growth of Esports in the region.
Asia, as a region, presents complexities due to developing regulations, infrastructure challenges, and difficulties in traffic generation. Nonetheless, there is tremendous potential, as an increasing number of Asians are participating in various forms of gambling and betting. The evolving landscape provides opportunities for operators and industry stakeholders to cater to the diverse preferences and behaviors of Asian bettors.
Africa
The number of Africans who gamble online, from betting on sports to playing traditional casino games, has grown like wildfire.
"In Africa, the realm of gambling is undergoing a dynamic transformation fueled by the power of digitalization. The widespread adoption of smartphones among the local population has resulted in a remarkable shift. Although new technologies have not drastically altered the betting habits of bettors, providers must adapt to capitalize on the opportunities present in this highly coveted market,"
shares Zak, Senior Sales Manager at Uplatform.
Additionally, he stressed that although a decade ago, bets were predominantly placed in physical betshops or through SMS, these traditional methods have not completely vanished from the market. The most sought-after iGamingproducts in Africa now include sports betting, lotto, bingo, and virtual horse and dog racing, thanks in large part to the regulatory frameworks of prominent African countries that grant exclusive licenses for these games. African bettors exhibit an insatiable appetite for betting, with an astonishing 80% of players in Nigeria considering it their primary occupation.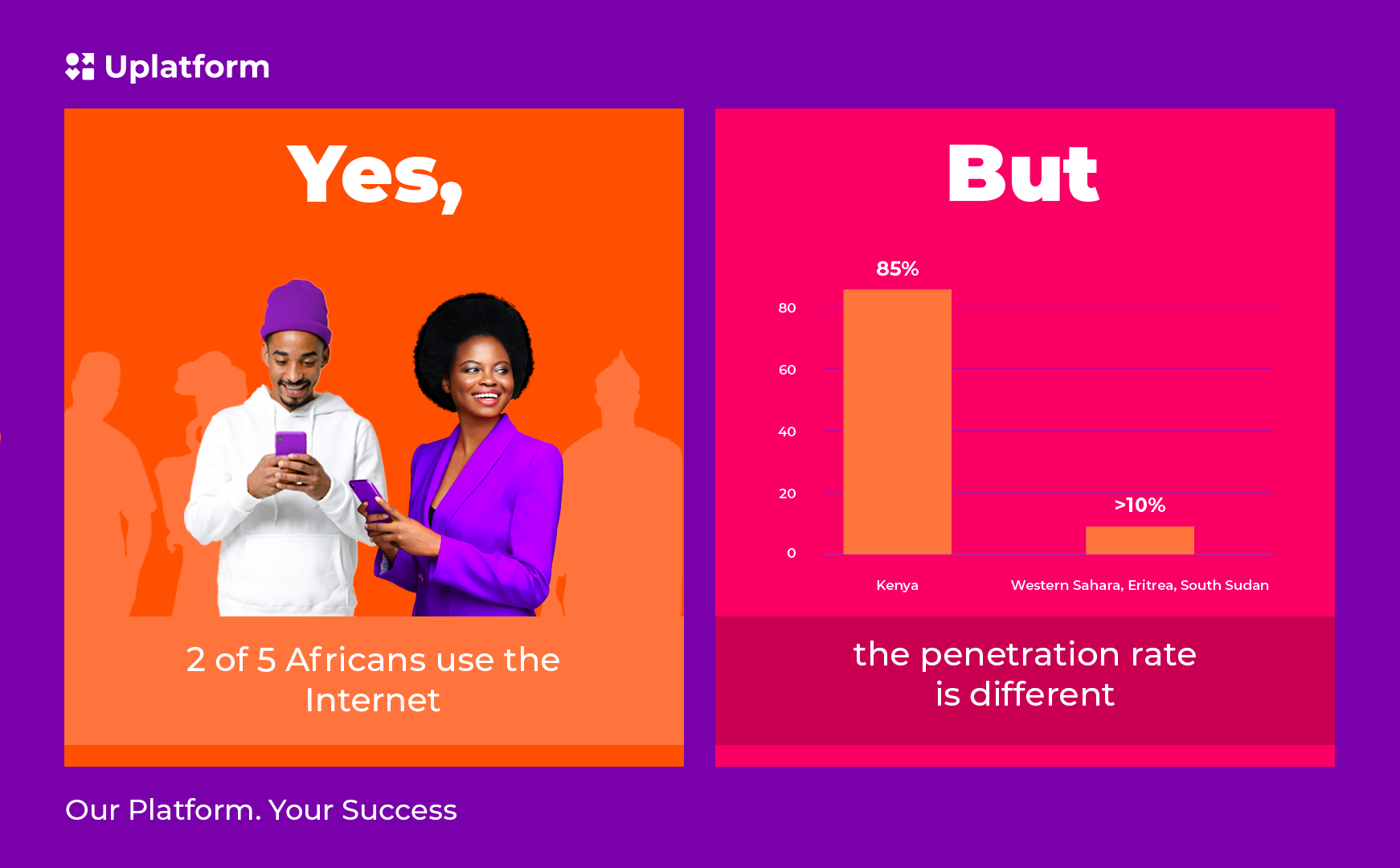 Football has always been the most popular sport to wager on in Africa. It is due to its diversity and excellent fan base, especially after the 2010 World Cup hosted by South Africa. The English Premier League, La Liga, and Serie A, have all helped betting popularity in Africa grow their markets in sportsbook for Africa and become more diverse. Africa's emerging economies present exciting opportunities for gambling and betting businesses, both online and in traditional retail betshops. Uplatform offers betting via SMS and Telegram, expanding access to gambling for people whose options might otherwise be constrained by a lack of digital infrastructure. Not only do we offer a variety of payment options, including local African methods, to ensure convenience for our African users and provide guidance to clients throughout the planning and implementation stages, but our personalized services also extend to the popular forms of betting in South Africa, such as cricket, rugby league, and rugby union, as highlighted in the PWC report, as well as:
Casino machines (slot machines, electronic table games, and video poker machines)
Betting (fixed-odds bookmaking, pari-mutuel wagering, and taking bets on the outcome of lotteries)
National lottery (gross ticket sales increased in 2016, with contributions to NLDTF rising by 27.9% to R1.37 billion)
The gross gambling revenue (GGR) in South Africa increased by 3.9% in 2016, with the GGR from betting rising by 14.3% and its share of the total GGR increasing to 19%.

In many African cultures, there is a strong emphasis on community and social interaction, which may influence how players approach betting. For example, some players may prefer to make small bets with friends or family members as a form of social activity, rather than placing high-risk bets on their own. With this, betshops hold immense significance within Africa's betting culture, functioning not only as offline betting hubs but also as social gathering spaces for meeting and chatting. As the landscape evolves and both land-based casinos and betshops move towards online platforms, Uplatform offers cutting-edge software to ensure a seamless operation of operators. Uplatform's omni-channel solution enables you to easily manage your business across several channels, whether online or offline. This increases your flexibility by making it easier to share and access information about your players.

Economic conditions are also likely to be a factor in African players' betting behavior. Many African countries have high levels of poverty, and for some players, betting and gambling may be seen as a way to make quick money. In this case, players may be more likely to take high-risk bets in the hope of winning big.

African iGaming laws play a pivotal role in shaping the landscape of iGaming across the continent. While the regulatory frameworks differ among countries, there is a growing recognition of the potential economic benefits and social implications associated with the iGaming industry. African governments are gradually adapting their legislation to accommodate the evolving digital gambling landscape and strike a balance between consumer protection, responsible gaming, and revenue generation.

Europe

iGaming in Europe consistently dominates lists of the world's highest-grossing iGaming markets. The European Gaming and Betting Association estimates a 7.5% increase in GGR for the European gambling industry in 2021. Due to the COVID-19 pandemic, many European countries have banned traditional casinos. It has led to a meteoric rise in online gambling on the continent.

France, Italy, the UK, Spain, the Netherlands, and Finland are some European countries where the remote iGaming market has expanded rapidly in recent years, making them prime locations for running an iGaming business in Europe. According to Statista, a German information business (GGR), a majority of Europe's iGaming revenue comes from sports betting. In Europe, the annual income from sports betting is estimated at $34.5 billion, or $72.33 per person. Analysts expect this number to continue to rise, with a current CAGR of 19% and an anticipated increase of 41% by 2026.

Bettors in Europe have a strong passion for sports and are known for their extensive knowledge on the subject. From football and basketball to tennis, they are highly engaged in the sporting world and take great pride in supporting their favorite teams. The sheer scale of football's fan base and its extensive coverage across various leagues and tournaments make it a prime choice for online bettors. Football has many fans who place many bets and stakes on sports on sports betting websites or at online sportsbooks.

Despite their enthusiasm, they are generally more risk-averse than other regions when it comes to betting. Players from Europe exhibit a tendency to engage in higher-stakes betting in comparison to anyone mentioned in this article: they view it as a form of entertainment and therefore seek out additional features, improved design, and extra perks. Also, they are also more inclined to make long-term bets, such as predicting the winner of a tournament or championship. This tendency to plan for the future may reflect a deeper cultural mindset towards taking calculated risks, and their love for sports makes it all the more exciting to watch as these predictions unfold over time.

Thus, as a European sportsbook provider, we understand the importance of tailoring our betting software to meet the needs of each country in the region. This success has not only helped to significantly impact the economy, but has also attracted international players looking to partake in the European betting industry online. Join us now and experience the best of what our betting platform in Europe has to offer!

Conclusion

Regardless of origins, whether it be the Asia-Pacific, Europe, South America, or Africa, the iGaming market is poised for continuous growth. Each region exhibits distinctive characteristics, cultural values, and preferences that directly shape individuals' involvement in betting. Thus, a comprehensive examination of bettors' behavior across diverse regions holds immense significance for the iGaming industry. By comprehending and analyzing these regional subtleties, operators can effectively meet the diverse needs and preferences of bettors worldwide. Embracing cultural diversity empowers operators to develop customized betting experiences, implement responsible gambling measures, and foster enduring player relationships across various regions. This approach ultimately contributes to the growth and sustainability of the iGaming ecosystem. Our turnkey solution can help you get your business perfect for the relevant market and start your betting or casino business immediately with outstanding features and control. If you already have an existing project, you also have the opportunity to seamlessly integrate our sportsbook API. By doing so, you gain access to an extensive library of offerings, ensuring the widest range of options available for your clients.

At Uplatform, we take great pride in our extensive knowledge of diverse markets and their unique requirements. Our clients benefit from our comprehensive suite of powerful tools and turnkey solutions, which enable us to provide successful and optimized localization services, ensuring that every player feels at ease. We offer a wide range of features, including regionalized content, accessibility, and support for over 65 languages, as well as more than 500 payment methods, including alternative and local options. You may effortlessly integrate our sportsbook API and enjoy exclusive features to increase your revenues. To start your journey towards success, first find out about the betting patterns of ideal bettors living in various regions, particularly Asia-Pacific, Latin America, Africa, and Europe, and contact our team now. Visit our booth N24 at iGB L!VE to learn more about our comprehensive solutions, localization services, regionalized content, support for multiple languages, diverse payment options and many other perks.

Furthermore, do you wonder how to cater to all these kind-hearted bettors? Our vast Usports sportsbook solution features many popular and unique sporting events, with odds and wagers to suit every taste. More than 500 payment methods, including several popular ones in your area, are available in our Utools. It's a one-stop shop where you can find everything from efficient management instruments to a full advertising arsenal. We can assist you in entering the European, Asian, or African market or improving your current operations with cutting-edge tools.
Stay informed
Subscribe to newsletter