Guide to kick start iGaming in Asia

As a result of the pandemic and limitations placed on socializing, leisure activities, and access to land-based casinos, millions of people began to seek entertainment online. This, in turn, led to a remarkable expansion of the iGaming business.
Research by e-Conomy showed that in 2020, forty million people from Singapore, Malaysia, Vietnam, Indonesia, the Philippines, and Thailand had their first experience betting or gambling online. This took the total number of internet users in the region to an all-time high of almost 400 million.
As an expert in the area, we have compiled the following insights and recommendations for iGaming operators who are considering entering the Asian market.
Localization
In the same way that success in other areas requires a unique strategy, success in Asia involves consideration of the social values and legislative interests of each country. For this reason, knowing your players and providing content tailored to their region is an excellent technique for attracting them to your website. Multiple factors, including preferred content and providers, sports, leagues, languages, providing perspectives, and odds formats, influence the effectiveness of localization. For example, Pachinko is well-known in Japan, whereas Mahjong is widely played in China. Gamblers' top choices typically include live casino games with local live dealers, baccarat, sic-bo, lotteries, roulette, slot machines, and skill-based games based on extremely popular pastimes such as fishing and hunting.
As for sports betting, cricket is incredibly popular in India. To meet individual demand, it is vital to offer bets on local matches to meet the demand of bettors who might prefer to bet on matches from lower-tier leagues in addition to the World Championships.
Basketball, UFC, badminton, Muay Thai, and football are some of the other popular sports in Asia. Considering these options, we offer the most extensive sportsbook in the Asian-Pacific market, with over 200 sports to choose from. Events include Asian championships and amateur leagues (such as the Philippine Collegiate Champions League). A total of 1.5 million pre-match and live events held across the globe. In addition, it offers Asian handicap, Hong Kong, Indonesian, and Malay, as well as an Asian view of the website. Language is another element essential to the accomplishment of a successful localization. There are significant linguistic distinctions between nations and regions in Asia. To meet local customers' needs, operators must provide versions of their websites written in the languages most often used by players. Uplatform offers language localization in more than 65 different languages including Bengali, Chinese, Hindi, Hong Kong Cantonese, Bahasa Indonesian, Japanese, Korean, Vietnamese, and Thai.
Popularity of Esports
Asia accounts for over 50% of Esports revenue, so operators are analyzing how they can provide bettors with more opportunities to participate in the most important competitions. 78% of Esports bettors in the region are between the ages of 18 and 25; these individuals represent the up-and-coming generation of players. 64% of bettors place their bets solely on Esports, while 24% of Esports bettors also place occasional bets on other sports.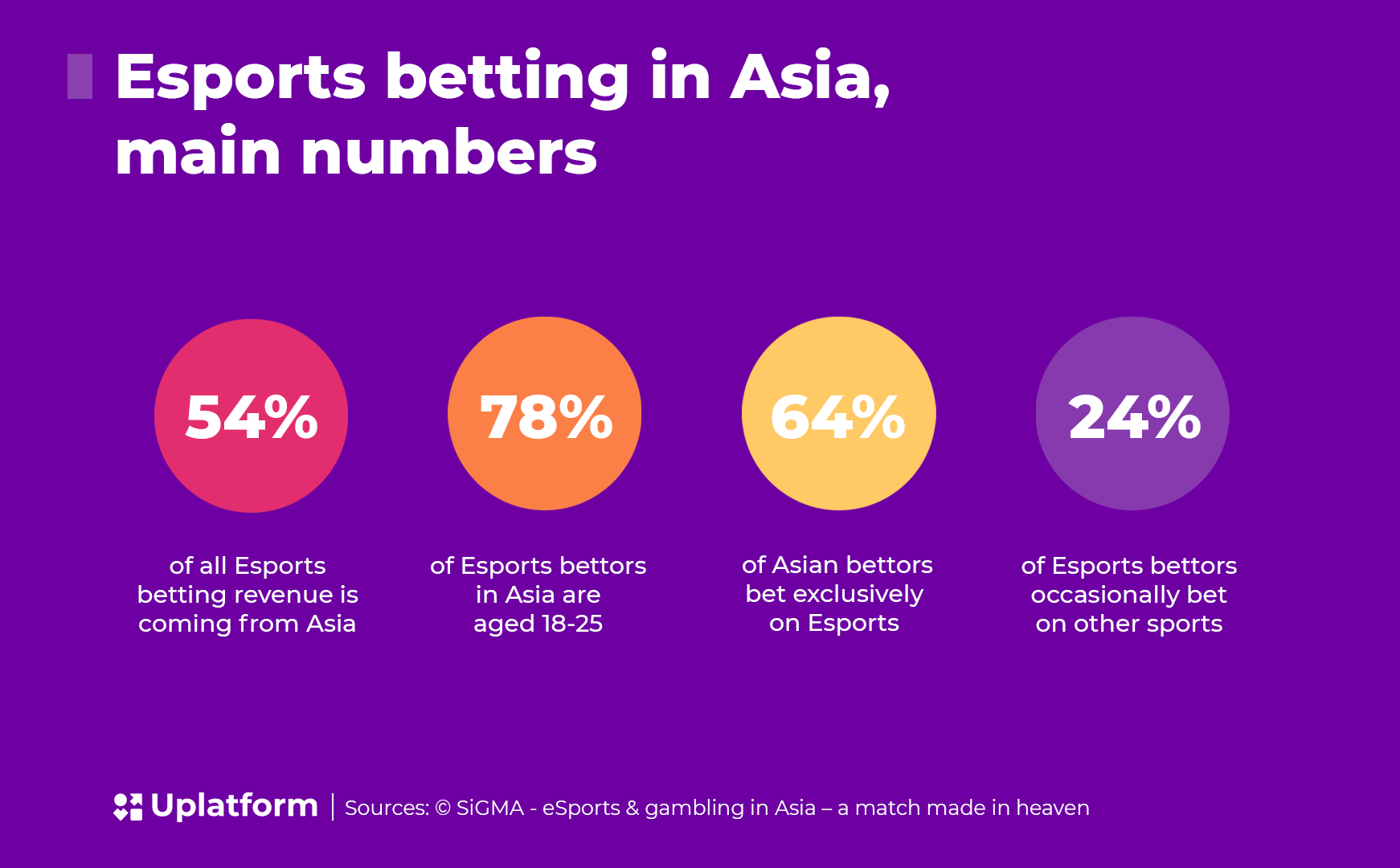 Asia is a popular hotspot for cybersports tournaments of many types. Uplatform is aware of this development in online betting and offers an environment perfect for launching and expanding a profitable enterprise. A number of our available options are as follows:
A comprehensive library offering popular wagers that can be placed on games like Call of Duty, Dota 2, Counter-Strike: Global Offensive, Valorant, Warcraft III, League of Legends, PUBG, and Rocket League.
Bets that are exclusive on tournaments like the Rocket League Oceania & AORUS South Asia Cup and cyber sports like football, hockey, cricket, and golf, as well as bets on the actions of a particular player and a number of other types of wagers.
We provide round-the-clock live betting on over 60 games.
Unique payment methods
In order to provide players in Asian markets with a comprehensively convenient and enjoyable experience, business owners and managers need to offer a wide range of payment methods. eWallets are by far the most common payment option among Asian players, followed by credit and debit cards and wire transfers. There is also 2C2P, the most comprehensive payment system in Asia, which allows users to make transactions without credit cards; Thaipay, used by players in Thailand; and a wide variety of additional payment methods, all of which are included in our portfolio. We offer a wide range of payment options tailored to the Asian market. Some of these are bank transfers, QR payments, eWallets, mobile payments, and other alternative options available in the region.
Uplatform also offers a comprehensive agent scheme program for Asian operators with software that supports multiple agent structures and languages, the ability to place bets on players' behalf, and printing betting slips.
Multi-device support
Traditional desktop computers are still popular in the Asian market, particularly light versions of websites that ease navigation. However, the trend is shifting as smartphones become cheaper and, as a result, more accessible, and there is a rise in the usage of these gadgets as gambling devices. This rise is attributed to the rising use of digital mobile platforms, the constraints imposed by COVID-19, and the easing of access to smartphones and the internet. This, along with a younger demographic interested in digital and on-demand entertainment, has contributed significantly to the company's growth.

Marketing
A solid marketing strategy is essential before venturing into new regions. To attract new participants and retain the ones you already have, you must utilize advertising methods that are culturally sensitive, relevant, and acceptable. Building affiliate networks with local ties have contributed to the growth of the Asian market. Affiliate networking with local connections helps to grow traffic and reach players in any chosen region and contributes to outstanding results through effective advertising.
Regulations
The massive unexplored potential of the Asian market is very appealing to operators. However, the region's gaming and betting laws are strict, permitting only a small number of businesses to operate legally.
However, there appears to be a trend toward legalization over time. Numerous nations where gambling and betting have been prohibited for decades have witnessed the establishment of underground markets run by gambling syndicates that do not guarantee player safety or transparency. In an effort to alleviate this issue and capitalize on the growing entertainment preference of their population, some nations are increasingly legalizing land-based and internet gambling and betting businesses.
Conclusion
Asia is among the fastest-growing iGaming markets. However, it is also incredibly complex since new products and services are continuously launched to provide players with more alluring betting possibilities.
Uplatform regards Asia as a place with numerous prospects for growth and has developed a full sportsbook specifically for the Asian market. It has continued to expand its business solutions to give operators a distinctive product line that keeps them ahead of their rivals.
Stay informed
Subscribe to newsletter