iGaming in Asia: Key Sportsbook Features to Score Big

Asia is a very promising region for the iGaming industry because of its large population and strong economic prospects. iGaming in Asia generated an estimated $72.2 billion in revenue in 2019, with affluent countries and regions like Macau, Philippines, and India among the most fervent bettors. However, the region comprises countries with diverse economies and cultures, and each country needs a unique strategy to deal with the various cultures and economies. This explains why operators need a sportsbook tailored to meet every nation's needs. Our sales manager, who specializes in the Asian region, Sam, stated,
"At Uplatform, we recognize the distinctive requirements and preferences of players in the Asian iGaming market. To ensure our clients stand out and succeed in this highly competitive market, we offer personalized and localized experiences, prioritize security and trust, adopt a mobile-first approach, provide innovative features, offer various payment methods, and include Esports betting options. We are committed to delivering tailored solutions that exceed our clients' expectations and drive growth in their businesses. We strive to continuously enhance our offerings, staying at the forefront of this ever-evolving industry."
To effectively cater to the diversified nature of the Asian market, sportsbooks for Asia require a few essential features. Here are some of the features:
Localization
To succeed in Asia, you must consider each country's social values and legislative concerns. Knowing your players and offering them tailored content based on their country is a great way to spark their interest. Various factors are considered during localization, such as preferred content providers, sports, leagues, languages, views, and odds formats. To satisfy the individual needs of sports bettors, it is essential to offer bets on local matches, particularly those from lower-tier leagues, alongside the more prominent World Championships. We take pride in offering an extensive award-winning sportsbook with over 200 sports to choose from in the Asian-Pacific market, including basketball, UFC, badminton, Muay Thai, and football. Our events include not only Asian championships and amateur leagues like the Philippine Collegiate Champions League, but also 1.5 million pre-match and live events from around the world. We also offer different handicaps, including the Asian, and odds formats, preferable in Asia regions such as Hong Kong, Indonesian, and Malay, as well as an Asian website view. Also, as there are substantial linguistic differences between countries and regions in Asia, language is another important factor in successful localization. Uplatform's sportsbook is available in over 65 languages, including Bengali, Chinese, Hindi, Hong Kong Cantonese, Bahasa Indonesian, Japanese, Korean, Vietnamese, and Thai, all in an effort to make localization for our clients in Asia effortless and help them to reach all the bettors in the region.

Multi-device support
Even though statistically, the Asian market still prefers traditional desktop computers, a new trend is emerging: the increased use of smartphones as betting devices. Two factors have contributed to this rise: the spread of digital mobile platforms and the increased accessibility of smartphones and the Internet. This has been essential to the industry's success, along with the fact that more and more young people are interested in digital and on-demand entertainment. This is why we offer iOS, Android, and Windows apps and light web versions. We even offer telegram and SMS betting packages for some players who live in areas with limited or complex infrastructure.
Simple and user-friendly interface
A user-friendly website is essential for retaining visitors and engaging them for longer periods. Users will be able to easily find the information they need if your website is comprehensive and easily navigable. This is particularly important for betting websites in Asia, where a user-friendly design and intuitive interface can help the Asian players focus on the task at hand rather than getting lost in navigation. A user-friendly design targeted at the Asian market can make the betting experience effortless, from one-click registration to perfectly timed pop-up notifications. After all, every design aims to provide the best user experience possible.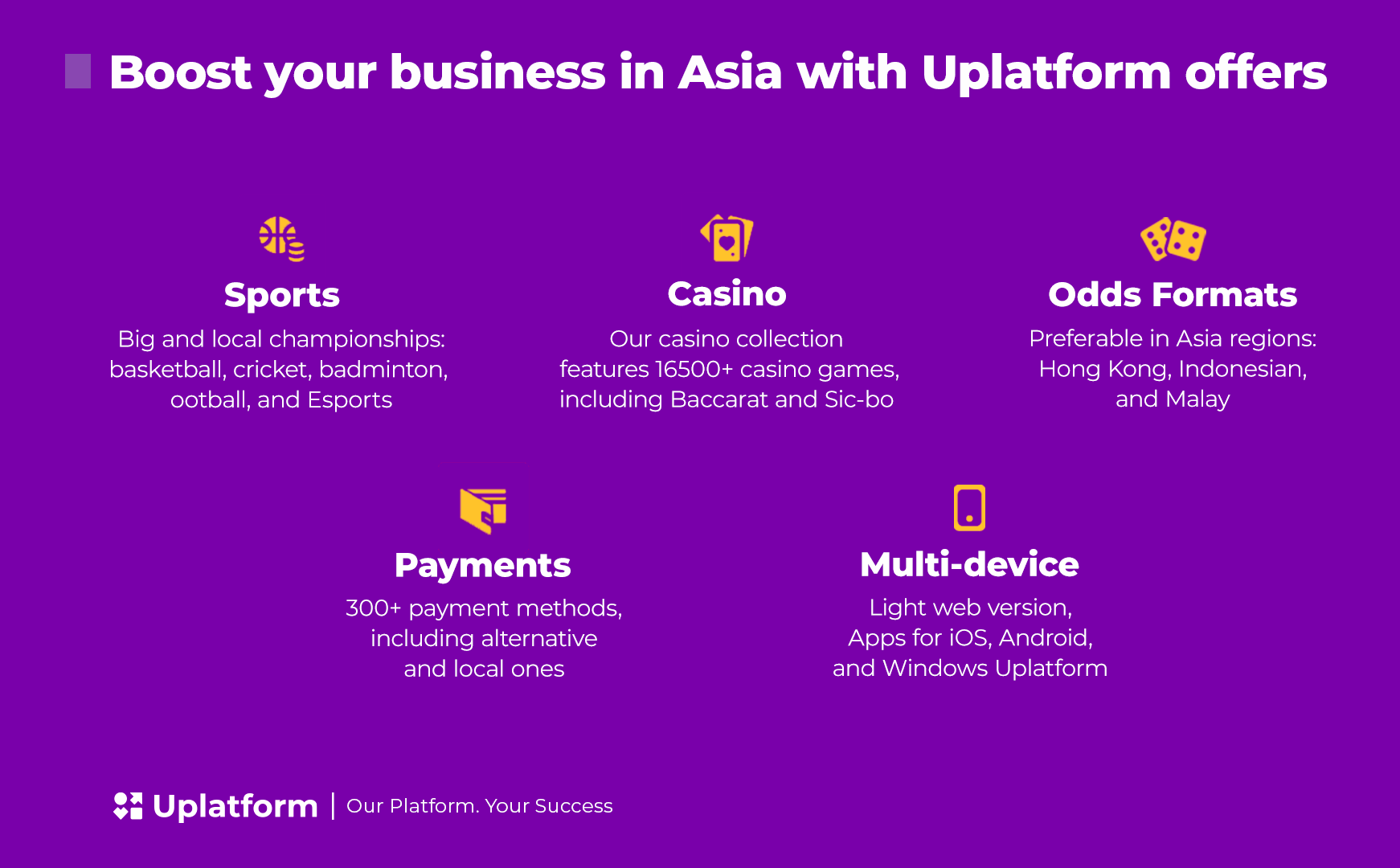 Essential info about matches
For serious bettors, statistics and information about a match's venue are indispensable guides that can provide valuable insights for making informed decisions. Quality pre-match and in-game analysis, along with the results of recent meetings between teams, are crucial factors to consider when making predictions. By incorporating comprehensive statistics and venue information, such as its capacity, when it was built, address, photos, and even the local forecast, the Uplatform sportsbook makes it easier for your bettors to forecast upcoming games and make more accurate bets.
Different forms of payment
To bet, players require an easily accessible payment method, and each player has a preferred payment option based on their region. Therefore, owners of iGaming businesses in Asia must provide their players with access to a wide range of payment options. Among Asian players, e-wallets are the most common payment option, followed by credit/debit cards and wire transfers. In addition to the most extensive payment system in Asia, 2C2P, which lets users make transactions without credit cards, Thaipay, which players in Thailand use, and a wide variety of other payment methods are all part of our portfolio. We provide payment methods that are not only convenient and suitable for the Asian market but also meet the specific requirements of our clients. With over 300+ payment methods available, we ensure that our clients have the flexibility and ease of transacting using options tailored to their needs in the Asian market. Payment alternatives in the area may include wire transfers, QR payments, electronic wallets, mobile payments, and others.
Feature Esports
Asian markets generate more than half of Esports betting income, and operators are exploring ways to enable bettors to access and bet on their preferred competitions more easily. The majority (78%) of Esports bettors in the region are young folks (18-25), who constitute the future of the iGaming industry. While 64% of bettors bet exclusively on Esports, 24% of Esports bettors also occasionally bet on traditional sports.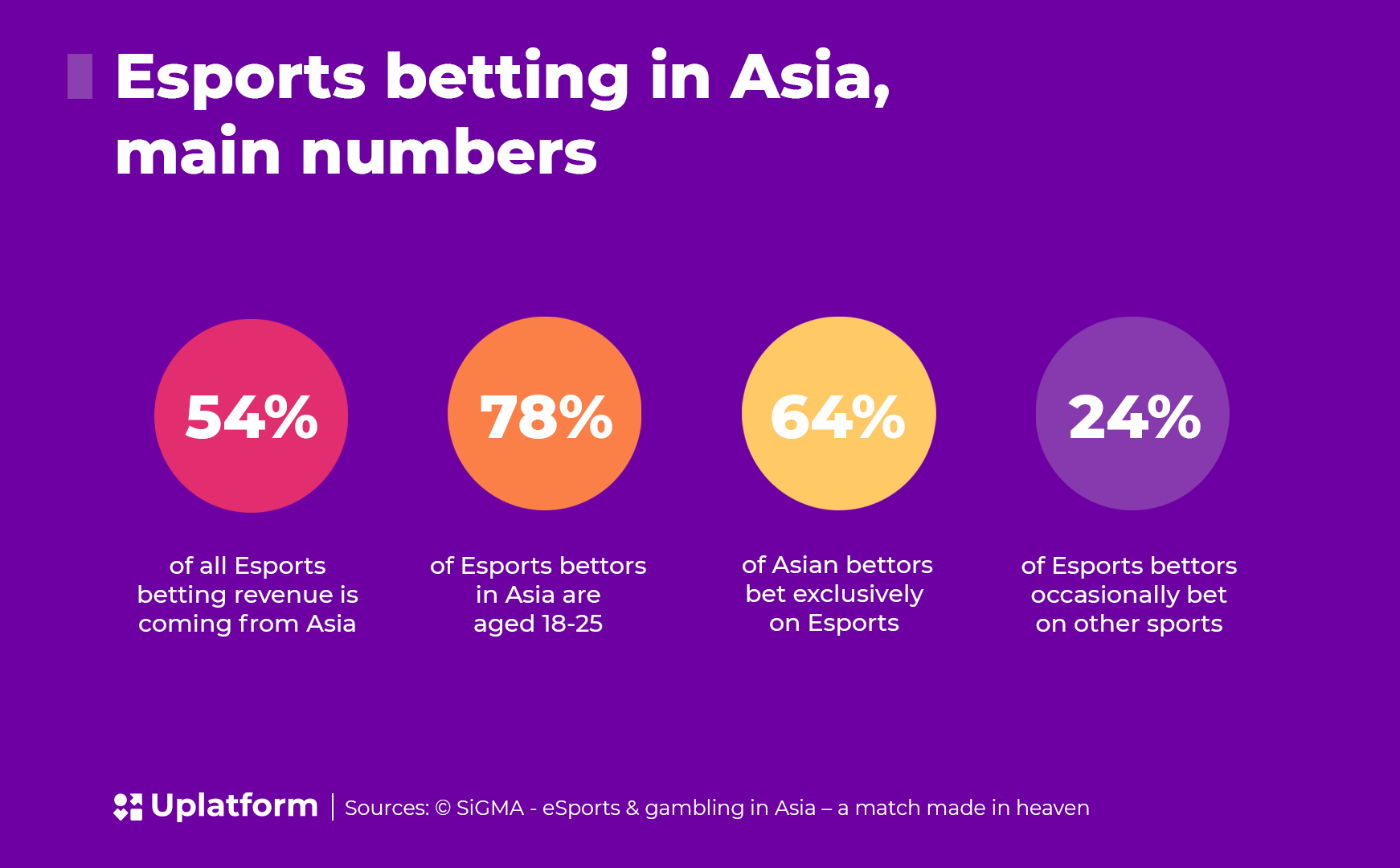 Uplatform is well aware of this betting trend and provides everything you need for your business to succeed, so we offer both popular Asian region games and irregular ones, such as
A comprehensive library of popular wagers on games like Call of Duty, Dota 2, Counter-Strike: Global Offensive, Valorant, Warcraft III, League of Legends, PUBG, and Rocket League.
Are you familiar with Angry Birds, Cut the Rope or Sonic? We offer bets on all of these games!
Cyber sports like football, hockey, cricket, and golf, as well as exclusive bets on events like the Rocket League Oceania & AORUS South Asia Cup and on the performance of individual players.
Our comprehensive Esports betting platform includes 24/7 live betting on 60+ games, with a dedicated live zone that caters to the unique needs of Esports lovers.
Our multi-live feature enables players to easily monitor multiple events in real-time within a single window, enhancing their betting experience.
It's no secret that gambling is an integral part of the culture in many Asian countries, and as a result, Asia is home to several flourishing iGaming companies. The iGaming industry in Asia is very lucrative, but operators need to ensure their sportsbook is optimized and localized for the market there. If you are looking to explore the iGaming opportunities in Asia, look no further, our award-winning sportsbook boasts all of the essential features needed to excel in any region of Asia or beyond.
Stay informed
Subscribe to newsletter