Navigating Asian iGaming: A Conversation with Sales Manager Sam Lau

What developments do you foresee in the iGaming industry in Asia in the coming years?
With Asia being home to over half of the world's population, it is not surprising that the iGaming market in the region is substantial. Considering that affluent countries with robust internet access are expected to play a crucial role in the iGaming sector, China, Japan, South Korea, and India are poised to emerge as some of the most enthusiastic betting nations in the coming years.
What are the primary obstacles that iGaming operators in Asia encounter, and what measures can be taken to overcome them?
One of the significant challenges for iGaming operators in Asia is navigating the complex legal landscape and effectively promoting their brands. It is crucial for operators to stay vigilant and keep up with the evolving rules and regulations in the Asian market to ensure successful operations and compliance. Additionally, there is a need for regulators to recognize the demand from both businesses and players for transparent regulation and work towards establishing a regulatory framework that addresses the unique characteristics of the iGaming industry in Asia. By closely monitoring the legal landscape and fostering open communication between operators and regulators, these challenges can be overcome, allowing for a more robust and regulated iGaming environment in Asia.
What cultural nuances should online casino operators be mindful of when conducting business in Asia, and how can they navigate these differences?
Firstly, it is crucial to understand the popularity of specific games in the region, such as Ander Bahar, Teen Patti, Rummy, and Poker. Offering these games and catering to the preferences of Asian players can help attract and retain a loyal player base.
Secondly, the preference for live dealer games over purely online casinos is prominent in Asia. To cater to this preference, operators should focus on providing high-quality live dealer experiences with professional and engaging dealers. Investing in the infrastructure and technology required for seamless live streaming and interactive gameplay can enhance the overall player experience.
Lastly, affiliations and partnerships play a significant role in the Asian casino market. Building strong relationships with local affiliates and influencers can be beneficial for operators to increase brand visibility and attract a larger audience.
By acknowledging these cultural differences and adapting their strategies accordingly, online casino operators can effectively navigate the Asian market and create a more engaging and tailored experience for players in the region.

How has Uplatform's recent presence at the past G2E Asia 2023 Expo contributed to the company's growth and success in the Asian market?
Uplatform's participation in G2E Asia 2023 aims to showcase our commitment to the Asian market and our aspiration to bring success to our customers. By attending this event, Uplatform expanded our customer base in Asia and received a positive response for our products.
Uplatform's primary goal was to demonstrate the value and benefits of our platform to the Asian audience, highlighting how we can contribute to the success of iGaming operators in the region. By presenting our products at the recent G2E Asia and upcoming Sigma Asia, Uplatform hopes to establish strong connections, build partnerships, and better understand the specific needs and preferences of the Asian market.
We want to establish Uplatform as a trusted and reliable partner for iGaming operators in Asia, ultimately contributing to their growth and success in the industry.
What innovative products will Uplatform present at Sigma Asia 2023, and how do they cater to the unique needs and challenges of the Asian market?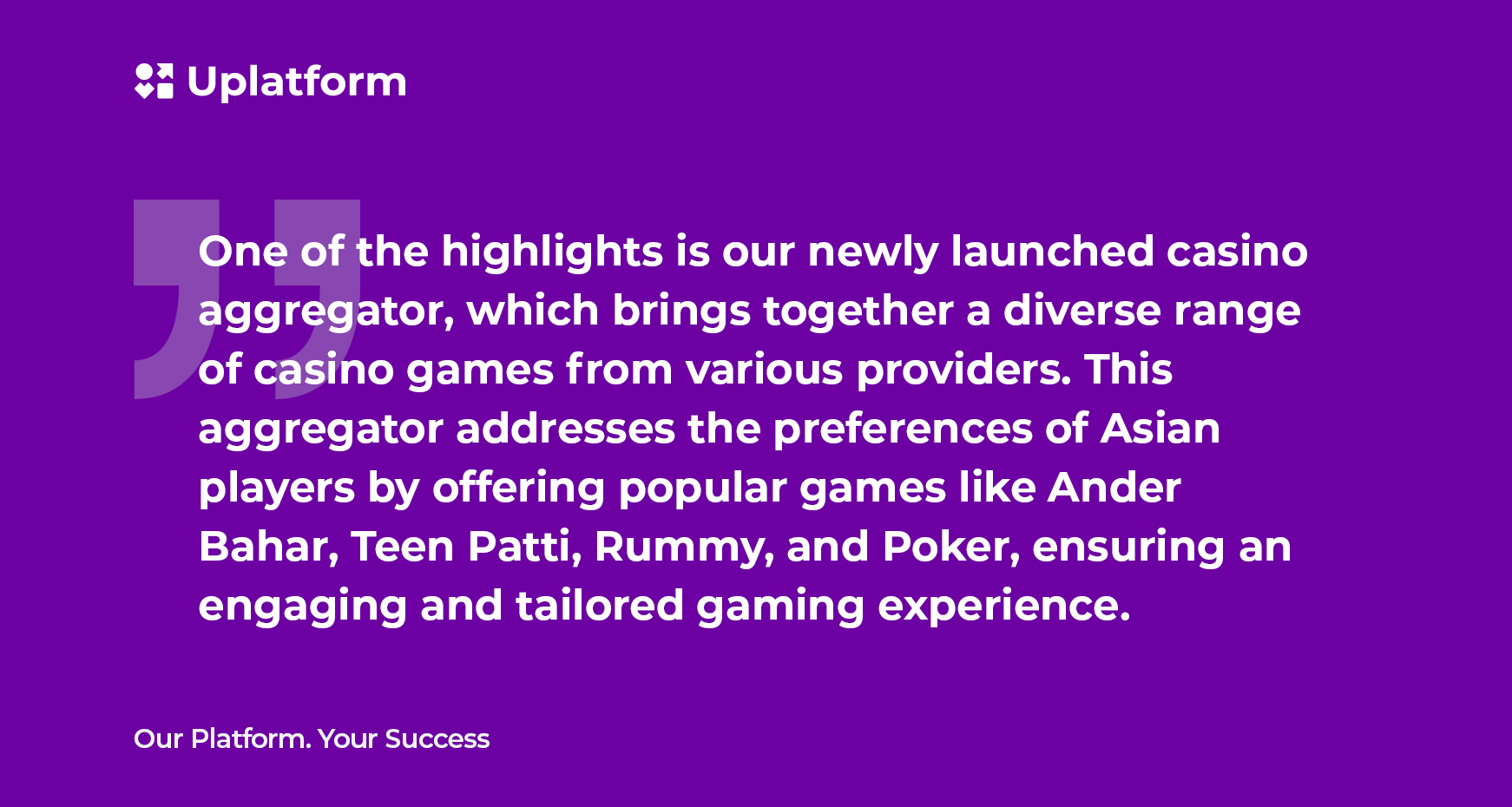 At Sigma Asia 2023, Uplatform is excited to unveil its latest offerings designed to meet the specific demands of the Asian market. One of the highlights is our newly launched casino aggregator, which brings together a diverse range of casino games from various providers. This aggregator addresses the preferences of Asian players by offering popular games like Ander Bahar, Teen Patti, Rummy, and Poker, ensuring an engaging and tailored gambling experience.
Additionally, Uplatform will showcase its Sportsbook iframe. This comprehensive solution provides extensive coverage of sports and betting markets, meeting the growing demand for sports betting in the Asian market. From football to cricket and basketball, operators can offer a wide range of sports options to cater to the preferences of Asian bettors.
What sets Uplatform apart from other iGaming providers in the Asian market, and what unique value does it offer to its clients?
Despite being based in Europe, Uplatform has a comprehensive understanding of the demands of the Asian market. We recognize the variations in player preferences across different countries and even within regions within those countries. To cater to these distinctions, we prioritize localization features such as supporting local payment methods, providing local language support, offering coverage of local leagues, and ensuring compatibility across multiple devices.
Our unique value proposition lies in our unwavering focus on localization and a customer-centric approach. By tailoring our services to meet the needs of Asian players, we distinguish ourselves from other iGaming providers in the region. Uplatform's commitment to understanding and accommodating the unique preferences of the Asian market enables us to deliver an exceptional and tailored gaming experience to our clients.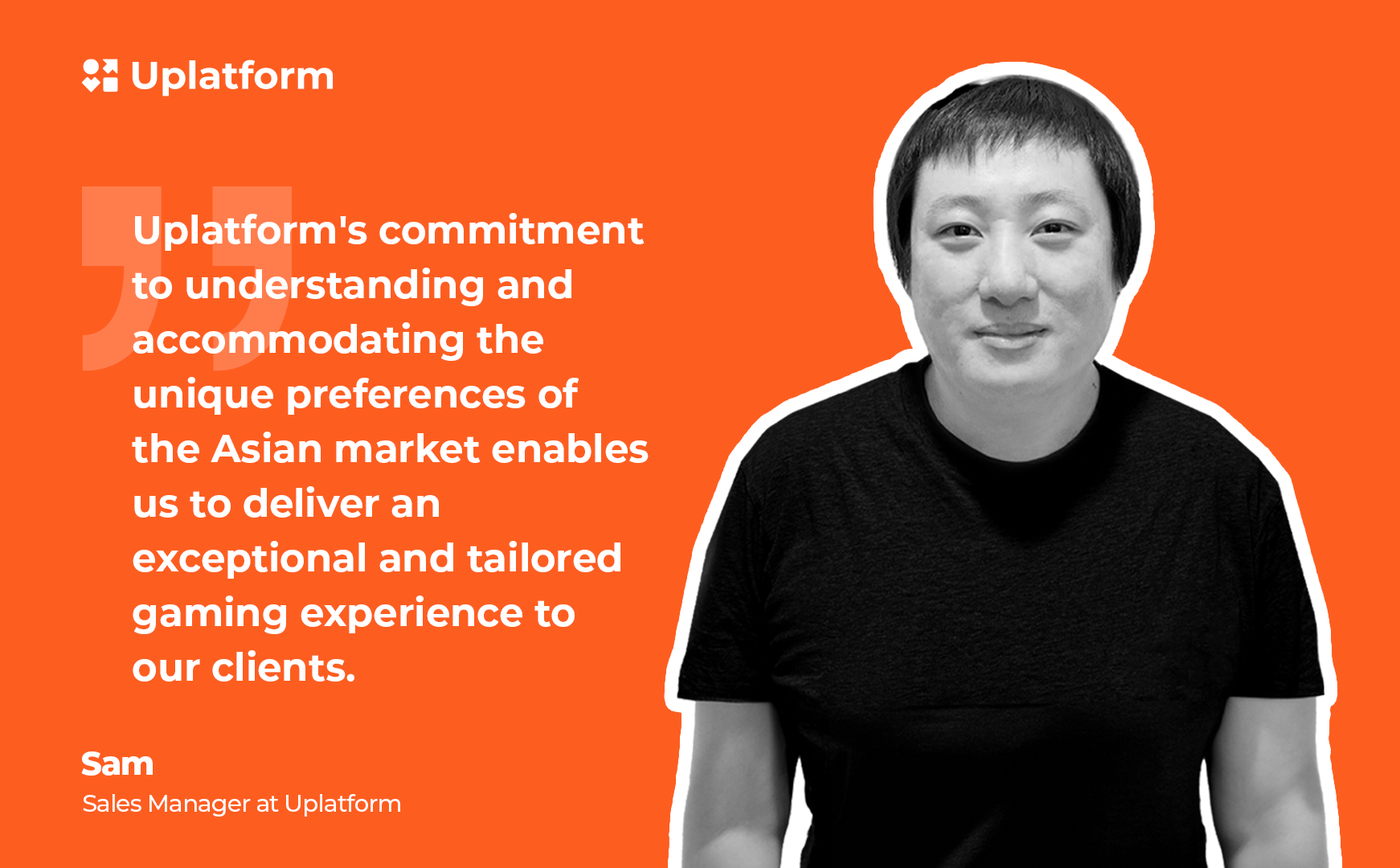 What emerging trends do you observe in the Asian iGaming market, and how is Uplatform strategically positioning itself to leverage these trends?
The Asia-Pacific region is currently experiencing remarkable growth and is considered the fastest-growing market in the world. This growth is attributed to increasing gambling revenues and the expanding legalization of the industry across the region.
We closely monitor market dynamics and regulatory developments to ensure that our products and services align with the evolving landscape. By staying attuned to these changes, we can adapt our offerings to meet the unique needs of the Asian market and remain competitive.
Our strategic approach revolves around providing top-notch solutions tailored to the specific requirements of the Asian market. This dedication to understanding and meeting the demands of Asian players allows us to stay ahead of the competition in this dynamic and challenging market.
How is Uplatform addressing the issue of responsible gaming in the Asian market?
Uplatform places utmost importance on the well-being and safety of players, addressing concerns around responsible gaming. We have implemented several measures to promote responsible gaming practices and protect players.
Firstly, we offer a robust Know Your Customer (KYC) system that helps verify the identity of players, ensuring a secure gaming environment. This verification process aids in age verification and prevents unauthorized access to gambling platforms.
Furthermore, Uplatform provides risk management tools that allow operators to set limits and controls for players. These measures help prevent excessive gambling behaviors and encourage responsible gameplay.
In addition to these measures, we are committed to creating a secure gaming environment that protects players' information and financial transactions. By employing industry-standard security protocols and encryption technologies, we ensure the confidentiality and integrity of player data.
Uplatform recognizes the significance of responsible gaming practices and actively works towards providing a responsible and secure gaming experience for players in the Asian market. Our dedication to player protection and responsible gaming sets us apart as a trusted provider in the industry.
What are the key factors that make Uplatform a trusted and preferred choice for Asian sports betting and online casino operators?
Uplatform is the preferred choice for Asian sports betting and online casino operators. We offer customized solutions tailored to the market, prioritize localization and regulatory compliance. Our robust technology, sportsbook API, and casino aggregator meet the unique needs of operators. With a proven track record, continuous innovation, and an expert team, we provide a trusted platform for success.
Stay informed
Subscribe to newsletter