Synopsis of the iGaming in Africa

A paramount characteristic of the iGaming industry was illuminated by the COVID-19 epidemic. That being, no matter what the circumstances are, the industry can prosper. After enduring challenging times and seeing stability and strong growth over the past few years, iGaming businesses are now seeking new frontiers, such as Africa. 
The continent of Africa is expansive and diverse, home to more than 1.4 billion people speaking various languages and comprising 54 nations, making it the second-largest continent on earth. Given the widespread popularity of sports betting and online gambling in Africa, it is no surprise that Africa is attracting attention as a promising marketplace for growth.
As a result of local government's willingness to legislate online gambling and betting, the expansion of mobile networks, and the continent's continuing economic growth, various markets have flourished, populated by players who are very interested in sports betting in particular. Kenya, Nigeria, and South Africa are just three flourishing nations actively setting new standards on the continent, which are also the three nations we will briefly cover in this iGaming in Africa overview.
Prevailing stats
During the forecast period 2022-2030, African gambling revenues are expected to increase from US$ 3,048.05 million in 2021 to US$ 5,637.37 million by 2030, with a compound annual growth rate (CAGR) of 6.99%. Gambling activities on the continent could even increase, exceeding current predictions. As more and more companies establish operations in the region.
The continent's young population and interest in sports betting are integral factors in the incredible growth of the African gambling market, with many African players in the top European football leagues being a driving factor behind the younger generation's attraction to sports betting. More than 500 African footballers, (which is about  6% of the total club's player bases), have contracts with the 11 prestigious top-tier leagues in Europe. By 2050, the proportion of young people in Africa; those aged 0 to 24 - will increase by approximately 50%, significantly contributing to the growth in sports betting. In countries where gambling is legalized, there has also been an increase of 3.9%, with stats showing that 72% of people placed a bet at least once in 2021.
Africa's growing adoption of mobile phones and the advancement of technology have further driven growth. As more advanced mobile networks roll out across Africa, internet connectivity has improved. African iGaming has seen an increase in bettors as a result of 4G networks. A growing number of African nations have 4G networks. Data from 2020 shows, that nearly 87 % of North Africa's population was covered by 4G mobile technology. There was an average of 62% coverage of 4G in Africa. The share was lowest in West Africa, at 59%. Several countries, including South Africa, Kenya, and Nigeria, have recently announced plans to roll out 5G networks.

Digitization is relatively new on the continent and still undergoing widespread adoption, so there's still a strong presence of offline betshops in Africa. Additionally, they are also viewed as an integral part of many towns' social and cultural life, which has to be considered an important factor in the region. However, when it comes to payments, countries are slowly but surely opening up to digitization through online and mobile payments. With the locals still frequenting offline betshops and the gradual transition to online, more and more operators are moving to Omni-channel solutions to have both an offline and online presence. Uplatform provides software to run your business smoothly. Delivering great versatility, whether offline or online, all players' information is shared and can be easily accessible with our Omni-Channel solution.
Another must-have for the African market is having a network of agents who will support players with their cash payments or enable placing bets for those without internet access. A multilingual and multi-functional agent scheme software is needed, providing a multi-level agent hierarchy, detailed reporting and statistics, the possibility of placing bets on behalf of the players, and the option to print bet slips.
Nations paving the way forward
South Africa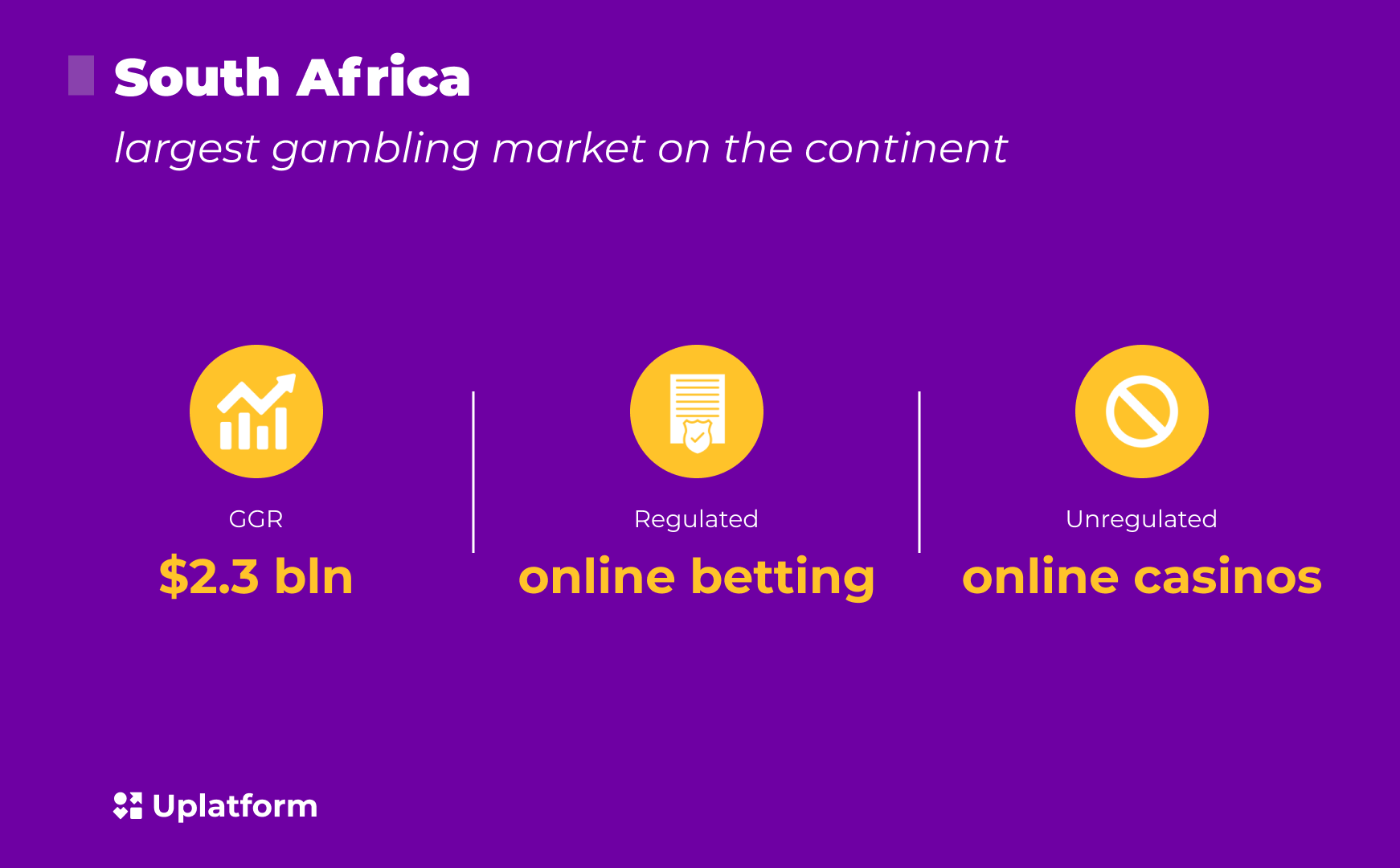 According to some estimates, South Africa's gross gaming revenue will exceed $2.3 billion by 2023, making it the continent's largest gambling market. Even though it does not have the population size compared to some of its surrounding neighbors, South Africa has the third-highest GDP in Africa.
Within the next five years, sports betting is expected to double in size, accounting for 24% of industry revenues. The majority of adult South Africans place sports bets on a regular basis, according to estimates. In addition to football and horse racing, cricket, rugby, and golf are the most bet-on sports. Although South Africa offers many positives, online casino gambling remains illegal in the country. 
Nigeria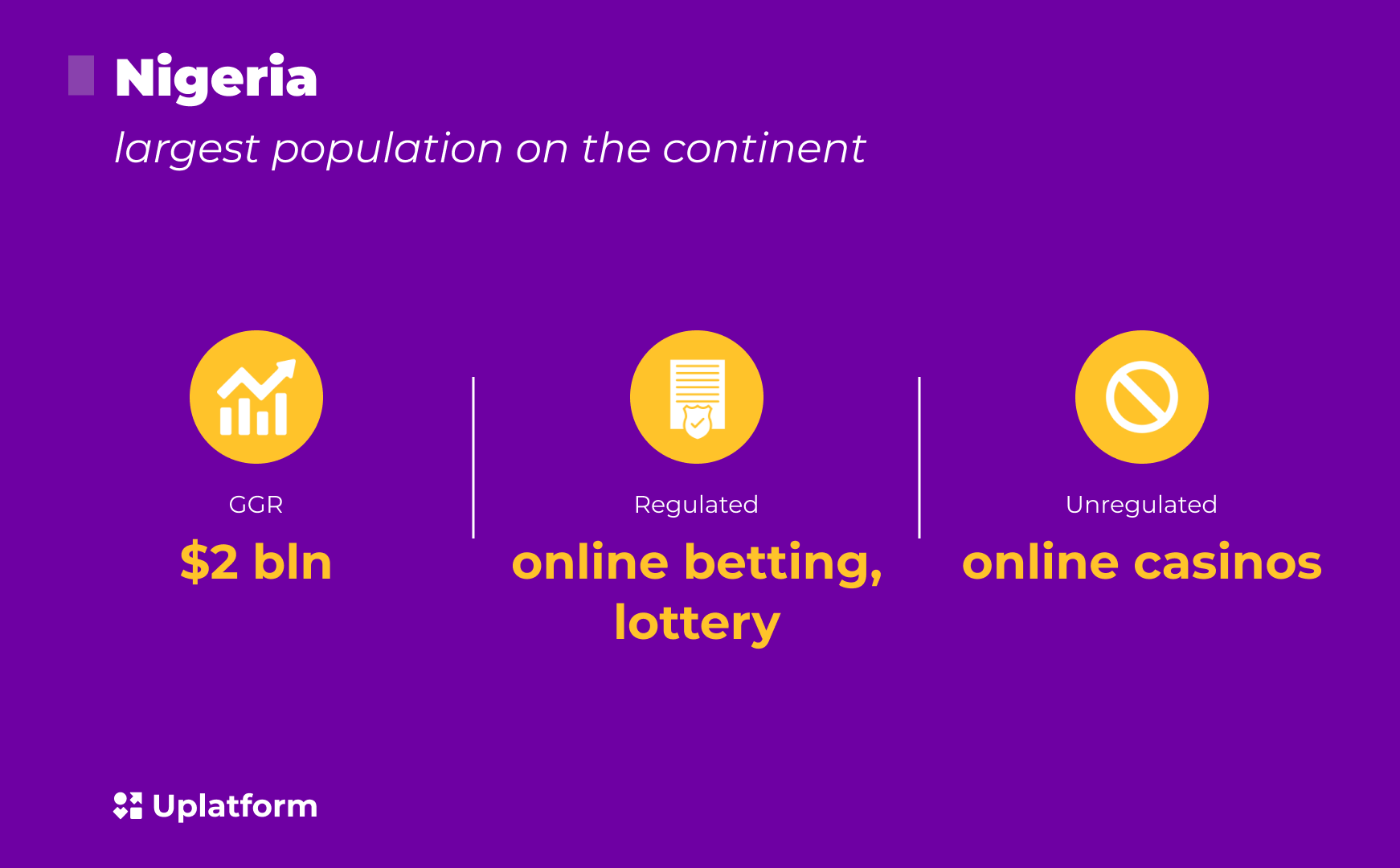 Data from 2020 shows that Nigeria has the largest population in Africa and the highest gross domestic product at $443 billion. The fact that the nation accounts for 7% of all gambling revenue in sub-Saharan Africa is not surprising given the above figures. Nigerians bet $2 billion annually, which is a sizable amount. 
While online betting is legal, online gambling is not regulated by the federal government. Over licensing and regulatory roles and responsibilities, Lagos State Lotteries Board (LSLB) and Nigeria Lottery Regulatory Commission (NLRC) are at odds with each other.
To read a detailed analysis of the iGaming legalization in Africa, please follow the link.
Kenya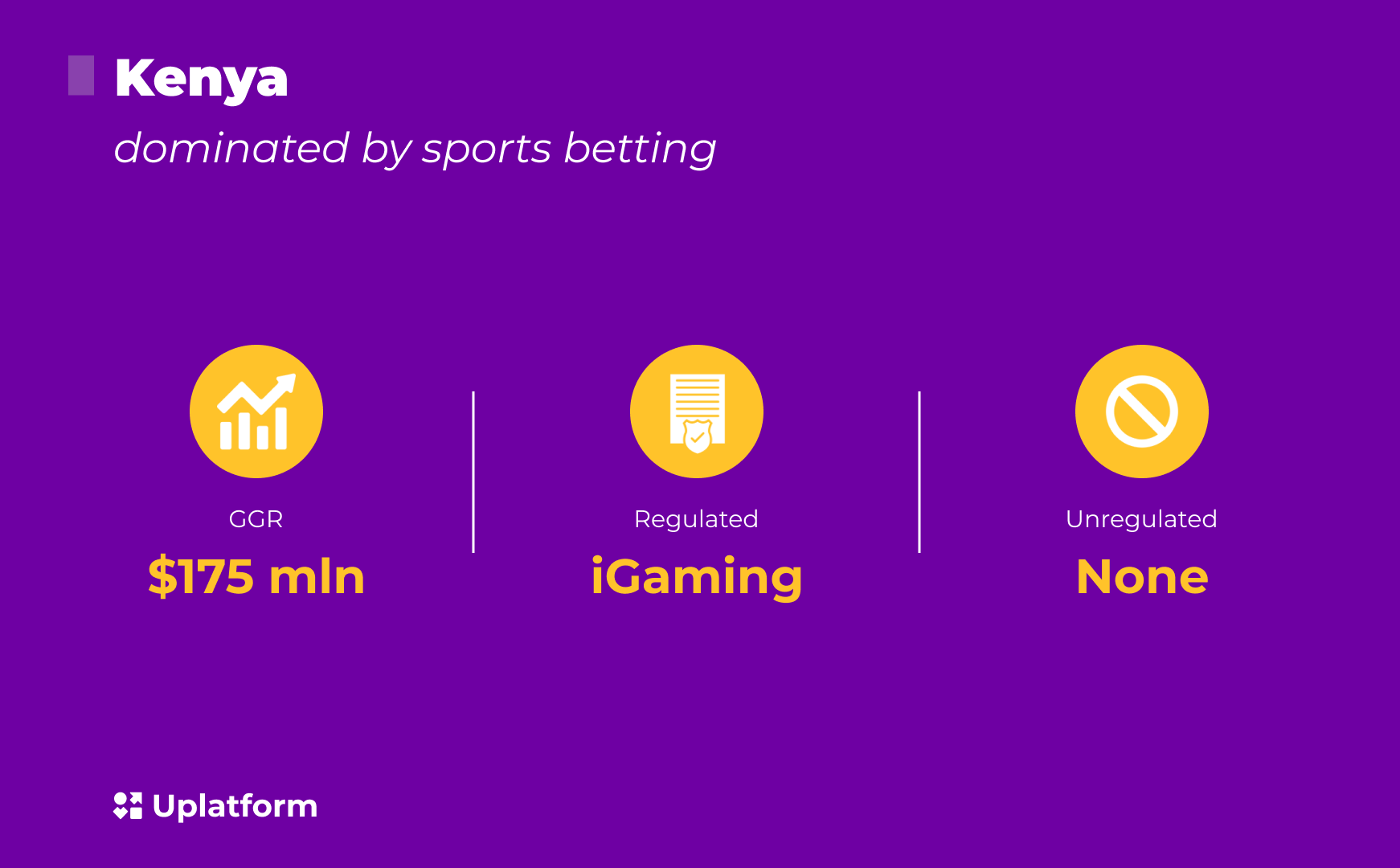 As a result of the Gaming Bill of 2019, Kenyan iGaming is regulated by law. Kenya is one of Africa's largest markets; however, disputes between operators and government authorities stalled the market's expansion. GGR stats for 2020 show the market dropping to $175 million from $300 million in 2018.
Sports betting is the most popular form of activity among players in Kenya, like the rest of the continent. The number of Kenyan players is estimated to be around 7 million, with football being the most popular game among young people.
Future outlook
Following suit of Kenya, Nigeria, and South Africa, several African countries are working to establish gambling frameworks and legislation. The positive impact of investment and the revenue benefits to nations that proactively implement gambling legislation are becoming increasingly attractive prospects for governments throughout the continent. 
Youth population growth, millions of individuals who love sports betting, inexpensive mobile phones, and the introduction of 4G and 5G networks may all contribute to accelerating the future transformation of the African gambling market.
Africa is vast with many different cultures, languages, payment needs, betting preferences, and habits. Therefore, there is no one fits all solution for those operators looking to succeed in this diverse and dynamic marketplace.For your business to prosper in Africa, you'll need a tailored solution backed by a team of experts who won't abandon you once the project is launched and running. We are proud to offer an effective platform with Omni-channel solutions specifically tailored to the African market catering to local online and retail needs.
Our extensive Usports sportsbook offers popular and diverse sporting events, with various odds and bets to appeal to all types of African bettors. Utools features over 300 payment methods, including local African favorites. Featuring multi-device compatibility, customized localization options, bonuses, and tools. Providing businesses with everything they need to reach players right across Africa. Furthermore, our Telegram and SMS betting allow players to place bets in areas without strong internet access, delivering operators additional markets and revenue throughout Africa.
Stay informed
Subscribe to newsletter