Why do you need to start an Esports betting website in 2023

The emergence of Esports betting can be summarized by its phenomenal growth. Computer games are no longer just a form of entertainment; they have evolved into lucrative professional sports, attracting significant investment and exposure. A staggering $1.1 billion was invested in the industry in the first half of 2020 alone, and projections show that Esports revenue will exceed $2 billion by 2022. As a result, the video game industry has focused on creating spectacular leagues and tournaments that draw a large audience and elicit intense emotions. According to Statista, the Esports audience has increased by 19.2 percent in two years, reaching 474 million. Based on current trends, analysts predict that the active audience will reach 577,2 million in 2024.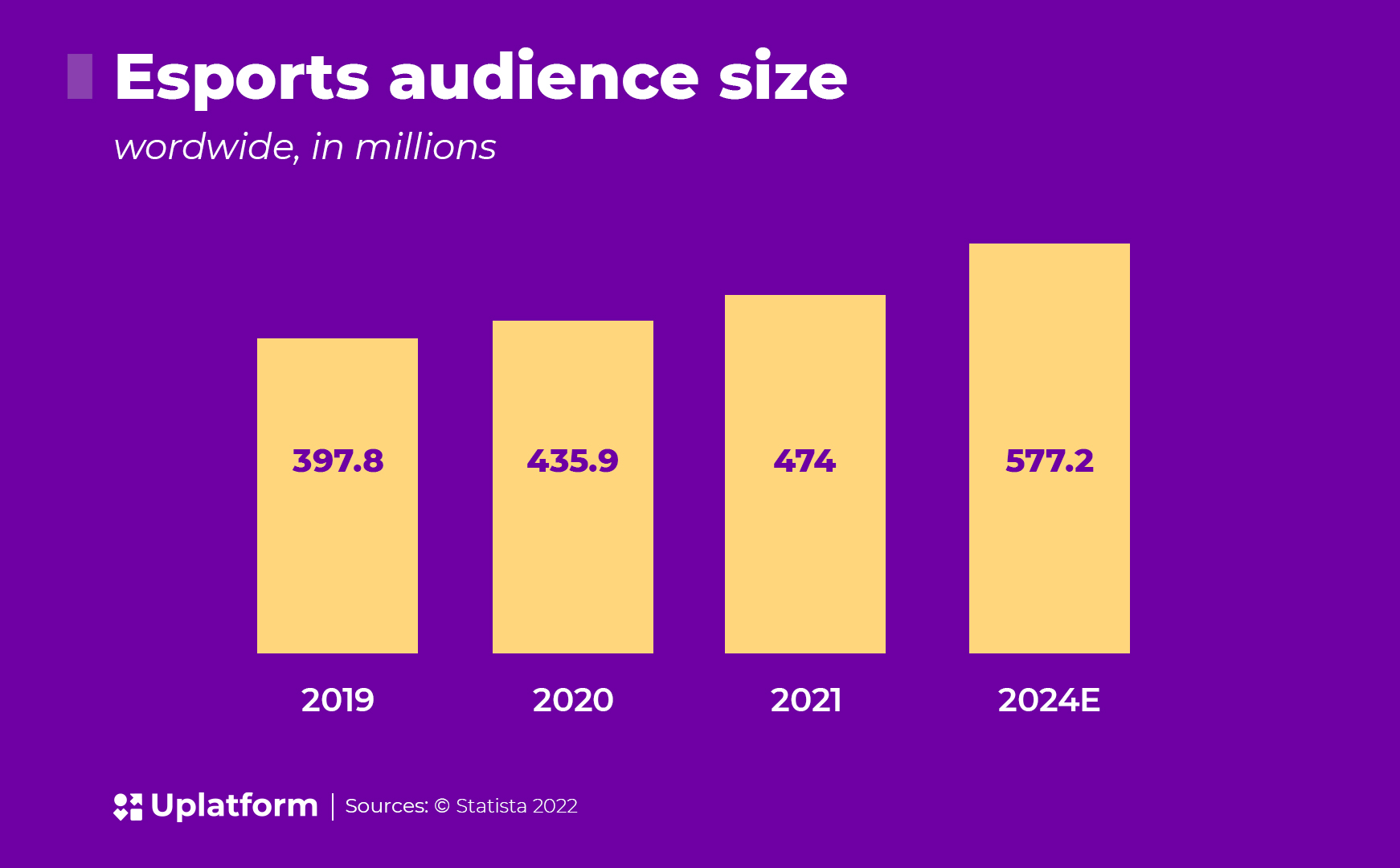 As expected, almost every country now considers Esports to be a sport. As a result, Esports has emerged as the fastest-growing sports vertical. According to some analysts, the Esports betting vertical could grow to $16 billion. If you want to discover the reasons behind the growing popularity of Esports betting, read our last article about the enormous growth of the Esports industry.
So, if you want to ride a wave, start an Esports betting website, and capitalize on it, you should know a few things first. Creating and managing an Esports betting business is similar to starting and managing any other business website - it requires some research. As more firms enter the Esports betting world, the competition and variety of offerings grow. To stay ahead of the competition, knowing what to expect when entering this type of business is best.
The following are key actions that anyone interested in starting an Esports betting website should take into account to have the edge over other competitors:
Carry out in-depth market and regulatory research
There is a demand for Esports betting in almost every region because it is a global sport with a large fan base worldwide. As with any other betting business, you must first choose your target market, study the players in it, as well as the popular leagues, matches, and betting preferences.
You will learn about the industry's current state, including the emergence of new trends and the growth of demand for Esports in your target market. By conducting thorough market research, you'll have a better idea of whether or not your business has commercial potential.You may get acquainted with some of the key insights of the Esports industry in our overview.
Furthermore, the laws governing sports betting vary by country and region. Therefore, to establish or operate in any country, you must first understand its sports betting regulations.
Explore solutions that best fit your requirements

You should evaluate and be aware of the various solutions available to start running a successful Esports betting website. You can follow several approaches to start up or run this business. Here are a few of them:
Build a new Esports betting project, with the help of a skilled team of experts or on your own. You need to make sure that you have access to high-quality data feeds and bookmakers, that you have all of the required licenses, and that you choose top-notch content and payment providers. This website requires considerable time, research, resourcing effort, and money. However, you end up with a unique product.


The second option is to build an Esports betting website using a comprehensive Sportsbook API. This method requires you to have an already developed website that you can expand via integrating the Sportsbook API. A Comprehensive Sportsbook API by Uplatform covers popular Esports betting preferences with the flexibility to add any match or league on demand, including a massive representation of Esports games and leagues, a wide range of bet types, multi-device compatibility, localization, and a variety of customization features all wrapped up in a sleek user-friendly UI.


The third option is a ready-to-use platform with all the technical details taken care of and all the components required to start a successful Esports betting website. A turnkey sports betting solution is flexible, efficient, and fully managed; for instance, Uplatform's turnkey solution comes with analytics, marketing tools, payment systems, risk management tools, and a wide range of features, as well as back-office and administration tools.
How Uplatform can help you
As stated in the preceding paragraphs, Esports betting is expanding and becoming increasingly popular, so there is a lot of competition; so you'll need more than just an eye on who's who; it's about standing out from the crowd. That is why Uplatform offers robust, flexible, and competitive betting software with a wide range of bet types, appealing promotions, and bonuses to ensure bettors have a positive betting experience and return to your website. Furthermore, to fully manage your business, betting software must be versatile, with flexible localization capabilities, allowing you to access all international betting markets while providing various functionalities for smoother operations.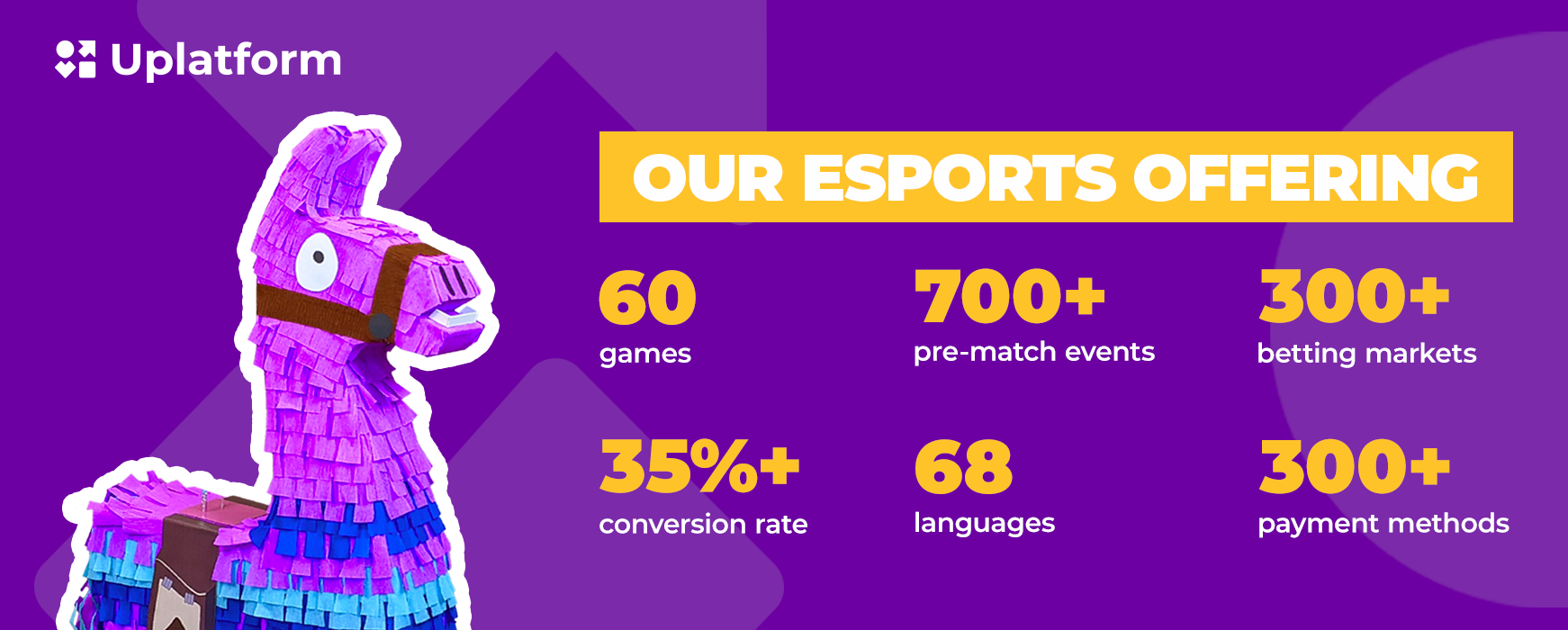 The following characteristics are must-have features that any ideal software provider must provide:
Access to a wide range of Esport betting events, as well as the ability to add local leagues and matches from around the world, just as Uplatform offers 60+ Esports and games, including CS: GO, DOTA 2, Overwatch, and StarCraft IIIn addition to FIFA, WarCraft III, League of Legends, Valorant, Quake Champions, Rainbow Six, and Call of Duty, there are others.


Unique bets on Rocket League, Valorant, Sonic, Tabs, Overcooked, and cybersports such as football, hockey, cricket, golf, and a plethora of others are all available on our platform.


Various wagering options that attract Esports enthusiasts from around the world; this is why with our 9500+ Esports pre-match and live events, we are the ideal platform to grow your business.


Check out our live betting option, which features a special live zone, multi-live bets, Bet Constructor, Bet Builder, Bet Exchanger, popular and unique bet types, and so on. Uplatform offers a 24/7 live betting option on random matches for 60+ Esports games.


Our clients enjoy effortless localization with our services, which include regionalized content and support for over 350 payment methods. In recognition of the global reach of Esports, we have also ensured that our content is accessible in 65+ languages, including rare languages such as Khmer, making it easier for players to enjoy their favorite games in their preferred language.


Mobile-friendly adaptation to mobile web-versions, special apps and for countries with limited internet coverage, bots for messengers. Our sportsbook is compatible with a wide range of devices, including desktop, full mobile, and light versions, iOS, Android, Windows, and SMS and Telegram betting.


Back-office performance - Tools for management and administration that provide comprehensive information on all betting transactions and money transfers while upholding operational control. Uplatform provides a 360° view of business operations, supported by an advanced back-office and a sizable CRM.


Boost engagement to draw and keep bettors with bonuses and promotions. To customize their playing experience, it's also essential to have a wide selection of must-have bonuses like welcome, first deposit, cash-back, and loyalty bonuses. Access these and more by partnering with our platform.
Continuous assistance and adaptability
You will still need high-quality support. In some situations, you might need assistance to help you understand and get the most out of your solution/platform, whether you choose your own solution, API integration, or turnkey solution provider.
By high-quality support, we mean a support service that is always accessible to your company and capable of offering total support for you and your players, according to the degree of service. You should be able to ask direct questions on any subject that will help you and your players with anything from software-related issues to simple daily inquiries. It is essential to receive high-quality support because it can help you save hours of time and money.
Conclusion
Whatever the solution you choose for your Esport betting website, it's essential to have partners who share your commitment to success and who will continue to support you even after your site has launched. Ultimately, it all boils down to ensuring your competitiveness in the Esports betting market, attracting all Esports enthusiasts, and attracting more players who stick with you. Uplatform is the kind of partner that offers a reliable betting software platform, offering all the tools and content for an easygoing, ideal and satisfying playing experience. We have a skilled team of industry professionals. Delivering top-notch client service and having a high earning potential while still being able to expand and make money without having to invest more time, money, or integrations.
Stay informed
Subscribe to newsletter