iGaming Regulations In Latam

We can't ignore Latin America's enormous potential. Several countries in the region, including Colombia, Peru, Argentina, Mexico, Uruguay, and Brazil, have shown signs of growth in their iGaming markets, making the region a more attractive prospect. Given the region's rich history of landmark legislation, coupled with the potential forthcoming legalization of sports betting, Latin America, notably Brazil, stands poised to swiftly ascend to the position of the world's premier sports betting market.
Despite the above countries' great potential and progress, doing business in LATAM is far from simple due to the region's size and diversity of the market. LATAM is too diverse for a one-size-fits-all global strategy, so companies that want to break into the region will need to be prepared. If you want to reach and engage every country and player in LATAM, you'll need to have a deep understanding of the region and the right substance and solutions.
Latin America's iGaming market displays significant promise, with steady expansion of the iGaming industry in countries that have opted for regulation. Furthermore, countries with favorable regulations anticipated in the near future are expecting exceptional growth rates.
As the largest parts of the iGaming market in South America, we will review Argentina, Brazil, Mexico, Colombia, and Uruguay.
iGaming Regulations in Argentina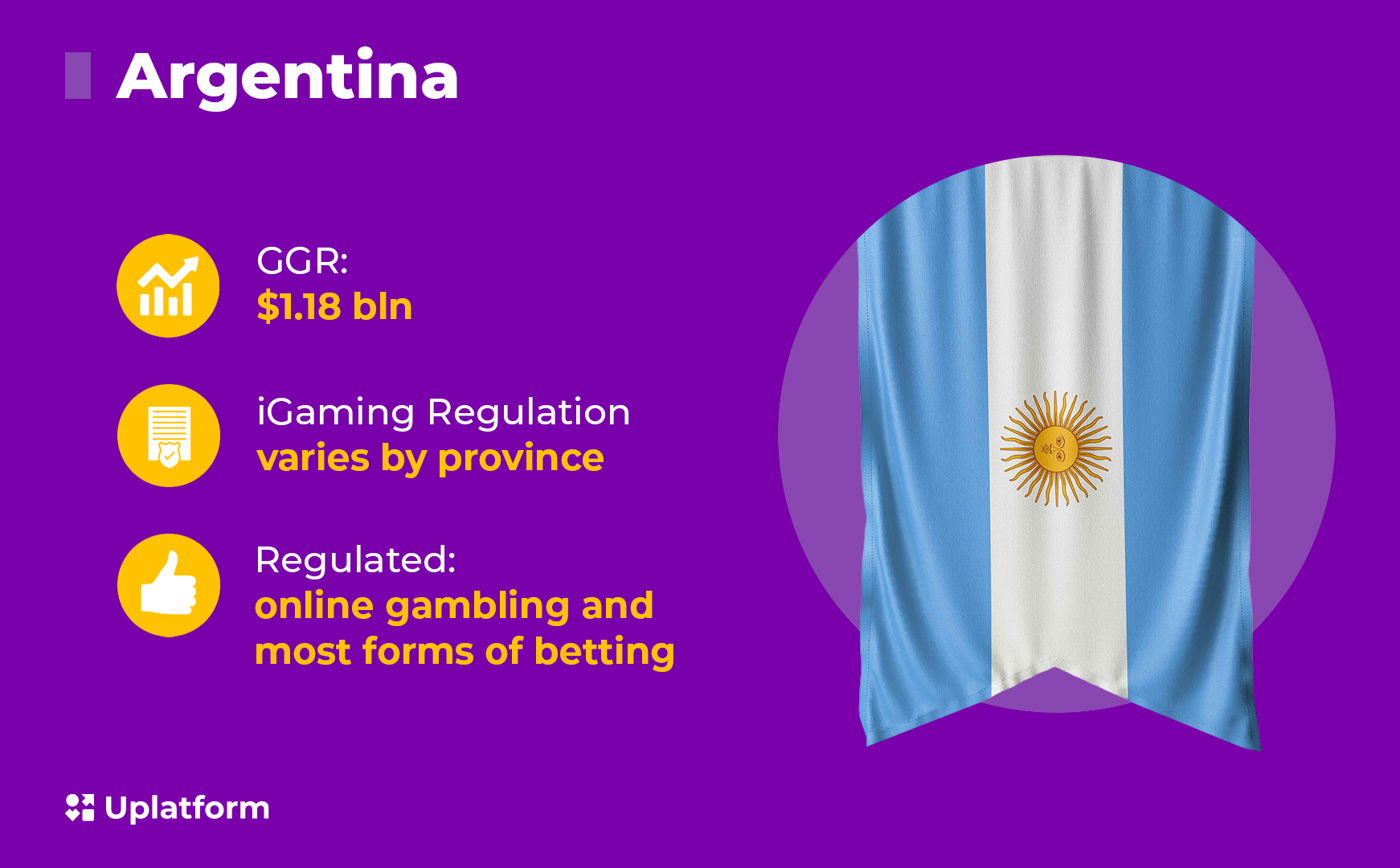 Argentina is the fourth-largest country in Latin America and has the region's second-largest economy. Its population is just under 45 million people. iGaming is regulated on a province-by-province basis, and operators may only provide their services to people who are legally residing in the province in which they are located. Almost any kind of iGaming can be offered by operators in jurisdictions that have chosen to implement regulations.
It is predicted that the iGaming industry in the country will bring in $2.4 billion in annual revenues this year. The online gambling tax at the federal level is imposed as an indirect tax on betting. The federal tax was recently announced to increase from 2% to 5% in an effort to recover from the crisis of 2020. In addition to federal, state, and local taxes, the province of Buenos Aires levies a tax of 25% of operators' gross gaming revenue. Buenos Aires has a GGR tax rate of 10%.
The promotion of iGaming is also controlled by the government. Ads cannot be deceptive or misleading, nor can they feature or target minors. Only legitimate service providers are allowed to market their offerings within the country.
The province of Buenos Aires, Argentina, is a major tourist destination despite being administratively distinct from the city of Buenos Aires. Province officials have started the selection process for the seven companies that will run iGaming within the province's borders.
In summary, the betting landscape in Argentina can be broken down into key points:
The iGaming regulation varies by province, with each province having its own set of rules.
Most forms of betting are permitted in provinces with established regulations.
Online gambling is a legal activity.
Advertising and promotion of betting must not target minors or employ deceptive tactics.
Offering betting services outside of a licensed province is illegal, as is promoting illegal betting.
iGaming Regulations in Brazil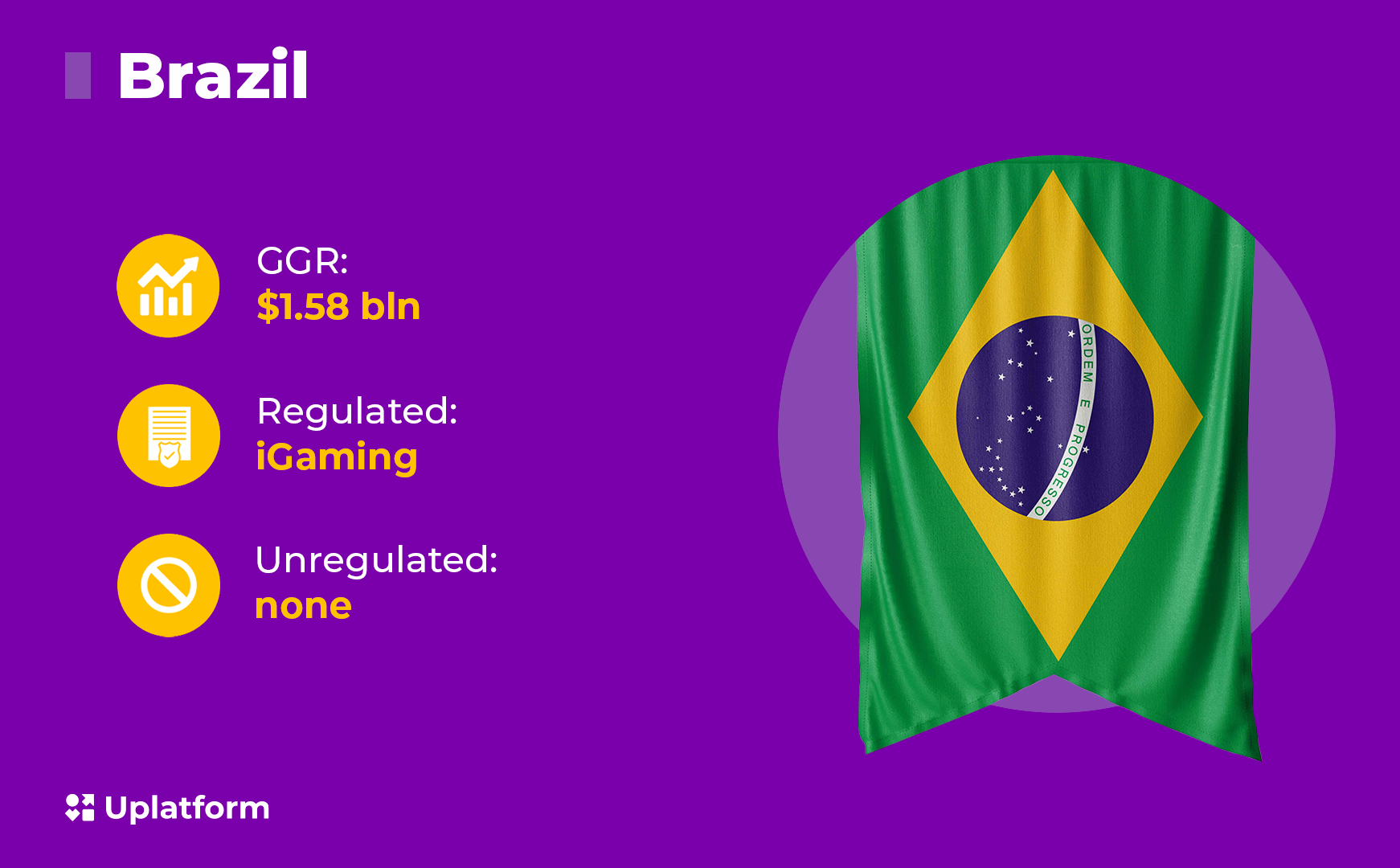 Brazil, the largest and most populous country in Latin America, has long been known as a "sleeping giant" due to its prolonged dormancy. Brazil has taken a significant leap in the realm of iGaming, particularly in the domain of sports betting, with President Luiz Inácio Lula da Silva signing the Provisional Measure (PM) into law on July 25, 2023. This move comes after several years of legislative deliberations and delays, marking a watershed moment for the country.
One of the standout changes in the PM is the elevation of the gross gambling revenue tax rate from 16% to 18%. This increase in taxation is designed to bolster the Ministry of Sports' share of revenue from 1% to 3%, indicating a commitment to invest in the sporting sector. Additionally, while specific details regarding the cost of licenses were not included in the PM, reports suggest that they are expected to increase substantially to R$30 million ($6.35 million), up from the previously established R$22.2 million.
A significant development arising from the PM is the establishment of the National Secretariat for Games and Betting (SNJA), which will oversee and regulate the iGaming sector. The Ministry of Finance has already begun the recruitment process for this regulatory body, with plans to hire a total of 70 employees. Once operational, the SNJA will play a pivotal role in setting licensing procedures and technical regulations.
The PM introduces more detailed and stringent marketing and advertising restrictions compared to the 2018 law. Operators are now mandated to promote responsible iGaming messages and are prohibited from acquiring broadcast rights for sports events. Compliance with these regulations will be overseen by the National Council for Advertising Self-Regulation (CONAR), establishing a self-regulatory framework for the industry.
The journey to regulate sports betting in Brazil has been an arduous one, spanning close to half a decade. In 2018, lawmakers voted to approve both land-based and online sports betting. However, the government had two years to create and finalize technical regulations, with the option of a further two-year extension. Following an extension of the deadline, the Secretariat of Evaluation, Planning, Energy, and Lottery (SECAP) published rules and regulations for sports betting in May 2022. Then-President Jair Bolsonaro had until December 12, 2022, to approve the final regulations but chose not to do so. However, the 2022 election brought President Lula to power, considered more supportive of the iGaming sector than his predecessor. Public pressure stemming from match-fixing scandals further propelled the need for regulation. Consequently, a Provisional Measure was reported in February, eventually leading to its signing in July 2023.
Here's the key points regarding sports betting regulations in Brazil:
After years of delays, Brazil legalized iGaming in July 2023.
The new law amends the 2018 sports betting regulations, raising the tax on gross gambling revenue from 16% to 18%.
Brazil established the National Secretariat for Games and Betting (SNJA) to regulate the iGaming sector.
The law introduces stringent marketing and advertising restrictions, emphasizing responsible betting.
Non-compliant companies may be subject to penalties, fines, and potential license revocation.

iGaming laws in Mexico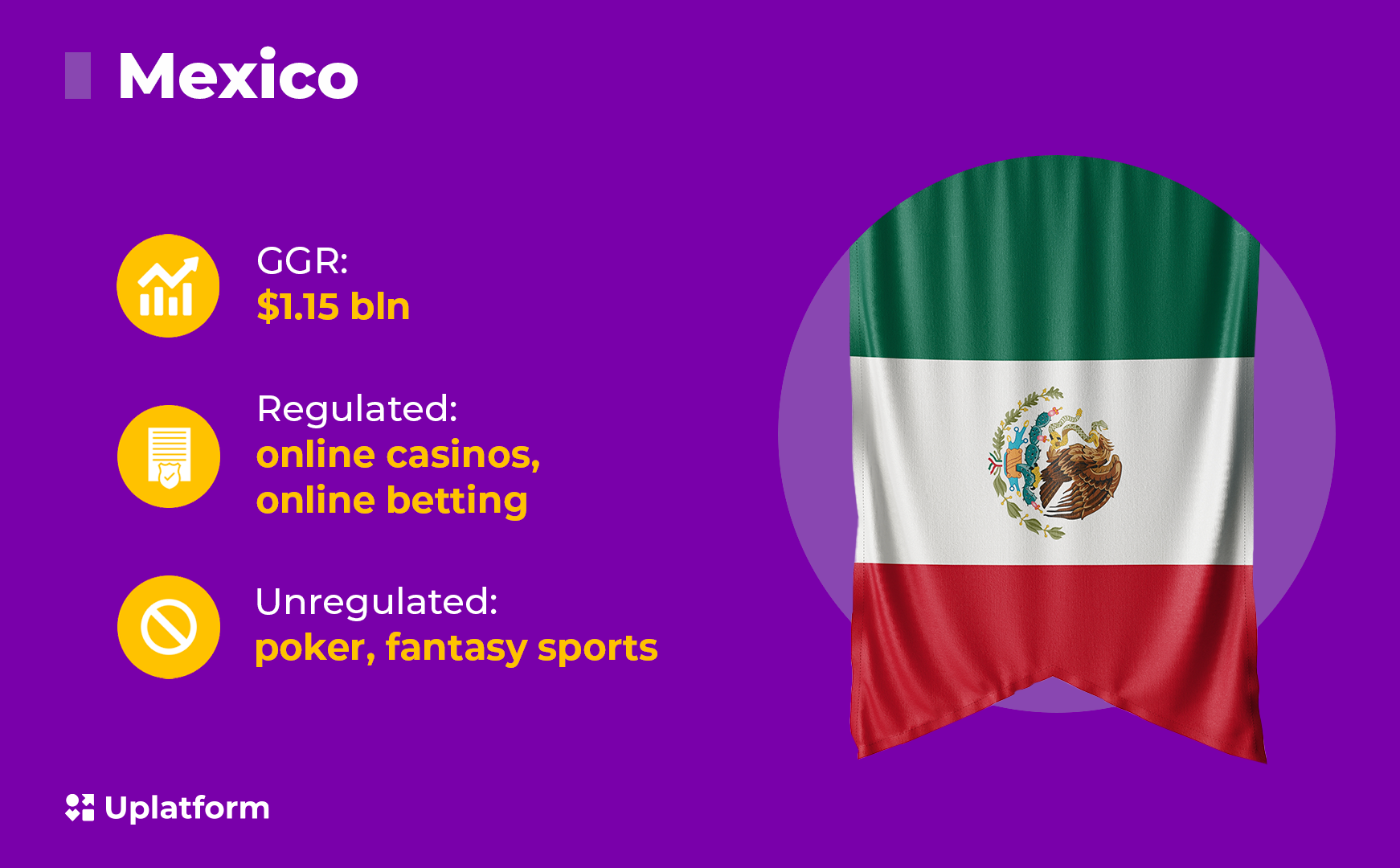 Mexico is widely regarded as an ideal location for new and expanding online casino and sportsbook businesses due to the country's large population (over 120 million people), high mobile penetration rate (estimated to be around 60 percent), and the second strongest in Latin America.
Except for poker games in casinos and fantasy sports leagues, all forms of iGaming in Mexico must adhere to the country's strict regulations (which are permitted, but not expressly regulated). Betting of all kinds is widely practiced in Latin America; however, punters' passion for wagering on football matches stands out. The Federal Gaming and Raffles Law of 1947 is the primary piece of legislation in Mexico regarding iGaming. In 2004, after much debate, the final regulations were enacted.
Except for land-based card rooms (poker games are only allowed in casinos) and fantasy sports (which are permitted, but not explicitly regulated), most forms of betting in Mexico are regulated.
Operating an online casino or sportsbook does not necessitate a separate license; rather, it just needs to be authorized and run in conjunction with a physical license holder. A separate license is not required to operate an online casino or sportsbook; rather, it must be authorized and run in conjunction with a physical license holder.
Here's a summary of the provided information about iGaming in Mexico:
The primary legislation governing iGaming is the Federal Gaming and Raffles Law of 1947, with final regulations enacted in 2004.
iGaming activities are restricted by laws influenced by the Catholic Church's historical impact.
All forms of iGaming, except poker games in casinos and fantasy sports leagues, must adhere to Mexico's regulations.
Poker is only allowed in physical casinos. Fantasy sports are permitted but not explicitly regulated.
There's no need for a separate online casino or sportsbook license. Instead, operations must be authorized and run in association with a physical license holder.
The government's stance on iGaming is becoming more favorable over time.
iGaming Regulations in Colombia
Colombia is a major economic center on the continent. With a population of over 50 million, the continent's fourth-largest economy, and well-documented love of football, Colombia represents a massive opportunity for online betting businesses.
Since 2017 when licensing first began in the country, the Colombian iGaming market has expanded consistently. As far as we know, it is the first Latin American country to legalize and regulate iGaming. Coljuegos, the country's regulatory body, and companies with government concessions are the only ones allowed to operate trackside betting systems, but as of 2016, almost all forms of iGaming are legal in Colombia.
The industry's rapid growth has produced impressive data. Gaming and betting tax revenue rose 106% to $19.6 million in 2019. Market net gaming revenue (NGR) estimated GGR $0,5 bn in 2023.
iGaming is outpacing brick-and-mortar gambling in this country. Colombians love slot machines and lotteries, even though football betting is big.
Here are the important key points about online gambling in Colombia:
Licensing for iGaming began in 2017, making Colombia the first Latin American country to legalize and regulate iGaming.
Sports betting is allowed, with specific guidelines catering to various betting formats.
Just as with online casinos, sports betting operators must also secure a license from Coljuegos.
Online Casinos are allowed, with a comprehensive regulatory framework in place
The regulations allow for a variety of betting formats, including pre-match bets, in-play bets, and fantasy sports. However, each format has its own distinct regulations to maintain the sector's integrity.
Online Betting laws in Uruguay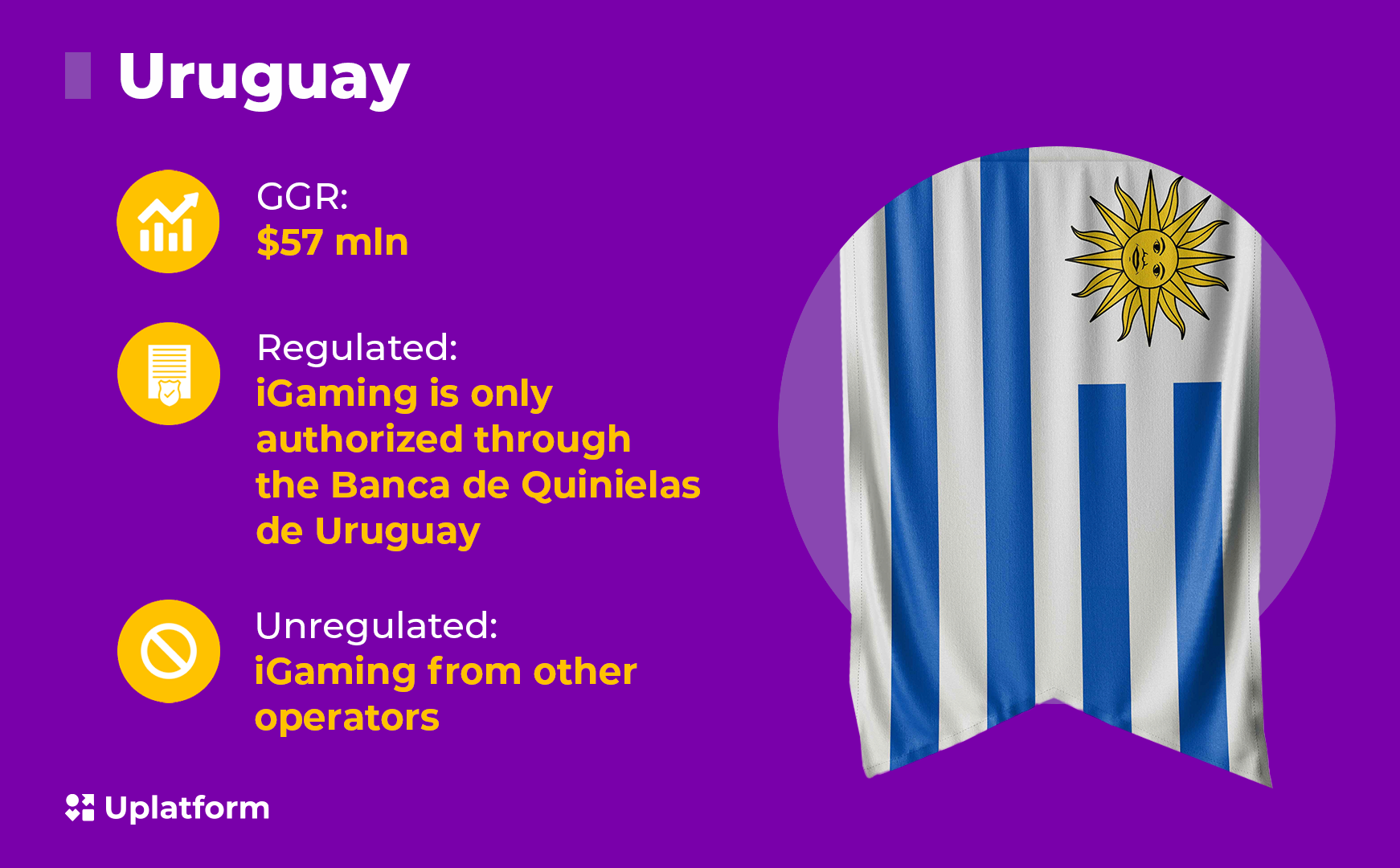 While the government of Uruguay permits a wide variety of options, only the Banca de Quinielas de Uruguay is authorized to provide iGaming at this time. On the other hand, progress is being made and the country will soon be considered a developing market. On August 16, 2022, the Senate voted to establish the legal framework for iGaming. Along with the Ministry of Economy and Finance, the General Directorate of Casinos will establish a fund for the detection and treatment of betting addiction.
Uruguay has some of the simplest legislation on the books when it comes to iGaming. There is currently only one legal destination for sports betting. It first opened in 2005 and has been running continuously since then.
Banca Juegos Oficiales provides online betting and lottery products despite the ban, but no online casinos. Perhaps it shouldn't come as a surprise, but millions of Uruguayans use websites based outside of their country to engage in iGaming. The players do this by connecting to the server through a virtual private network.
Here's a summary of the information provided about iGaming in Uruguay:
While the government of Uruguay allows various options, iGaming is currently only authorized through the Banca de Quinielas de Uruguay.
Uruguay has straightforward legislation concerning betting, with only one legal destination for sports betting, which opened in 2005 and continues to operate.
Conclusion
It's hard to start a Latin American online casino or sportsbook. Operators can struggle without expert assistance. Uplatform can help you enter Latin America. Global operators trust our highly skilled teams to deliver solid results and help them succeed in challenging and emerging markets.
The foregoing data allows us to draw some conclusions about the legal framework for iGaming in Latin America. Some of the continent's most established economies, which are also the most football-crazy, have taken a unified approach to iGaming laws and have taken steps to develop frameworks for legislation.
It's also important to keep in mind that Latin America is not a unified region where everyone follows the same practices. Conditions and legislation vary greatly across this vast continent, just as cultural traditions do. But if countries like the ones we mentioned above set the standard with legislation, other nations will soon follow suit.
Even though the Latin American market is behind others, operators have been paying more attention to it in recent years. With a population of over 600 million people and a predicted smartphone penetration of 73% by 2025, this area is a key emerging market for the iGaming industry. Since so many establishments in Latin America are taking advantage of recent economic developments, the industry can go only one way up.
Stay informed
Subscribe to newsletter